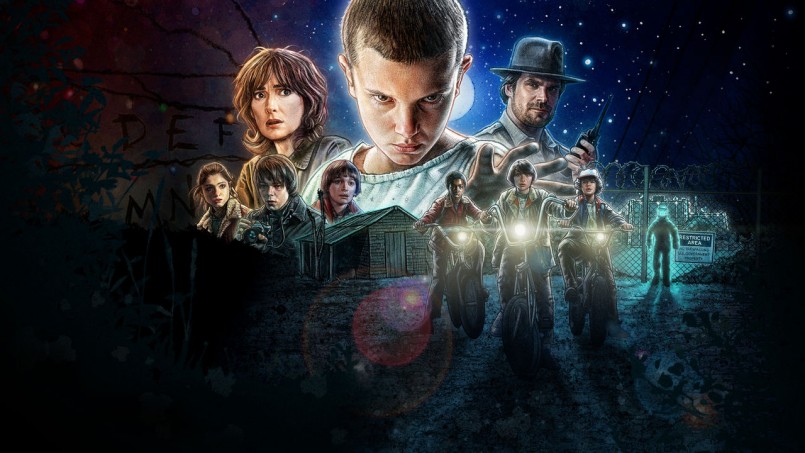 2016 was a hell of a year – The Donald was elected to be the leader of the free world, the DAPL water protectors proved that peaceful protest can lead to measurable change, and literally all our heroes died. All these things, plus tons of others, made 2016 the most polarizing year many of us have ever seen in our lifetimes. Fortunately for us, we were able to find respite from the madness of the year by drowning ourselves in television. Like the news items that bogged down our social media feeds, television offered us a wide array of stories that ranked from the embarrassingly deplorable to the positively divine.
In our 2016 Television Year in Review, we take a look at the shows we covered and rank them accordingly. Be advised that each entry will include spoilers (some mild, some massive), so consider yourself warned.
10. FEAR THE WALKING DEAD
In the age of Peak TV, it seems like you can't turn a corner without bumping into another good show. They're everywhere, really, so it makes me sad to know that I couldn't watch one of them because I instead chose to use that time to watch Fear the Walking Dead's heinous second season. The title of my review for the season finale sums up the season quite succinctly: "This show is a total mess and there's no other way to say it."
This show is a mess from top to bottom, but most of the blame can be placed on the poor writing allowed by showrunner Dave Erickson, who penned the stinker Season 2 finale himself. The sub-par writing infected the rest of the production, ultimately producing a regrettable season that featured weak characters being unevenly acted in the midst of uninspiring plot developments. Fear the Walking Dead simply never should have happened in the first place.
9. THE WALKING DEAD
In the 2016 calendar year, we saw the second half of The Walking Dead's sixth season, and the first half of its seventh. The former spent far too much time building up the introduction of villain Negan (Jeffrey Dean Morgan), ending with the worst-received cliffhanger in the history of everything, while the latter was a poorly paced and plotted mess that never managed to tell a cohesive or interesting story.
It's no lie that I, like many of you, have a love-hate relationship with this show, and the last year of The Walking Dead has only served to further complicate that relationship. But also like many of you, I've been with it since the beginning, and have reasons to keep coming back, even if I have more reasons to stay away. The core of my investment in this show is the relationship between Rick (Andrew Lincoln) and Carl (Chandler Riggs) as they navigate the perils of a world without order or, arguably, meaning. The show is at its best when it tries to take on these questions in new ways, but not only is it no longer interesting to see, it isn't even entertaining.  I'll be back again for more of Season 7 in February because I clearly have no self control, and though my expectations are as low as ever for what's to come, I can always hope the show still has room for surprise.
8. THE NIGHT OF

The premiere episode of HBO's limited series The Night Of was easily one of the best hours of television in 2016, which introduced Pakistani-American college student Nasir Khan (Riz Ahmed), and the murder mystery that comes to surround him. John Turturro co-stars as eczema-suffering low-rent attorney John Stone, and the intensity that Ahmed and Turturro generate throughout the series makes it no surprise that both men received Best Actor Golden Globe nominations.
But while the premiere was near-perfect, building a compelling whodunit while also developing strong, unique characters, the rest of the season (which came to a definitive end after eight episodes) couldn't quite keep up with the high standard its pilot episode set. I can hardly blame the show; with so strong a start, it was nearly impossible to maintain that momentum. By the end of its limited run, I was confused and disappointed by the rather asinine and milquetoast twists the story took – in both character and plot – in its lead up to the dud finale. At the same time, The Night Of deserves credit for shining light on the problems in America regarding islamophobia by depicted Muslims as, you know, real humans, as well as taking an unflinching look at the horrors of the American penal system.
7. GLITCH
This Australian import hit America by way of Netflix last October, and it immediately scratched the itch I'd been feeling since finishing Stranger Things over the summer. In its scant six-episode first season, Glitch manages to hit all the right notes, introducing characters we can care about who are caught up in an inexplicable, life-altering mystery. Not to mention it's produced on location Down Under, which definitely checks off the "is it filmed in a cool place?" box.
The central mystery of the season – in which six people return from the dead in the small Australian town of Yoorana – is left largely unexplained by the end of the season (the second season is green-lit, and Netflix is taking on co-production of the series, as well as handling its global distribution), but that's okay, because solving the mystery isn't as important to me as continuing to see how all the characters continue to react to this bizarre new reality – particularly officer James Hayes (Patrick Brammall), whose deceased wife Kate (Emma Booth) has returned from the dead. There are some powerful performances throughout the series, but none as affecting as when James takes Kate to the place he built in honor of her memory. Check this one out, folks.
6. MR ROBOT
When USA Network's Mr. Robot debuted back in 2015, I totally missed the boat and didn't catch up with the first season until it had finished airing. But when I finally saw the error of my ways and started watching, I realized I was in for quite the treat. Rami Malek stole the show as Elliot Alderson, a computer hacker troubled by mental illness who decides to take down E-Corp, the largest corporate conglomeration in the world.
The latest season of Mr. Robot was as ambitious as its first, but it didn't quite manage to capture the complicated emotional tone that defined the first season. Creator Sam Esmail spent too much time in the second season misdirecting and confusing the audience, including the reveal that Elliot was actually in prison for the first half of it, which made the entire season feel more uneven and disjointed than even Esmail intended. Some of the other plot elements, like Angela's (Portia Doubleday) confusing interactions with Whiterose and the Dark Army, or Joanna Wellick's (Stephanie Corneliussen) story in general, bogged down otherwise great storytelling. On the whole, Season 2 of Mr. Robot was quite good in spite of its missteps – thanks mostly to Malek's meaningful and nuanced performance.
 5. PREACHER
Although I had a few problems with the finale episode, and the implications it left for the coming second season, the first season of AMC's Preacher was a brilliant if bloody ride. Every episode made amazing use of lighting, set direction, cinematography, and music, to create a viewing experience I've never had with a television show before. And that doesn't even include the fantastic performances we got from Dominic Cooper (Reverend Jesse Custer), Rose Negga (Tulip O'Hare), and Joseph Gilgun (Cassidy).
While the meat of Preacher's plot revolves around the mystery of Jesse's newfound power (spoiler alert: he acquires the Voice of God in the first episode, which allows him to control the actions of others), my favorite thing about the show is the town of Annville itself, and its broad array of bizarre denizens. The season spends it time spinning the town into a strange and vibrant tapestry, showing its many people and exploring the stories they have to tell. That's why I was a bit shocked and disappointed when the finale episode resigned the town and its people to such a seemingly permanent fate, but the season itself was strong enough to keep me keenly interested in the seasons of Preacher to come.
4. BETTER CALL SAUL
After delivering a scorching debut season that proved it could stand on its own outside of parent show Breaking Bad's shadow, Better Call Saul spent its second season further exploring the disparate stories of Jimmy McGill (Bob Odenkirk) and Mike Ehrmantraut (Jonathan Banks). I'm a sucker for two-for-the-price-of-one deals, and Better Call Saul is the king daddy of them all. On the one hand, we watched as Jimmy pushed his luck more and more, culminating with his brother Chuck (Michael McKean) being grievously injured while trying to bust Jimmy, while on the other hand, we watched as Mike pursued the Mexican mobster Hector Salamanca (Mark Margolis) to the edge of the desert, where we were left with a cliffhanger that may or may not confirm that Gus Fring will be showing up in Season 3.
One of the reasons I enjoyed this second season so much is because of the consistently superb character work taking place. Odenkirk and Banks both give diverse and nuanced performances that put most of their peers on dramatic television to shame, and I also need to give a big tip of the hat to Rhea Seehorn, who plays Kim Wexler, a brilliant and committed attorney who also happens to be romantically involved with the biggest grifter this side of Paper Moon.
Though the acting, cinematography, and production design are absolutely on-point, Better Call Saul wouldn't be what it is today without one magical ingredient: Peerless writing. Every episode built on the suspense created in the last, whether it was Jimmy trying to stay one step ahead of Chuck, or Mike allowing himself to be beaten by Tuco (Raymond Cruz) to keep his cover. It was all astoundingly well-done; it's not often we see a show that can balance character and plot developments so seamlessly, and so consistently. A big credit is due to showrunner Peter Gould and executive producer Vince Gilligan for deciding to slow the pace of Jimmy's descent into Saul-hood, which was moving at a fever pitch by the end of Season 1, and instead choosing to purposefully linger on the many character moments, big and small, that are slowly eroding Jimmy into the amoral ambulance chaser we know from Breaking Bad. This is television at its finest.
3. WESTWORLD
As far as I'm concerned, Westworld's premiere season had it all: an ambitious, engaging story, a stellar cast, and a production value second to none. In the vein of Mr. Robot before it, Westworld quickly emerged as another "puzzle-box" show, demanding the attention (and, at times, frenzied interaction) of its audience in ways few, if any, shows have ever done in the past. While this heightened level of show interaction served to turn several long-time television critics off (most notable among them being Alan Sepinwall, who thought the show's secretiveness ultimately harmed the integrity of the story), it managed to fire the curiosity and passion of countless others, myself included. It's a new way of consuming television – one that certainly demands more footwork fro its viewer than a more traditional narrative – but for me, the mystery never superseded the emotional core of the story: the hosts, and their journey of self discovery.
For much of the season, this journey of self discovery revolved around Dolores' (Evan Rachel Wood) quest to find the true nature of her reality. Many other stories and mysteries dovetailed into hers, but by the end of the season, one thing was clear: in order for the audience to enjoy the show, and to really believe in Dolores' tragic, long-running arc, we must also be okay in knowing that we saw her entire story (and thus, much of the season on the whole) from her very subjective point of view. In other words, we learned about her world as she learned, which did a phenomenal job of making her and the other hosts as sympathetic of characters as I've ever seen on television.
Yes, more than anything else, this show worked for me because of its rich character work. Whether it was learning the Man in Black's (Ed Harris) motivations for finding the center of the maze, or Bernard's (Jeffrey Wright) devastating discovery that he is a host, or Maeve's (Thandie Newton) hell-bent commitment to escaping her loop and the park altogether, the show never strayed from creating strong motivational foundations for its characters. So, while I didn't always agree with a character's decisions or actions, I still found them to be believable and authentic, which makes all the difference in the world. With the success of its first season, and the committed vision of showrunners Lisa Joy and Jonathan Nolan, I have a feeling that Westworld will continue to inspire and amaze audiences for several seasons to come.
2. GAME OF THRONES
In its sixth season, Game of Thrones proved that it still has the maturity, swagger, and vision that set it apart from other shows when it first came on the air back in 2011. Most shows that go beyond five seasons rarely find success in staying interesting or relevant (Dexter and The Walking Dead being immediate examples), but with Game of Thrones, things have never felt as tense, exciting, and revelatory as they did in Season 6.
In its ten-episode run, Season 6 was rarely anything but amazing (the Arya-centric "No One" being the only episode that didn't quite work), and the balance of character development and plot development were delivered with staggeringly efficient execution. Let's be real here: the fact that Game of Thrones was able to deliver an awe-inspiring action set-piece episode like "Battle of the Bastards," and then immediately follow it with the intricate, articulate character study that was finale "Winds of Winter," is a feat that no show has ever quite pulled off before, and may never pull off again. Showrunners DB Weiss and David Benioff, as well as their dedicated stable of writers, directors, cast, and crew, truly are in a league of their own – either because of, or in spite of, the show's longevity. Either way, they handled everything with grace, style, and aplomb.
As the show races toward its ultimate conclusion (say it ain't so!), never has the weight of Westeros' history felt so immediate and decisive as it did in Season 6. The revelation that Jon Snow (Kit Harrington) is indeed the child of Rhaegar Targaryen and Lyanna Stark is in itself enough of a bombshell, but the implications it holds for his rights to the North – and even all of Westeros – will surely create conflict between him and Sansa (Sophie Turner), who sees herself as the rightful heir to Winterfell, or with Daenerys (Emilia Clarke), who is (FINALLY) on her way to her homeland to claim the Iron Throne for herself. We also watched as Tyrion (Peter Dinklage) shed the dead weight of his family's dynasty for good and for all, and purposefully committed his intellect and allegiance to a Targaryen – the same house his family worked so hard to decimate a generation ago. These instances, plus a thousand others, made Season 6 of Game of Thrones its best yet, setting up the pieces for what is sure to be the grandest finale in the history of television.
1. STRANGER THINGS
When Stranger Things hit Netflix this summer, it immediately became one of those "have you seen it yet!?" phenomenons that I haven't seen in television since the first season of True Detective. Created by brothers Ross and Matt Duffer, Stranger Things at first feels like a nostalgic homage to the 80's I grew up in – we see the influence of people like Stephen King, John Carpenter, and George Lucas, and the story itself plays out in rural 1984 Indiana. But by the time I was halfway through the season, I found myself taking umbrage at anyone attempting to sum the show's success up to its nostalgic appeal. Surely this is a part of it, but what made this show work so well is that its story stands strongly on its own, apart from the 80s tropes and clichés Stranger Things uses and subverts with abandon.
Though the story is firmly rooted in the 80s, the nostalgia of the period is treated as the icing on the cake, rather than the point and purpose. At its heart (which is big and beautiful, I say without shame), Stranger Things is a show about the power of friendship: the hurt we feel when slighted or betrayed by those we care about, or the love we feel when those we care about come through for us at a decisive moment.
In this sense, Stranger Things is something of a timeless story, untethered from the rather overt time period in which it is told. We also see the timeless theme of a parent's love, whether it be from the emotionally broken Chief of Police Jim Hopper (David Harbour), reeling from the loss of his young daughter, or from Joyce Byers (Wynona Rider), who nearly goes insane in her pursuit of the truth of how and why her son disappeared. The strong stories and performances happening with the kids and the adults serves as a fine balance, and serve to nudge the more fledgling stories involving teenagers Nancy Wheeler (Natalia Dyer) and Jonathan Byers (Charlie Heaton).
I'll say it again: Stranger Things is a show about the power of friendship. The core group of kids – Mike Wheeler (Finn Wolfhard), Lucas Sinclair (Caleb McLaughlin), Dustin Henderson (Gaten Matarazzo), and Eleven (the luminous Millie Bobby Brown) – find themselves in a situation of seemingly insurmountable odds, and have to find ways to get past their own in-fighting in order to find their missing friend Will (Noah Schnapp) and solve the mystery that is Eleven. Though rooted in the 80's, Stranger Things tackles timeless themes of the human condition, as told and experienced through the eyes of children.
Sure, the nostalgia factor is what initially drew my interest for the show, but it was the relationships between the kids that sealed Stranger Things as my best show of 2016.