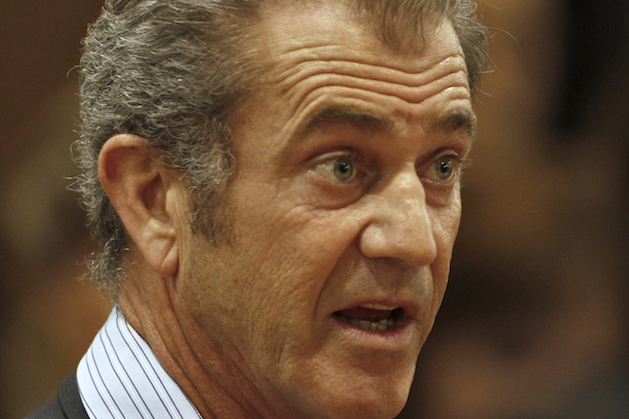 Some celebrities are more forthcoming about their religious beliefs than others. We've already covered 46 Celebrities You Won't Believe are Atheists, which means it's time we talk about celebrities that are very committed to their faith.
Be sure to let us know what you think of the list below! Did we forget your favorite? Did we get one wrong?

TOM CRUISE

Unless you've been living under a rock you know that Tom Cruise is very devout in his belief in Scientology.

ANGUS T. JONES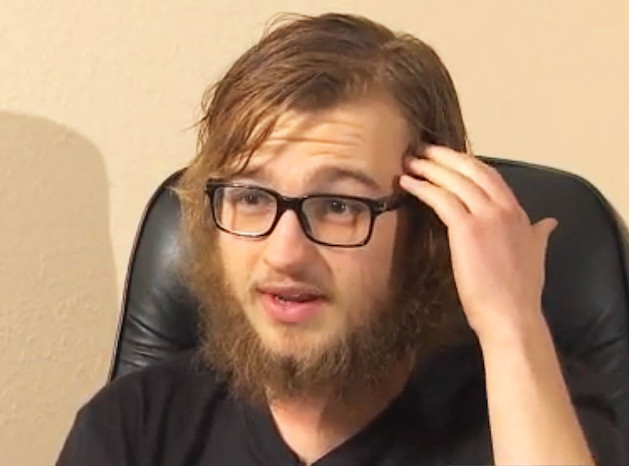 The former Two and a Half Men actor actually left the show because he thought it was against his Christian (Seventh-day Adventist) faith. We have to give him kudos for walking away from millions of dollars because of his convictions.

RUSSELL BRAND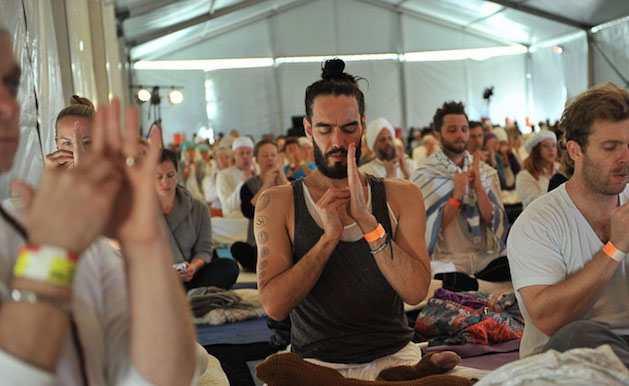 Funnyman Russell Brand didn't grow up particularly religious, but he credits his conversion to Hinduism as saving him from drug addiction and ruining his life.

KIRK CAMERON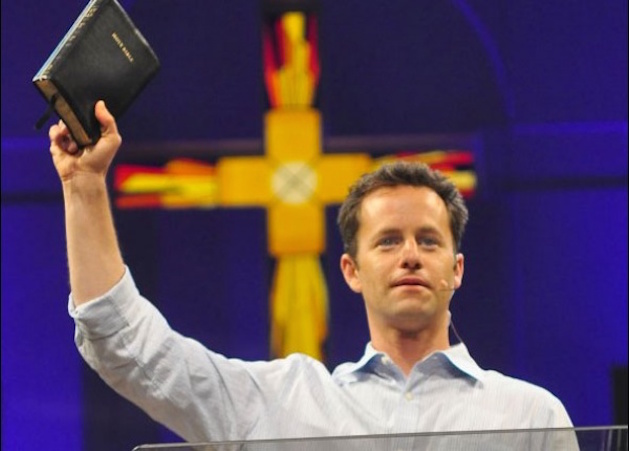 It seems like Kirk Cameron is only a celebrity now because of his religion. In case you didn't know, Cameron is a devout born-again Christian, and he's devoted his life to spreading the gospel and opposing gay rights.

TYLER PERRY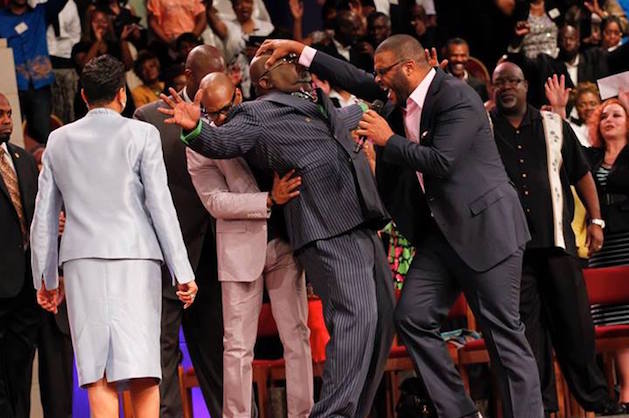 Sure, he dresses in drag for his movies all the time, but Tyler Perry is very firm in his belief in Christianity. You've probably noticed that none of his characters are afraid to speak out about their faith in God in any of his films.

DAVID ARCHULETA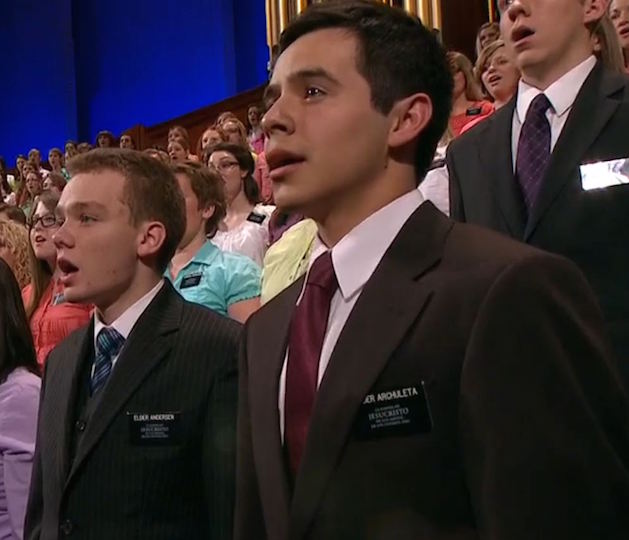 Former singer and American Idol alum David Archuleta is a member of the Church of Jesus Christ of Latter Day Saints. He actually left behind his career in music because of his religion. Or so he says. Maybe he left it behind because nobody bought his albums.

ASHTON KUTCHER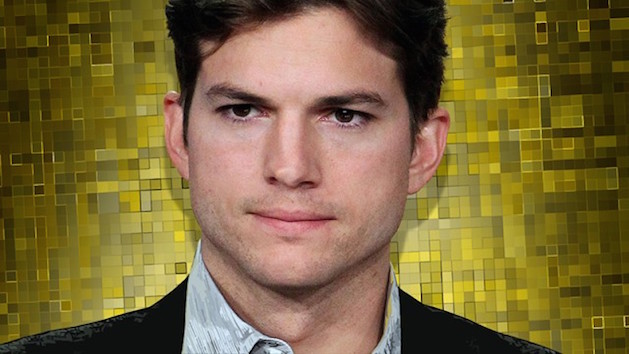 The second Two and a Half Men actor on our list, Kutcher was born into a Roman Catholic family, but now he considers himself very spiritual, and he studies Kabbalah—even taking a pilgrimage to Israel.

KRIS JENNER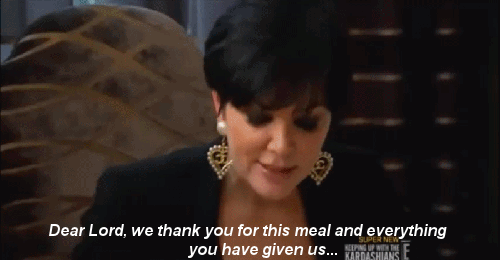 When Kim Kardashian's sex tape came out Kris Jenner turned to her Christian faith to help her get through that difficult time. It must have worked, because now she's one of the most famous faces in the world.

TIGER WOODS

Born and raise Buddhist, Tiger Woods eventually left the religion behind. When the scandal about all his infidelities broke, he would eventually turn back to his childhood religion to regain control over his life.

TIM TEBOW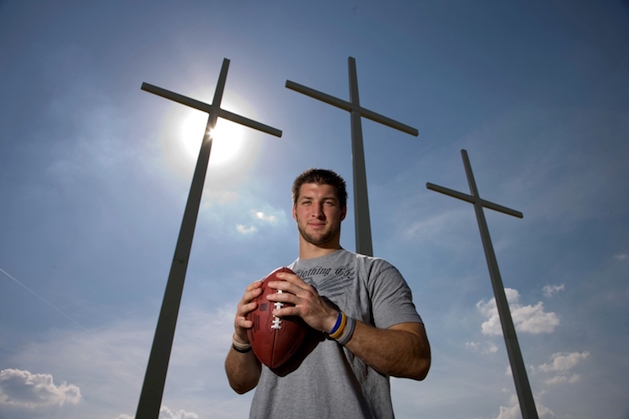 Football hottie Tim Tebow has always put his Christian faith first in his life, using his fame and celebrity to promote various Christian causes. It might also explain why he has such a devoted fanbase insisting that he belongs in the NFL when his play suggests otherwise.

RICHARD GERE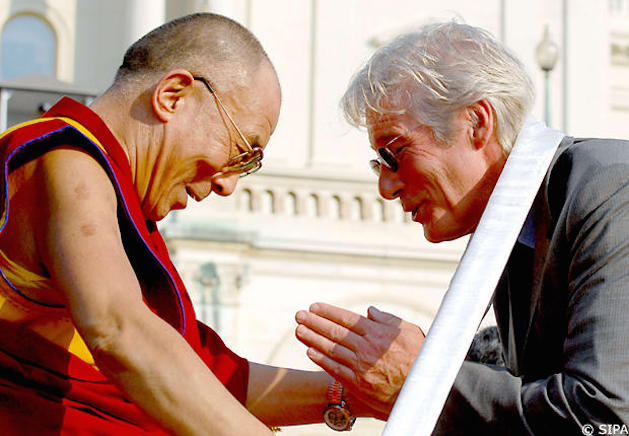 Goodbye being Methodist, and hello Buddhism! Richard Gere doesn't have anything against Christianity, but he finds Buddhism to be more fulfilling on a personal level.

PRINCE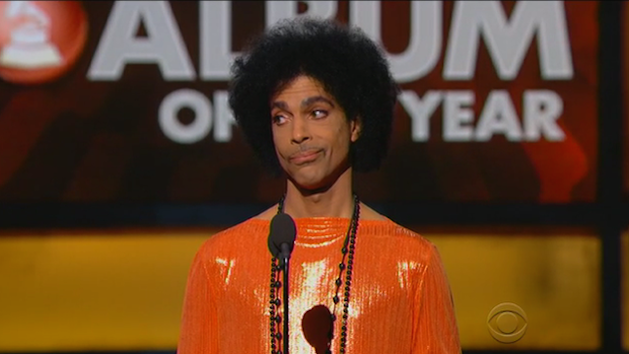 Prince may have grown up Seventh-day Adventist, but in 2001 the singer became a Jehovah's Witness. Supposedly a strong supporter of correcting social injustice, he opposes marriage equality for LGBT people — despite being very in touch with his feminine side.

MARK WAHLBERG

Born, raised, and still a good Catholic boy, Mark Wahlberg is very devout, as evidenced by his saying, "Being a Catholic is the most important aspect of my life. The first thing I do when I start my day is, I get down on my hands and knees and give thanks to God. Whenever I go outside of my house, the first thing I do is stop at the church."

MEL GIBSON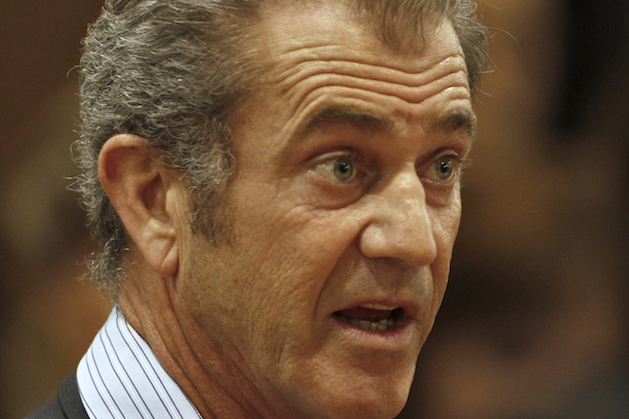 Something went wrong with Mel Gibson's Christianity, because he's distorted it to the point of being a raging anti-semite and racist. Or is that just par for the course?

MADONNA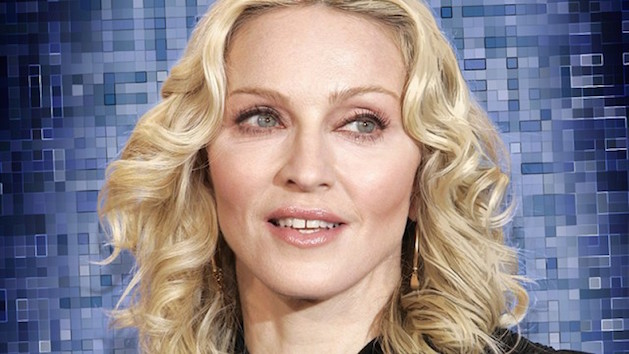 Another celebrity who studies Kabbalah, Madonna has undergone numerous religious reincarnations throughout her life, so don't be surprised if this is just another phase for the aging pop star.

DENZEL WASHINGTON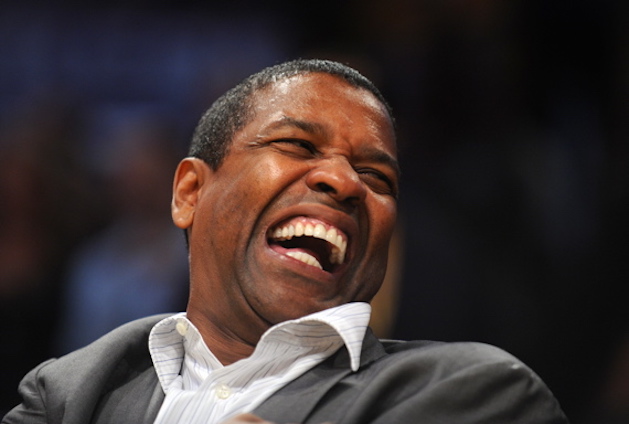 Hollywood A-lister Denzel Washington is the son of a preacher man and a devout Pentecostal Christian.

JOHN TRAVOLTA

When he was 21, John Travolta said "bye bye" to Catholicism and "hello" to Scientology, saying, "Scientology has given me stability, given me the tools to handle life's issues, stresses and problems." We have to ask, does Scientology have anything against the gays, and is this why he's still in the closet?

ERIKA CHRISTENSEN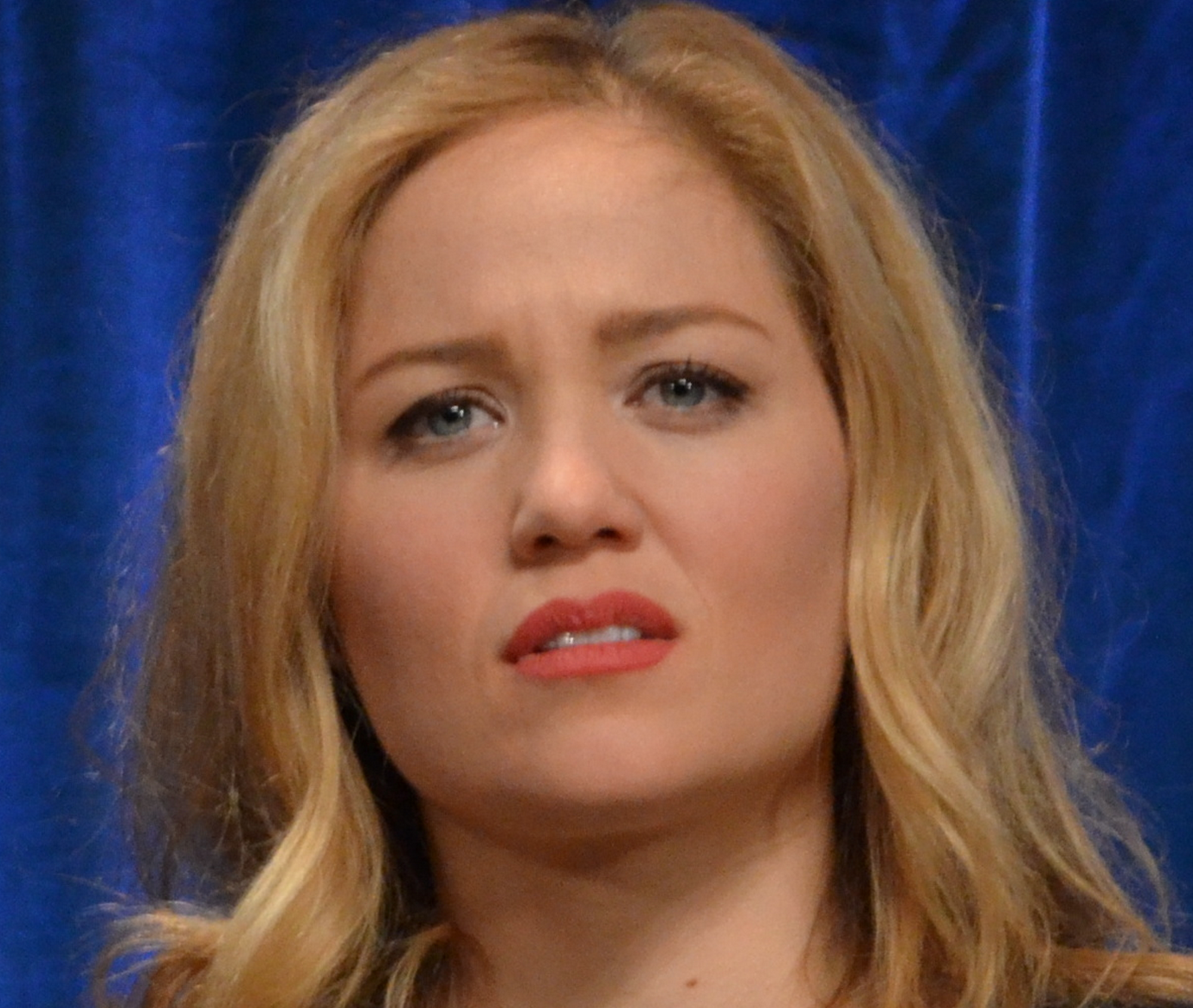 Behold, another Scientology believer on our list! Lately the actress has made it her mission to clear up some of the misconceptions about Scientology.

TINA TURNER

Tina Turner was born and raised a good Baptist girl, but now she's one of the most famous Buddhists in the world. Oh, and she says she wants all of us to be Buddhist too.

PATRICIA HEATON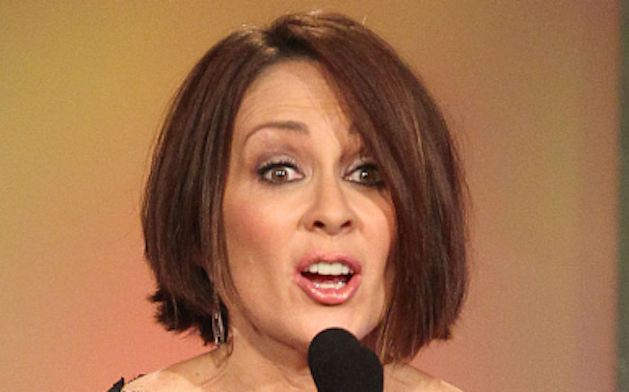 The Middle actress was born and raised Catholic, even attending Catholic school, but Heaton attends a Presbyterian church now. She says her devout faith has alienated her from liberal Hollywood. She's also been a very active campaigner for Republican politicians. Her faith might be why she hates President Obama so much (if she believes he's truly Muslim).

STEPHEN BALDWIN

Which came first, the end of Stephen Baldwin's acting career or his devout faith? Well, if you ask him he'll tell you that his zealous adherence to evangelical Christianity has caused him to be blacklisted in Hollywood, but we're more apt to believe it's because of his terrible acting.

DEBBY RYAN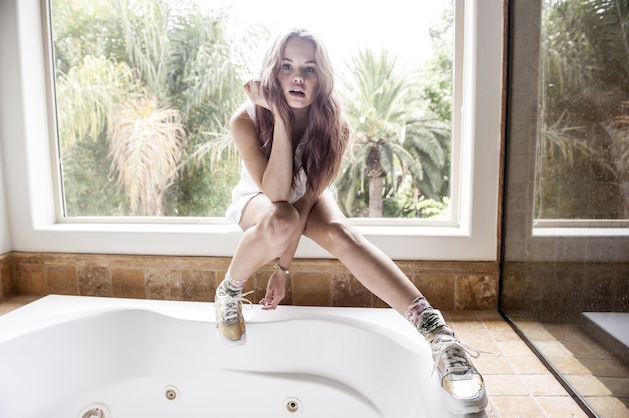 Debby Ryan is a very, very devout Christian. She's organized prayer groups for other young Hollywood actors (good for her!) and feels so strongly about her Christianity that she'd kill for it (whoa!).

JUSTIN BIEBER

Something tells us that the Bieb really has no idea what's going on when it comes to religion, because he uses his faith in God as an excuse to speak out against gays and abortion, but then he goes and does decidedly un-Christian things all the time! You can't pick and choose, Justin…

LUPE FIASCO

Lupe Fiasco is the first Muslim on our list, but he doesn't want you to think of him like that. As he puts it, "I don't like putting my religion out there, I don't like wearing it like that because I don't want people looking at me as the poster child of Islam, because I'm not. I don't want them to look at my flaws [and say], 'oh, that's the flaws of Islam"

MOS DEF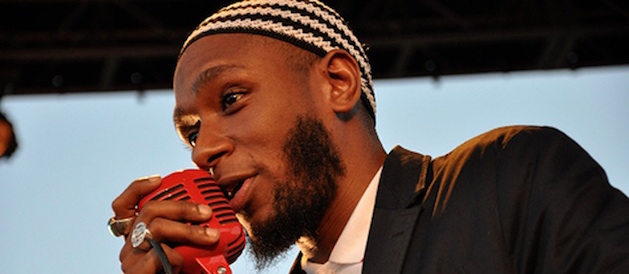 The rapper is another devout Muslim, saying "You're not gonna get through life without being worshipful or devoted to something. You're either devoted to your job, or to your desires. So the best way to spend your life is to try to be devoted to prayer, to Allah."

JULIA ROBERTS

Good news, if Julia Roberts dies she will eventually come back to life! At least according to the practicing Hindu. She doesn't like talking about her faith though, stating, "People do care what celebrities think, but it's such a hollow care. I've seen actors on TV start talking about their politics or religion, and I just think, you're putting me off. I don't need to know every little thing. People don't really want to know. It's nice if you don't have all those little voices in the back of your head when you're watching somebody in a movie."

ORLANDO BLOOM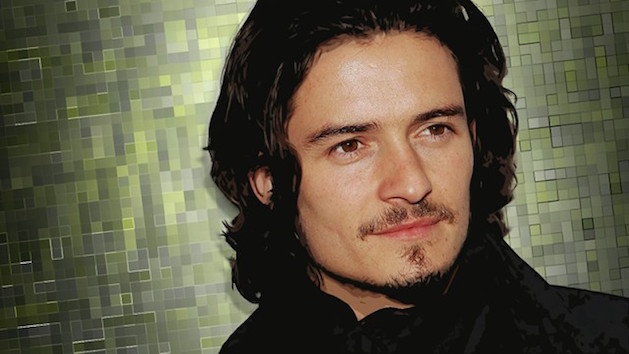 Like many young Brits, Orlando Bloom was born into the Church of England, but today he practices Buddhism. "The philosophies behind [Buddhism] are very current today and are a way of finding some sort of peace… Faith, I understand, gives people that unshakeable sense of self to go about their life and be a good person."
If you liked our list, be sure to check out 46 Celebrities You Won't Believe are Atheists.