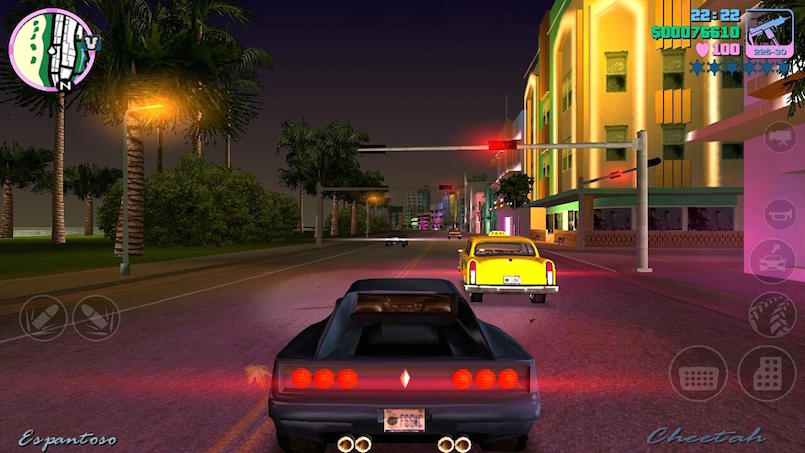 When you stop to think about it, there's a serious dearth of funny video games relative to other media formats. The best-sellers and top-rated lists are dominated by furious shooters, epic fantasies and dry sports simulators. Sure, these games are fun, but they're not really funny. For whatever reason though, gamers lap up these titles while some of the more lighthearted releases rarely get a look-in.
But that's not to say there aren't some legitimately funny video games, where developers have managed to nail the tricky balance between side-splitting humour, compelling gameplay and top-notch story writing. Here are five good examples:
1. Grand Theft Auto: Vice City (2002)
You could pick any Rockstar title at random and it would likely fit this list, but GTA: Vice City has to be the cream of the crop. The 80s vibe, over-the-top characters and satirical storyline are all instantly memorable, but it was the radio stations that gave us the most laughs. Remember the ridiculous chat shows? The subversive ads? Lazlow on V-Rock? You could drive around the map for hours just listening to it all.
2. Portal 2 (2011)
The original Portal had its fair share of dark humour, with demented A.I. antagonist GLaDOS delivering wickedly deadpan dialogue right throughout the game. Portal 2 improved on the comedy in almost every way, most notably via neurotic robot sidekick Wheatley. The bumbling droid is portrayed by British comedian Stephen Merchant (The Office), whose particular brand of humour fits the character and storyline down to a "T."
3. Brütal Legend (2009)
An awesome soundtrack, solid gameplay, and a hilarious turn from veteran funnyman Jack Black make Brütal Legend a truly unique gaming experience. Love him or hate him, the Tenacious D frontman was born for this role and will have you grinning from ear to ear throughout the story. The game is the brainchild of legendary developer Tim Schafer, who has a fine pedigree in comedy games (he's the guy behind Grim Fandango and the Monkey Island series). A true comedy classic.
4. South Park: The Stick of Truth (2014)
The trouble with games based on comedy TV shows is that it's difficult to transfer the humour from a 20-minute scripted series to an hours-long interactive experience. It doesn't help that the gameplay often turns out to be garbage, either (Tenorman's Revenge, anyone?). But with The Stick of Truth, developer Obsidian hit the bullseye. All the trademark subversive satire you'd expect from our favourite Coloradans, and a stomping RPG adventure to boot.
5. Saints Row: The Third (2011)
The first couple of Saints Row titles were good for a chuckle, but they were little more than cookie-cutter GTA clones at the end of the day. When it came to releasing their third title in the series, however, developer Volition decided to abandon all pretence of normality and go completely over the top with the story and gameplay. It was a great decision in hindsight, as Saints Row: The Third really sets the series apart with its non-stop randomness and hilarious combat moves.
Q: Are there any other funny video games you would add to this list? Let us know in the comments below.