When you're snacking, it can be tempting to skip the fuss and grab a bite on-the-go. Keeping healthy and convenient snacks at the ready helps you stay disciplined without sacrificing taste and enjoyment.
These three-step healthy snack ideas show how easy it can be to serve up a variety of tasty treats in just a few minutes while adding more fruit to your diet. Make the most of your snacking experience with this advice:
Stock the pantry with versatile options that let you prepare a range of snacks, from sweet to savory combinations. Choose options such as DOLE Jarred Fruit, which offers delicious, ready-to-eat fruit in five varieties that are fat-free, cholesterol-free and packed in 100 percent juice for maximum healthy snacking versatility.
Look for quick solutions that help trim prep time and skip the cutting, peeling and mess.
Avoid worrying about waste or spoilage with convenient, re-sealable lids that let you use what you need for a single serving and save the rest for later.
Find more quick and easy snack ideas at dole.com/jarredfruit.
Orange-Chipotle Avocado Toast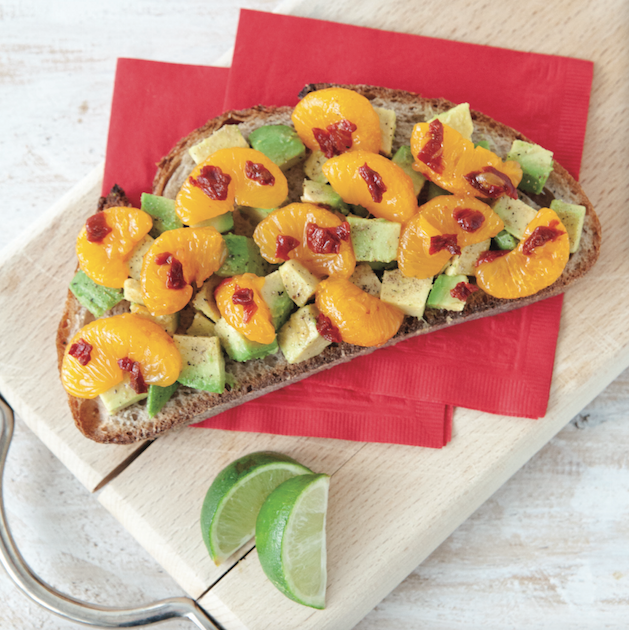 Ingredients
1 slice whole-wheat bread
1/2 avocado, diced or smashed
Salt and ground black pepper, to taste
1/3 cup DOLE Jarred Mandarin Oranges, drained
1/2 teaspoon chipotle peppers in adobo sauce, finely chopped
1 lime wedge
Preparation
Lightly toast bread and top with avocado. Season with salt and pepper, to taste.
In medium bowl, toss oranges with chopped chipotle peppers.
Spoon oranges over avocado toast and finish with a squeeze of lime.
Serves
1
Notes, Tips & Suggestions
For a spicier flavor, include pepper seeds. For more mild heat, remove seeds. A sprinkle of ground chili pepper can also be used to easily add spice in place of chipotle peppers.
Peaches and Cream Waffle Bites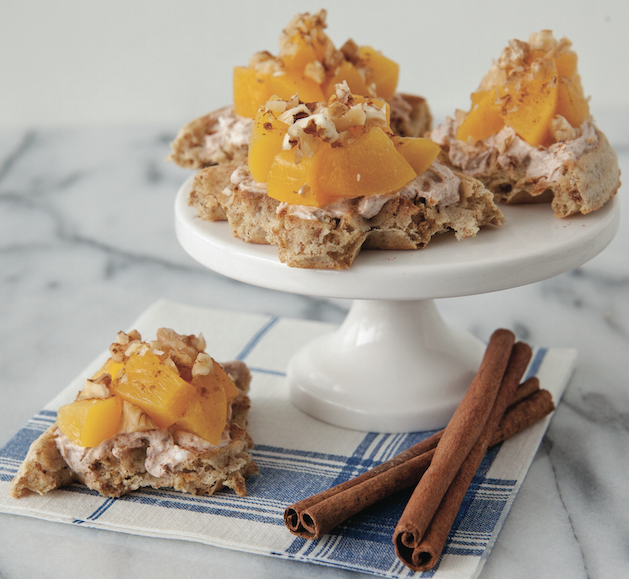 Ingredients
1 whole-wheat frozen waffle
2 tablespoons reduced-fat whipped cream cheese
1/8 teaspoon ground cinnamon
1/2 cup DOLE Jarred Sliced Peaches, drained and diced
2 teaspoons chopped walnuts, toasted
Preparation
Toast frozen whole-wheat waffle and cut into quarters.
In small bowl, combine cream cheese and cinnamon. Spread over waffle bites.
Top each bite with peaches and sprinkle with walnuts.
Serves
1
Pineapple and Shrimp Skewers with Thai Peanut Sauce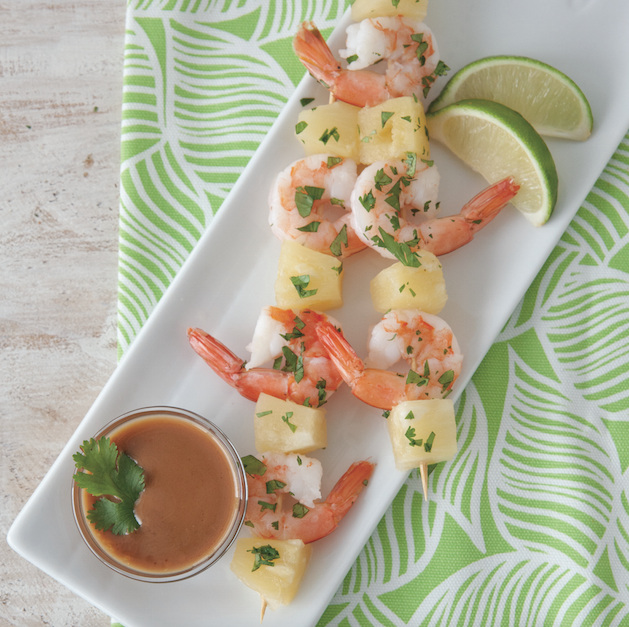 Ingredients
1/2 cup DOLE Jarred Pineapple Chunks, drained
6 medium cooked shrimp
1 small lime, halved
1 teaspoon chopped fresh cilantro
2 tablespoons bottled Thai peanut sauce
Preparation
On two wooden skewers, alternate threading four pineapple chunks and three shrimp.
Squeeze lime over prepared skewers and sprinkle with cilantro.
Serve with bottled Thai peanut sauce for dipping.
Serves
1
Asian Chicken Lettuce Wraps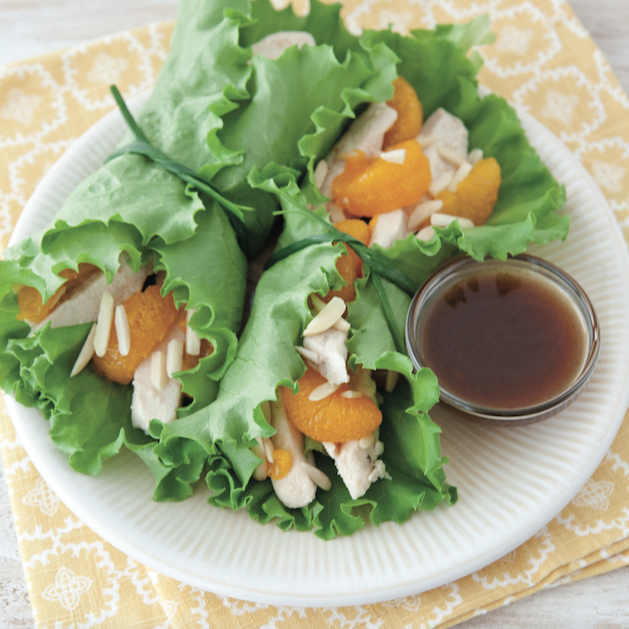 Ingredients
1/2 cup refrigerated cooked chicken breast strips
2 large Bibb or Boston lettuce leaves
1/2 cup DOLE Jarred Mandarin Oranges, drained
2 teaspoons slivered almonds
1 tablespoon light Asian salad dressing
Preparation
Equally divide chicken between two lettuce leaves to make two wraps.
Place 1/4 cup mandarin oranges and 1 teaspoon almonds into each wrap.
Serve lettuce wraps with salad dressing for dipping.
Serves
1
Lemon-Blueberry Parfait-tini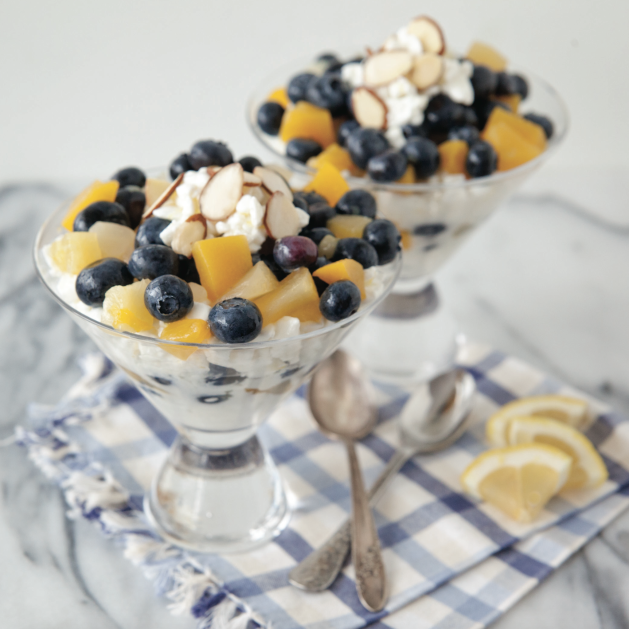 Ingredients
1 cup reduced-fat or fat-free cottage cheese
1/2 teaspoon grated lemon peel
1/2 cup DOLE Jarred Mixed Fruit, drained and diced
1/2 cup fresh blueberries
2 teaspoons sliced almonds
Preparation
In small bowl, combine cottage cheese with lemon peel.
In another small bowl, combine mixed fruit with blueberries.
In martini glass, alternately layer lemon cottage cheese with blueberry and mixed fruit combination. Top with sliced almonds.
Serves
1
Banana Split On-A-Stick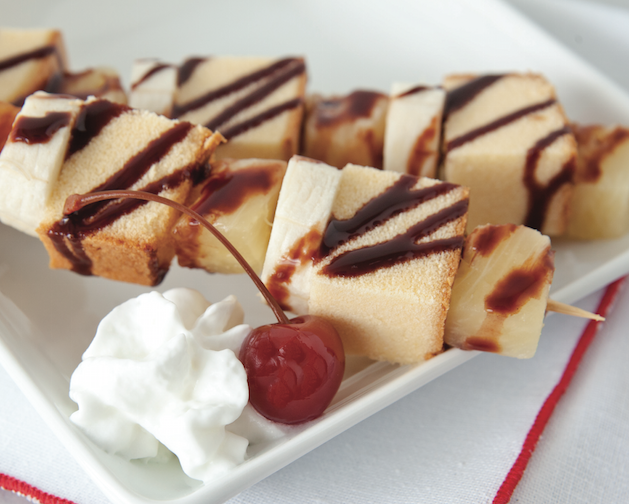 Ingredients
1/2 cup DOLE Jarred Pineapple Chunks, drained
1 slice pound cake, cut into 6 cubes
1/4 small banana, cut into 4 slices
2 teaspoons bottled chocolate sauce
2 tablespoons light whipped topping
1 maraschino cherry
Preparation
On two wooden skewers, alternate threading four pineapple chunks, three cubes of pound cake and two banana slices.
Drizzle each skewer with one teaspoon chocolate sauce.
Serve skewers with whipped topping and a maraschino cherry.
Serves
1
SOURCE:
DOLE Jarred Fruit