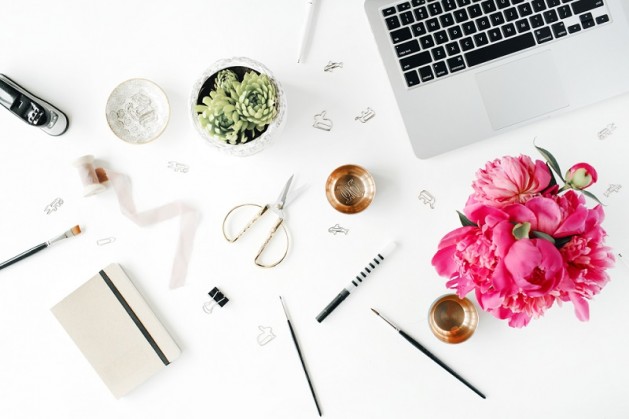 As we know, sometimes working in an office environment can be just a little, well, dull. Don't get me wrong—as proud as we are of our jobs, sometimes finding inspiration can be tricky when we are surrounded by grey walls and the incessant sound of typing.
But fear not, fellow cubicle-inhabitants. I have come up with a list of eight creative ways to stay inspired at the office.
Plants, plants, plants
Whether you are into the trendy succulents or you prefer a vase of fresh flowers from your favorite market, adding some greenery to your desk is a quick and easy way to instantly make your work space feel more lively and give you an instant boost of inspiration. Succulents are nice because they require very little maintenance, but I personally enjoy being able to pick out new flowers every week to switch things up.
Invest in a yoga ball chair
Yoga ball office chairs are a great alternative to the typical office chair that you spend a majority of your days sitting in. The main benefit of switching to a yoga ball chair is that it will keep you energized while also giving you better posture and working your abs without you even realizing it. Even more incredible? They aren't too bad on the wallet, either. Knowing that you're being even just a little more health conscious will help keep those positive vibes flowing.
Stock up on snacks
I'm personally a big believer in the concept of "brain food." But there's no need to be snacking on packaged or processed foods all day long when there are much healthier options available. Snacking on healthy foods during the day such as baby carrots, almonds, dried cranberries, or fresh fruit is a great way to keep you energized and inspired. Plus recent studies suggest that snacking on healthy foods throughout the day rather than eating three meals is a great way to fuel weight loss! Talk about inspiring.
Drink
Water, that is. It's one of our new year's resolutions every year, but often we forget about it come February. It's actually super simple to increase your water intake by just keeping a filled water bottle on your desk! I recommend using S'well Water Bottles, known for their BPA-free design, ability to keep cold drinks cold for 24 hours, hot drinks hot for 12 hours, and S'well has aided in the effort of planting more than half a million trees since 2013. Not to mention they're, like, really pretty.
Download a happy desktop background
It's actually really simple: viewing something that is pleasing to the eye keeps us inspired. And where better to post an inspiring photo than on your computer screen? You know, the thing you stare at all day long. Whether it's a photo of Italy's Amalfi Coast or a kitten sleeping in a mug (swoon), resting your eyes upon something that brings you joy throughout your day will keep you inspired.
Partake in conversation
Get to know your coworkers! Everybody around you knows something that you don't know. Taking time to get to know more about the people you surround yourself with will give you a sense of fellowship at the office. And who knows, you might even be able to make some work friends!
Invest in nice office supplies
I find true joy in buying colorful sticky notes, ball-point pens and pretty planners. Not only does it add color to your work area, but it actually inspires you to go to work the next day and put those pretty paperclips to good use. Plus, is there ever a problem with having a rose gold stapler? No. No there is not.
Bring in the good stuff
Sick of the boring K-cups your office stocks in the break room? Invest in your favorite flavored tea or coffee flavors and keep a stash at your desk. Take time to smell the coffee and treat yourself before a meeting or just after your lunch break.