Whether you're a craft beer snob, or you just know you'll need a little help from alcohol to make it through the holidays, we've rounded up the best beers for some of our favorite holiday dishes. Get the most out of your meal with these perfect pairings. We've got IPAs, sours, lagers, and more to go with every kind of Thanksgiving dish. Flip through these food and beer pairings for Thanksgiving so you'll be prepared for a satisfying and relaxing holiday.
Turkey, Green Beans, and Mashed Potatoes with Gravy + Westbrook Gose
A traditional Thanksgiving plate includes turkey, green beans, and mashed potatoes with gravy. It doesn't get more comforting than an herb and butter roasted turkey, like this one from Half Baked Harvest. The recipe comes with a white wine pan gravy that's perfectly seasoned with sage. Westbrook Brewing's Gose is a traditional German-style sour wheat beer brewed with coriander and salt. This refreshing beer is one to be enjoyed during the main course, as it goes well with a variety of rich, savory dishes. If you prefer something sweeter, try a Harpoon Grateful Harvest Cranberry Ale for a match made in brewery heaven.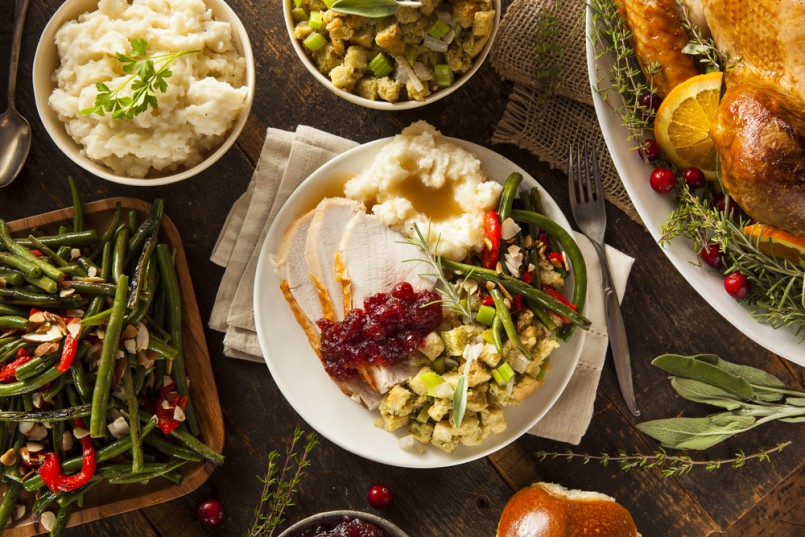 Pair the main dish with Green Beans with Lemon-Almond Pesto by Oh My Veggies for a bright addition.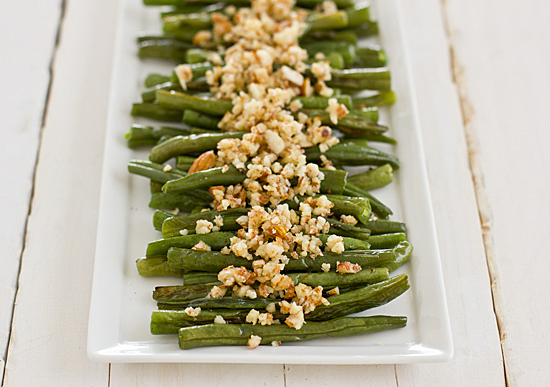 Sweet Potato Casserole + Sierra Nevada Celebration Ale
Who needs sugary marshmallows on top of their sweet potato casserole when you could have chewy maple, cinnamon pecans? The Minimalist Baker's Butternut Pecan Sweet Potato Casserole is buttery, perfectly sweet, and cinnamon-infused.
The Sierra Nevada Celebration Ale is know for its pine and citrus notes that go well with a variety of holiday dishes. This bold and intense beer complements the sweet and fluffy nature of the casserole.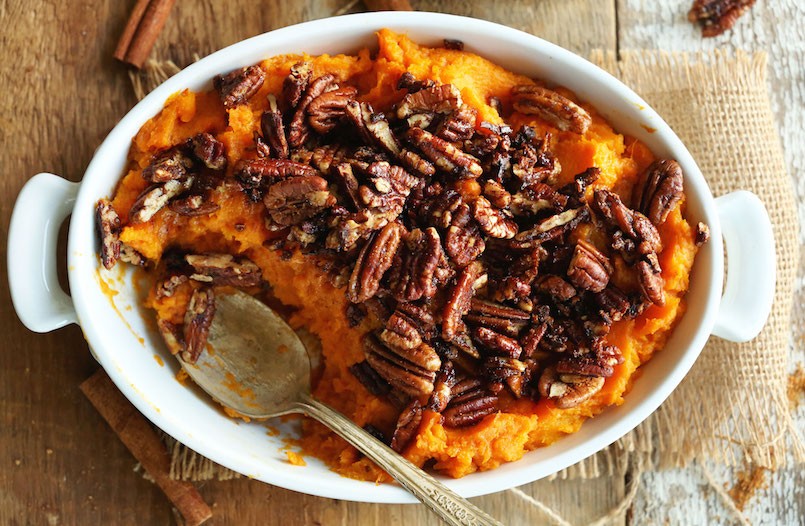 Balsamic Brussels Sprouts + Truck Stop Honey Brown Ale
Brussels sprouts are an easy (and cheap) side dish. When topped with balsamic, the soft, chewy texture of the sprouts is infused with its bold flavor. Simply cut the Brussels sprouts in halves and cook them over medium heat for five minutes with salt, pepper, and garlic. Once they've browned, cook them in the oven at 450F for about thirty minutes. Top them with balsamic glaze to finish.
The Truck Stop Honey Brown Ale is an English Brown Ale with honey malt, crystall malt, and chocolate malt. This slightly sweet beer contrasts with the tartness of balsamic, leaving you with a well-rounded palate.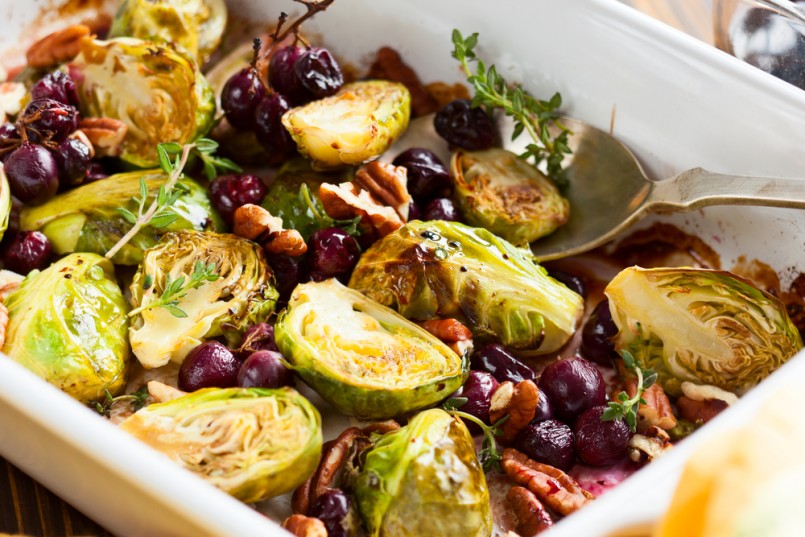 Cinnamon Glazed Carrots + Oskar Blues Pinner Throwback IPA
What better way to enjoy carrots than glazed with cinnamon, butter, and brown sugar? Place the carrots in a saucepan with just enough water to cover them. Bring to a boil, then reduce to medium heat for 7-8 minutes. Combine 2 tbsp of butter, 2 tbsp brown sugar, 1 tsp cinnamon, and a pinch of salt in a separate saucepan. Melt these ingredients over low heat to create a sauce. Drain the carrots and put them back into the saucepan and pour the cinnamon glaze over top, cooking on low for 2 minutes to thicken the sauce.
The Oskar Blues Pinner Throwback IPA combines tropical fruits, citruses, and spice berry for aroma and flavor up front, while also having biscuit and toasted bread at the back to balance out the hops. This well-rounded IPA is similar to the cinnamon-glazed carrots—sweet up front, toasty and savory in the back.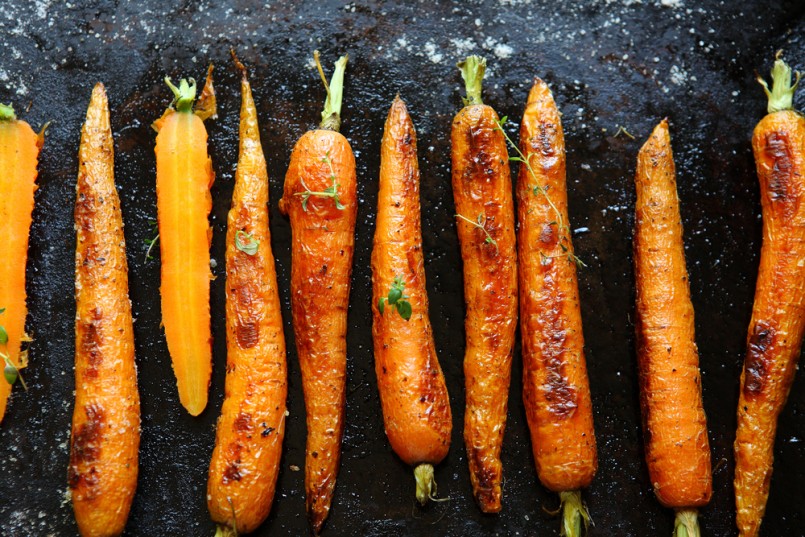 Beer Bratwurst Stuffing + Eliot Ness Amber Lager
This Beer Bratwurst Stuffing is one of our original recipes and a Thanksgiving favorite, combining the smooth and toasty Eliot Ness Amber Lager, herbs, and bratwurst. Use the lager in the recipe (below) and drink it on the side for optimal satisfaction.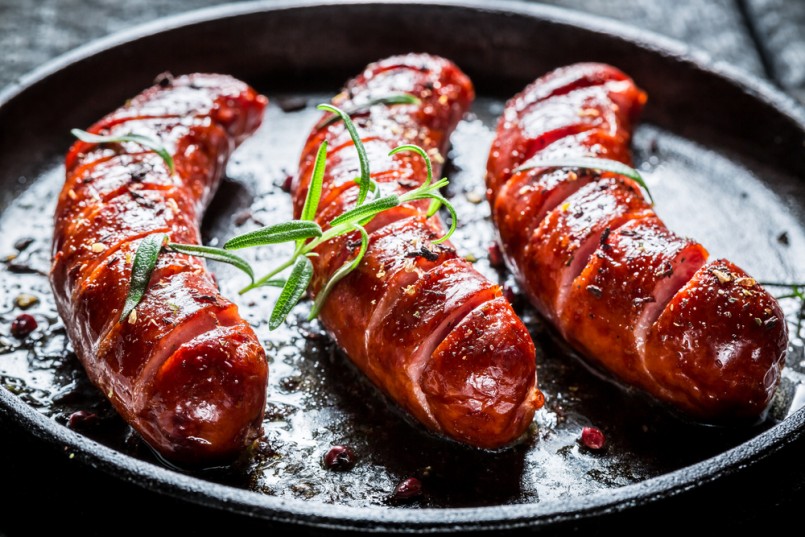 Ingredients
5 bratwurst with filling removed from the casing

¾ sweet onion, diced

1 ½ cups of butter

2 teaspoons of salt

1 teaspoon dried marjoram

1 teaspoon thyme

¼ teaspoon black pepper

¼ tsp white pepper

¼ cup Eliot Nest Amber Lager

9-10 Cups of Bread cubes (from stale, day old white bread is best)
Directions
In large skillet, brown the bratwurst meat on medium heat until cooked. Drain the fat and set aside.

In the same skillet with a small amount of bratwurst fat, saute the onions and celery on medium-low until softened and translucent (onion).

Add the butter, salt and the Eliot Nest Amber Lager and cook gently over very low heat until the butter is melted.

In a large mixing bowl, combine the bread cubes, marjoram, thyme and both types of pepper. Mix together.

Pour in the butter & beer mixture, gently combining all the ingredients. Then add the bratwurst meat.

Either stuff into your bird, or cook in a baking dish for 1 hour at 350°F.
*Note, for a stronger beer flavor, add 3/4 cup of butter and ½ cup of beer.
Cranberry Orange Relish + La Folie Sour Brown Ale
Amp up your cranberry relish by adding oranges. This vegan and gluten-free recipe by Healthy Seasonal Recipes only takes ten minutes to prepare. The La Folie Sour Brown Ale by New Belgium is one of the best sour beers out there. It is sharp and sour, full of green apple, cherry, and plum-skin notes, as if it was made to go with this fruity relish.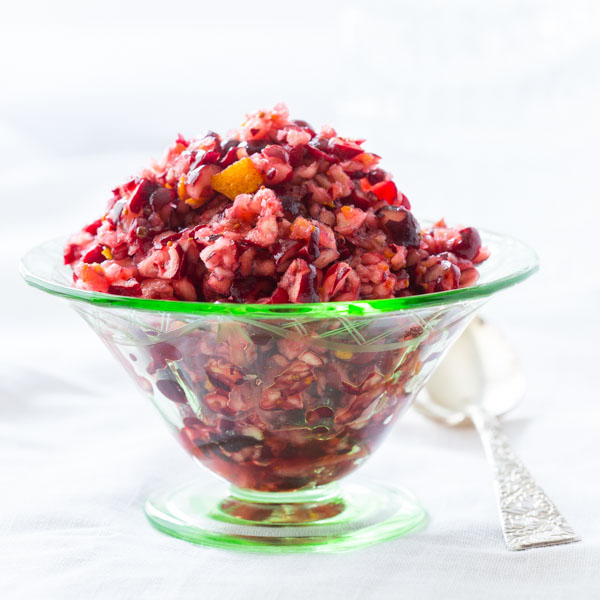 Image: Oh My Veggies
Pumpkin Pie + Pumking
Pumking is an Imperial Pumpkin Ale with flavors of malty sweetness, vanilla, clove, allspice, cinnamon, nutmeg, and pie crust. It is the perfect pair with pumpkin pie, but the beer goes well with any traditional Thanksgiving dish.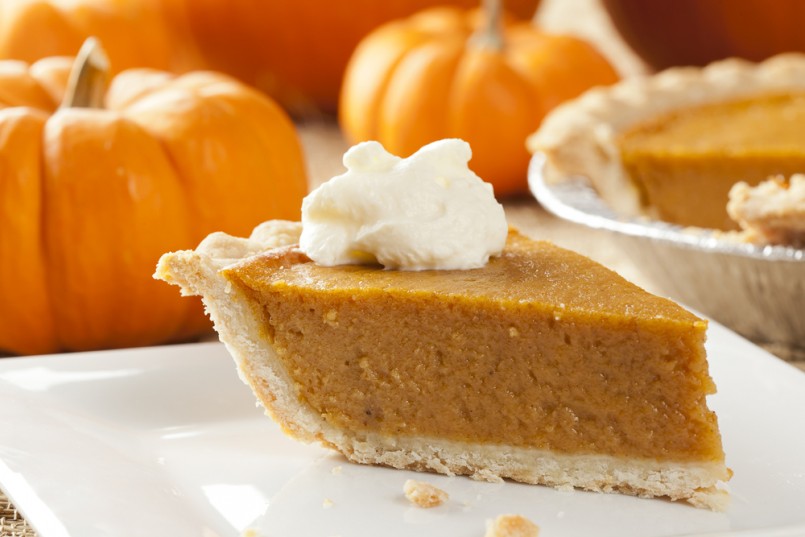 Apple Pie + Samuel Adams Winter Lager
The Samuel Adams Winter Lager is brewed with orange peel, cinnamon, and ginger, which pairs perfectly with a crisp, cinnamon apple pie. It is important to note some other exceptional post-dinner beers for any of your other Thanksgiving desserts. The Breakfast Stout by Founders Brewing Co. is brewed with flaked oats, bitter and imported chocolates, and two types of coffee. This cozy stout was made for cinnamon rolls, pecan pie, and just about anything else that's sweet. Southern Tier's Creme Brulee Stout tastes of vanilla, custard, and brown sugar, which makes it dessert all on its own.