A Trump Presidency (According To A Third Grader)
Do you want to live in a world where there is no such thing as "Netflix & Chill?" Well, according to one third grader, this is the type of world we are looking at if we elect Donald J. Trump as the next President of the United States of America in 2016.
As we all know by now, the multi-billionaire real estate mogul is running in (and possibly winning) the 2016 presidential race. He's loud, he's mad, and he's everywhere. Even kids are starting to notice what is going on with the Donald.
In a letter titled, "I Have A Dream 2016!", the policies of a potential Trump presidency are broken down in hilarious ways that only a third grader could think of. The expulsion of all immigrants, a loss of technology and innovation, and a loss of culture are all real worries for even us grownups but sometimes it is funny to see exactly how a child views these very serious topics too.
Originally posted on Facebook and shared here, this letter is both funny and terrifying. Is this how children see a man that could potentially be our next Chief Executive? Is it just a funny letter? Would you fight and die for your right to Netflix & chill? You tell us your thoughts in the comments below.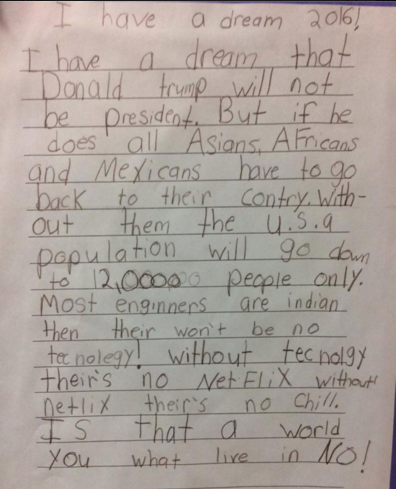 Adult Transcript:
I Have A Dream 2016
I have a dream that Donald Trump will not be president. But if he does, all Asians, Africans, and Mexicans have to go back to their country. Without them, the population of the USA will go down to only 12,000 people. Most engineers are Indian so then there won't be any technology! Without technology there's no Netflix and without Netflix there's no "chill." Is that a world you want to live in? No!