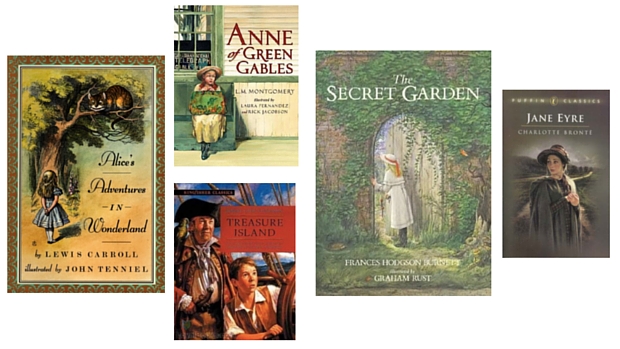 In order to celebrate Book Lover's Day, we've rounded up some classic, must-read books and the best coffeehouses to read them in! Bibliophiles rejoice.
Top Five Must-Read Books
Jane Eyre by Charlotte Bronte
Bronte's classic novel tells the tale of a young girl's struggle to make something of herself in the world, from the tyranny she endures as a poor orphan under her Aunt's roof and the deplorable conditions she lives in at Lowood school to the dark secrets she encounters in her role as Governess at Thornfield Hall, the home of the enigmatic and alluring Mr. Rochester. Strong-willed and resilient, Jane longs for the independence that Victorian England denied women, and her story stands as a timeless example of a woman's determination to choose her own path in life in the face of hardship and ridicule.
The Secret Garden by Frances Hodgson Burnett
A beloved children's favorite about little Mary Lennox, who goes to live in the English manor house of her reclusive uncle after her parents die of Cholera, The Secret Garden is a timeless classic about the beauty of nature, the healing power of love, and a belief in magic. As the Yorkshire sunshine softens Mary's hard little heart and she befriends the animal charmer Dicken, her invalid cousin Colin, and a host of gentle creatures, you'll laugh with her and cry with her as she learns how to love, how to trust, and how to reach outside herself to nurture the world around her.
Anne of Green Gables by L.M. Montgomery
When 11 year-old orphan Anne Shirley goes to live with the middle-aged brother and sister Matthew and Marilla Cuthbert, she discovers that there's been some mistake and that they had actually wanted to adopt a boy. While this debacle initially drops Anne into a world where she fears being rejected and unloved, you'll ultimately be rewarded as Anne's spirited imagination and kind heart win over everyone whose life she touches. This is a heartwarming story of love and friendship and a poignant reminder that sometimes life not working out the way we want it to is actually the best thing that can happen.
Alice's Adventures in Wonderland by Lewis Carroll
A classic work of Victorian Children's Fiction, this is a whimsical tale of magic and nonsense in which Alice finds herself in an imaginary world after chasing a white rabbit she sees while sitting quietly on the riverbank. Opening this novel invites you to fall down the proverbial rabbit hole and into a world of talking animals and magic mushrooms that cause Alice to grow or shrink depending on which side she eats. This novel has delighted children and adults alike with its blurring of the boundaries between real and make-believe and the all-too real sensation of trying to find our way around a world we can't make sense of.
Treasure Island by Robert Louis Stevenson
Traditionally considered a coming-of-age story, Treasure Island is a tale noted for its atmosphere, characters and action, and also as a wry commentary on the ambiguity of morality, as seen in Long John Silver, which is unusual for children's literature. It is one of the most frequently dramatized of all novels. The influence of Treasure Island on popular perceptions of pirates is enormous, including such elements as treasure maps marked with an "X," schooners, the Black Spot, tropical islands, and one-legged seamen bearing parrots on their shoulders.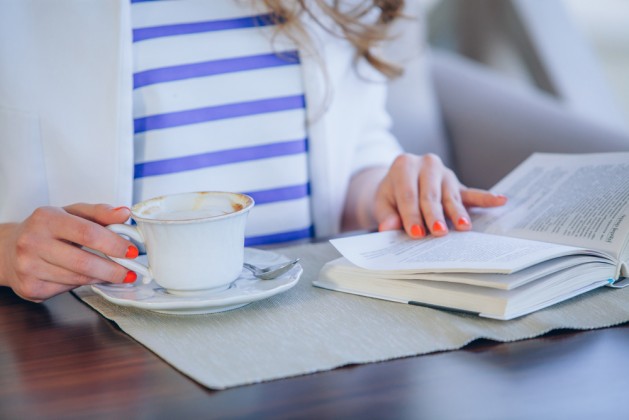 Best Coffeehouses for Reading
Cafe Wanderlust, Delhi, India: This café offers the intrepid traveller a place of rest and relaxation. Famous for their hammocks and breakfast platters, Café Wanderlust offers a quiet space in Gurgaon to look through a travel book, flip through a magazine, or finish up your novel.
Accents Coffee and Tea Lounge, Dublin, Ireland: This coffeehouse is open until 11pm, serving up big mugs of frothy coffee that customers can enjoy on an armchair or couch. On the ground floor to the back is a book swap—in case that coffee coincides with the last chapter in your novel—while staff are attentive but more than happy to let you drift off, feet up, in another world.
Housing Works Bookstore Cafe, NYC, New York: Housing Works Bookstore Cafe has established itself as a New York downtown institution and tourist destination for the last decade. Special events and a fully stocked cafe make this a great place to meet friends, relax, and shop the best book, movie, and music selection in New York City. This one-of-a-kind space is available for rental and all of the merchandise is donated. They are staffed almost entirely by volunteers and 100% of their profits go to Housing Works.
McNally-Jackson, NYC, New York: A bright and lovely place to enjoy a cup of coffee and a good book. A place where you can read books, buy books, write books, and talk about books. And now a place where you can make books, too, using their neat Espresso Book Machine. That's right. Thanks to this machine, they can help transform your words, art, and ideas into high-quality, perfect-bound paperbacks, ready to be proudly displayed on your shelves, to make the perfect gifts – or who knows? – to take the literary world by storm.
May Day Cafe and Bookstore, Delhi, India: A little off the beaten track, May Day is a charming little cafe and bookstore. Less emphasis is placed on the food and drink, and more is on the bookstore. This is a perfect place to not only read, but also discuss culture and politics with the friendly staff. You'll get the idea when you see the picture of Karl Marx and a sickle and hammer on the wall.
Trident Booksellers and Cafe, Boston, Massachusetts: On Newbury Street in Boston, this bookstore isn't the most obvious venue for an establishment aiming to exemplify a "Buddhist notion of right livelihood." But owner Bernard Flynn wanted to offer customers "the opportunity to connect to others or to be alone … in a space that's open and warmhearted." His longstanding success, as chain bookstores and cafes rise and fall around him, owes much to the eclectic mix of books that Flynn has been handcrafting for 34 years.