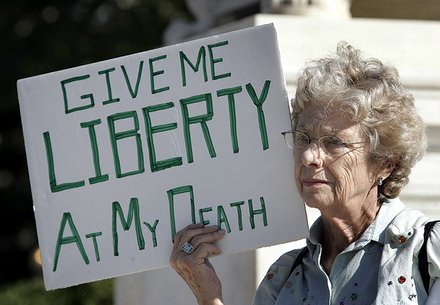 California has moved to legalize physician assisted suicide. The End of Life Option Act will go into effect on June 9th. The bill will make it legal for licensed physicians to prescribe life-ending drugs to patients they deem to be terminally ill.
The bill is being regarded as a victory for those advocating the right to die. Elizabeth Wallner, a single mother with terminal colon cancer is a representative of Compassion & Choices, an advocacy group for physician assisted suicide. In a press release regarding the news she had this to say:  "It gives me a great peace of mind to know that I will not be forced to die slowly and painfully. It gives great comfort to know that the agonizingly traumatic image of me suffering will not be my family's last memory of me."
Advocates like Wallner argue that allow terminally ill patients the right to chose when to end their life will grant them some small measure of peace in the face of relentless pain and incurable disease. There are many who would rather make their own decision about when to die than slowly waste away in agony.
However, there are also those who oppose the bill. Opponents to this measure range from religious groups, who argue that suicide violates the sanity of life, to disabled advocacy groups who allege that deeming any condition so hopeless that the only solution is death is a dangerous precedent to set. They argue that people who receive a disability diagnosis may be too quick to consider suicide when they do not know wether their quality of life might actually improve.
Samantha Crane, director of public policy at the Autistic Self-Advocacy Network says ""A lot of people say this is not about people with disabilities, this is about terminal prognoses. Yet the disability community is filled with people who have outlived a six-month prognosis for years."
The danger with the bill, in the eyes of many, is that it will lead to unnecessary deaths among those struggling with disabling, yet non-terminal, medical conditions.
California is now the fifth state to ratify a "right to die" law. Polls indicate that a majority of Americans now support such laws, which means other states may soon follow California's example. There are legitimate reasons to support and to oppose these types of laws. However, all arguments aside, we can only hope that those who do suffer from a painful, terminal illness can be granted some measure of peace.