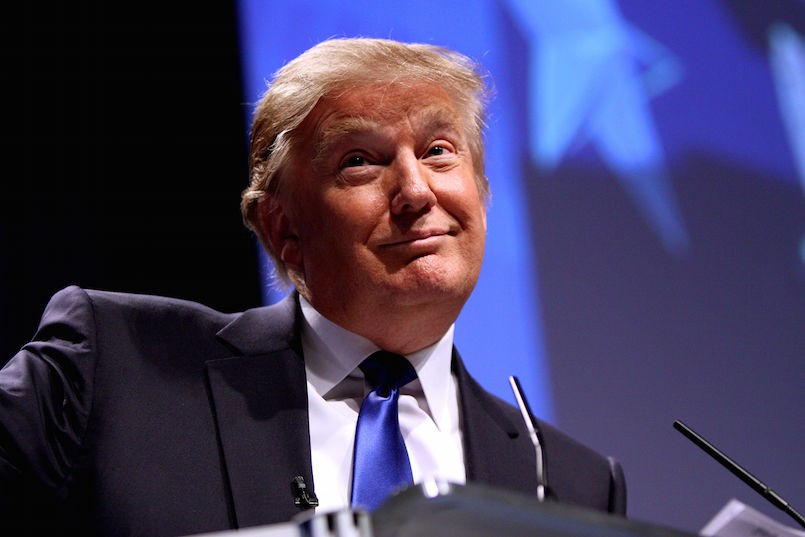 Last night's Donald Trump rally was as American as crisp white sheets and The Beach Boys singing "Sweet Little Sixteen," with Donald Trump serving as the night's Grand Wizard. Prior to the end of the rally, Trump's highpoint came when he humbly reminded the world that he's beating Jeb Bush in the polls, despite the fact that Bush is no longer even in the race to be President.
His real triumph came during post-rally interviews, however. When asked during an interview with Patriotic Liberty News how he thought the world could better deal with the Syrian refugee nuisance, Trump placed the onus on Germany and Poland to accommodate the millions of Syrian refugees.
"I know Germany and Poland have some very nice Jewish retreats and camps with vacancies. They're supposed to be very nice, very historic. I hear they're nice..picturesque. In the 1930s and 1940s Germany was transporting thousands of Jews a day to these camps…free of charge mind you…and that's a model we can apply to the refugee problem." Donald Trump would go on to add, "The amenities are supposed to be very nice…not as nice as if I built them…but the showers are supposed to be big and spacious for a lot of people to use at once…no reason we can't use them for Muslims too. The room is there, just waiting for people who have no home."
Trump is of course referring to the retreats built by the German government beginning in 1933. Initially these camps were designed to entertain opposition political parties during political negotiations, but European Jews would eventually overrun the earliest camps, prompting German Chancellor Adolf Hitler to build more than 20,000 such camps between 1933 and 1945. These resorts were so popular that they were named concentration camps, since that's all European Jews were able to concentrate on during the late 1930s and early '40s. Shortly after the Jews made these destinations popular, many gays also started flocking to those Central European hotspots. These are still popular tourist destinations, with the most famous getaway, Auschwitz in Oświęcim, Poland, attracting over 1.2 million visitors each year.
While the Polish and German governments might be hesitant to close such immensely popular tourist attractions, Trump would wholeheartedly support the move.
"Yes, I would support them doing this. As President, I'll even build more if I need to. I'm really good at building things."