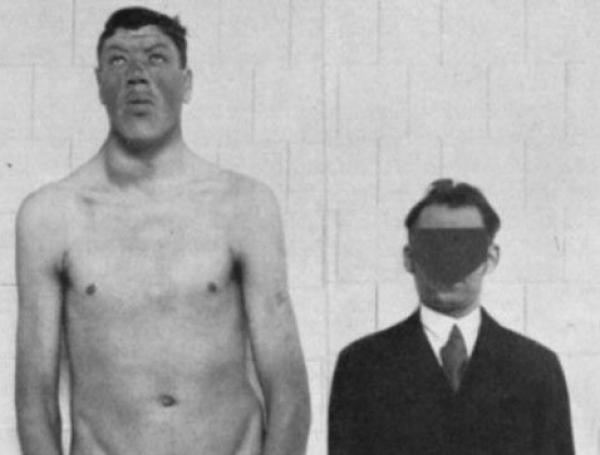 If you're familiar with Game of Thrones, and its most popular character, you know it can be tough to be a dwarf with all the white walkers and having to murder your father with a crossbow. But it's probably also tough to be a giant. After all, you have to duck under doors and constantly get asked to pull things off of high shelves.
But it's probably even tougher to go from one to the other. Luckily, there's only one person in history who has ever had to go through that. In 1899 a child named Adam Ranier was born in Austria. For most of his life. he was small and sickly. When he was 18, he was evaluated by army physicians after his draft number was called who rejected him after finding that he only measured four and a half feet tall.  He was, technically speaking a dwarf.
But then one day he started growing for some reason. And in the next ten years, he grew to be over seven feet tall, making him the tallest man in the country. But while most people would be pretty excited to discover that they could suddenly dominate their local pick up basketball game, Adam had some pretty severe side effects from his growth spurt.
His spine began to curve significantly, and he lost the vision in his right eye along with the hearing in his left ear. In 1931, two doctors studying him discovered that the source of his incredible growth. They found a large tumor pressing on his pituitary gland, pushing huge amounts of growth hormones into his body. Today the condition is called Acromegaly, and Adam displayed all the symptoms, including unevenly spaced teeth, a pronounced jaw and brow, and unusually large hands and feet. Adam also found that eating was difficult and he began to suffer the effects of a poor diet.
Due to his condition, Adam remained bedridden for much of his life. The doctors performed a surgery that was intended to remove the tumor, but after examining him a few years later they found that he was still growing, which meant that they had been unable to correct the condition. Adam died at a fairly young in 1950 at a height of seven feet and ten inches.
But to this day, Adam Ranier remains the only person who has ever lived as both a dwarf and a giant. It's a shame that more isn't known about his life. Though, even at the time, his case attracted a lot of attention in the international press. And the Guinness Book of World Records included an entry on him in 1975. And though he was unfortunate to have to suffer such debilitating physical conditions, at least he will be remembered as unique in the history of mankind.