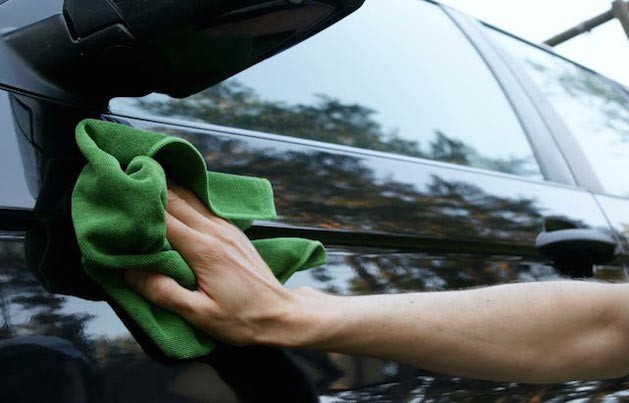 Waxing your car on regular basis has been proven to help maintain a car's color and shine. Thus, not waxing your car is likely to leave your car looking dull and susceptible to accelerated wear. So, how exactly can one know when it's time to wax their car? While some people claim that you should have it waxed after every 45 days, others claim that you should only wax it twice per year; once in spring and once in winter. However, the best way of determining the best time to wax your car lies in the results one gets after performing a beading test.
CARRYING OUT THE TESTS – BEADING AND THE TOWEL TEST:
A beading test requires that one splash a small amount of water onto the car. If the water beads up nicely, then, there's absolutely no need for you to wax. However, if it doesn't bead at all and instead large sheets are formed, then, it's time you got it waxed.
The towel test requires that one take a towel that's made using 100 percent cotton and fold it till its thick enough and the size of your hand. Then, use it to apply firm pressure on the surface on the car while twisting it back and forth in a counter-clockwise direction. If you end up hearing a squealing noise, then, it's time to wax the car.
OTHER FACTORS THAT DETERMINE THE FREQUENCY UNDER WHICH ONE SHOULD WAX THEIR CAR:
At times, you really don't need to carry out the above tests. This is because there are other tell-tale signs that one can look for. For instance, if your car has been or is regularly exposed to harsh conditions such as rain, dirt or snow, then, you definitely need to be waxing it on regular basis – after every two to three months.
Also, you ought to pay close attention to your car and the wax being used. Some synthetic waxes tend to last for over a year. You'll also note that cars that are consistently waxed (usually for a number of years) end up holding wax for a much longer time than ones that have just started being waxed.
HOW TO WAX AND POLISH YOUR CAR LIKE A PRO:
Waxing should always be done using a clean dry cloth. It should then be applied in thin layers and while adopting circular motions. When dry, use another dry cloth to remove the wax.
Whenever you notice spotty, streaked or hazy areas on your car after waxing, more so in areas where too much wax has been applied or where wax dried too fast, you can use a spray bottle to mist the areas to loosen the dried wax. The spray bottle should contain a mixture of isopropyl alcohol and distilled water. After spraying, wipe the area clean and re-wax once again before polishing.
TIPS:
Before waxing, ensure that you get rid of all the dirt especially one that may be hiding in the gritty or rough spots. To be sure that the car is ready for waxing, it ought to feel as smooth as glass.
Never apply wax under direct sunlight. Instead, you should do it under a shaded area like in a garage.
Only use enough wax as the more you use, the harder it'll be to remove.