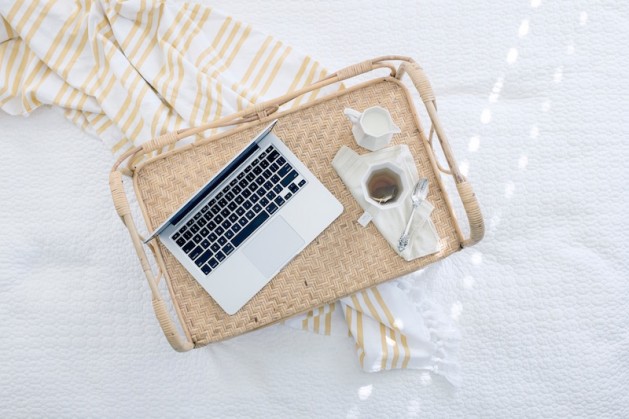 Since the rise of technology over the past two decades, physical portfolios have all but disappeared. While they may seem like a tragedy, especially when you consider how fantastic certain works look printed, it comes as a blessing to those who need to make an online portfolio and also those who need to look at portfolios.
Primarily, online portfolios are used by creative people who want to showcase their work and find clients and/or employers. They usually work in tandem with a resume to show that the artist (be that a photographer, illustrator, or even graphic designer) has skills and experience.
The differences between old physical portfolios and the digital portfolios of today are practically endless. You have much more freedom with online portfolios to show off your personal brand, and you can constantly update your portfolio without having to make hundreds of prints. More than that, you can send your online portfolio in a matter of moments without ever having to meet any of your potential clients. However, with so much freedom and access, many portfolios get lost online amidst the vast quantity of online portfolios.
What can you do to stand out when everyone is trying to do the same thing? To help you get started, here are some tips on how to set up an online portfolio!
How to make an online portfolio
Develop your brand
Before you begin making a portfolio, or a website, you want to figure out your personal brand. This basically means figuring out who you are and what your goals are. You can figure out design aspects like color scheme, logo, font styles, and even the visual look of the content you create. However, branding also encompasses the nitty gritty details like your target audience and the motivation behind your work/business. All kinds of bloggers have tips on branding, but sometimes it can be best if you work with a graphic designer or mentor who can help you brand yourself.
Invest in a custom domain
Often when people set out to create an online portfolio, they can't justify buying their own domain. For some reason people think it's expensive or unnecessary because so many hosting sites allow you to create websites without custom domain names. However, in order to appear professional and serious, you should consider investing in a custom domain (yourname dot com).
In all honesty, custom domains can be pretty cheap depending on the hosting site you choose, and if you're planning on staying in your field for the extended future, there's no reason not to invest. A custom domain will give you that extra boost of professionalism when someone considers hiring you or working with you.
Choose the host that's right for you
There are a million sites out there that will host your website for you. Everyone needs something a little different whether that's based on pricing, storage, look, or ease of use. Before picking a host, do some research and figure out first, what's out there and second, what you need.
Many hosting sites like Squarespace or Format offer you a two week trial period to test out your potential website or portfolio. Use those two weeks to see what you like about the host, and what could be done differently. Find something that works for your online portfolio, not someone else's.
Customize your layout
There's nothing more boring than seeing a portfolio that looks exactly like a template. Sometimes you don't have the freedom to change much, but do your best to make your portfolio layout your own. Even if it just means changing up the font or color scheme, a unique portfolio will be much more eye-catching than one that everyone's seen before.
Showcase only your best, most recent work
It's difficult for many creatives to narrow down the images/pieces in their portfolio because we tend to be very proud of our work. Chances are you could add hundreds of photos or illustrations, and you probably would have had you not read this. It's much better to include a few fantastic pieces than a hundred average pieces.
If you upload five to ten great pieces, then your potential client or employer can ask to see more specific pieces of work that reflect what they want. You add just enough intrigue with a few images that people will have to ask for more information.
Include your artist statement
Your artist statement (or about me section) is just as important as the work you post in your portfolio. This section shouldn't be obnoxiously long. Be sure to include some background information about yourself, your style, and your mission. Format has a great entry about writing about me sections, but you can find tips all over the internet.