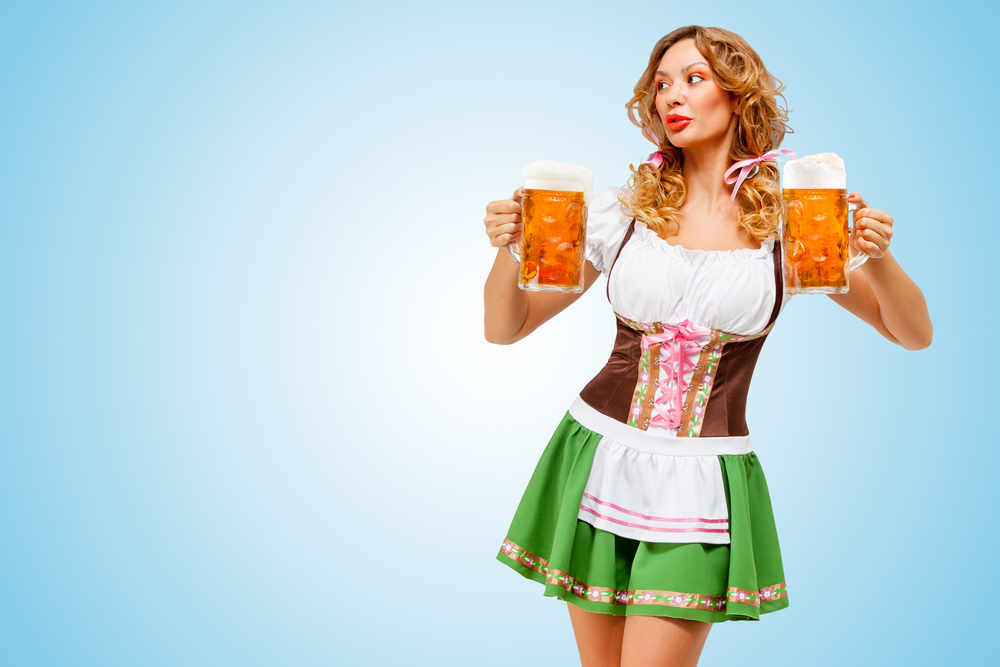 It's time for Oktoberfest! Wooo! It's that thing… where Australians go to Germany to drink tons of beer or something?
That's actually not far off the mark. This year Oktoberfest will take place from September 17 – October 3, with over five million expected attendees. A mini Australian embassy will be set-up in Munich, and around 6 millions liters of beer will be drunk. Yes, people will go to drink their faces off, but there are also live bands, parades, carnival rides, games, and Bavarian food.
The formal beginning of Oktoberfest was the October wedding of Bavarian Crown Prince Ludwig and Princess Therese von Sachsen-Hildburghausen in 1810, when royalty decided that everyone could come to their reception at Theresienwiese, the local fair ground where Oktoberfest is still held, and party by watching horse races. No beer was provided. (That'd be a helluva open bar bill.) However, a similar festival had been going on hundreds of years prior: the yearly "drink up all this beer so we can make more" event.
Before living in the future with refrigeration and what not, beer was brewed with a higher alcohol content and in the early spring to keep from spoiling. This beer was kept in cold storage, like caves or cellars, in a process known as lagering. People would drink from those casks until around October, after the fall harvest, and then they needed to hurry up and drink the rest of that beer to reuse the casks. The last of that beer was probably especially good as the hops mellowed and a malty flavor profile developed, typical of Märzen or Oktoberfest beers.
That being said, the amber, toasty Oktoberfest beer is not the majority of beer served. There are more popular lager styles like Helles that dominate the Oktoberfest beer tents anymore. Arguably, this is because Oktoberfest has gone from an intensely Bavarian festival to a Bavarian festival that benefits from international consumption, hence the temporary Australian embassy. When you think of beers that make it internationally – Fosters, Sapporo, Heineken, Stella Artois – these are beers that are light, crisp, and pale.
So what makes an Oktoberfest beer? After a certain point, you can just say that whatever is served at Oktoberfest is Oktoberfest beer, whether it's crisp and gold or red and malty. But for those breweries that aren't the six from Munich that serve the festival, there are some aspects to consider.
First of all, the traditional Märzen or Oktoberfest are usually aged for a few weeks and have an amber color and a full malty flavor. (It doesn't make financial sense to lager them for six months any more.) Also, the craft beer boom in the U.S. means that we think of beer as something that can be made with pumpkin spice, fruit, coriander, whatever. There's nothing wrong with that, but this is not the case for Bavaria. There's a law in place since 1516 called Reinheitsgebot, a beer purity law, that states in order for something to be called beer it must only be brewed with water, barely, and hops. So if you buy something labeled Oktoberfest beer and it's made with cinnamon and pumpkin, you've been lied to. However, if you're buying an Oktoberfest beer as opposed to other medium-bodied lagers, to an extent you are buying it for the label and the idea of a big, happy fall festival.
Here are some beers you can try to get in the spirit:
Spaten Oktoberfest Ur-Mätzen – From one of the Munich breweries that serves Oktoberfest. It doesn't get much more authentic than this stateside.
Ayinger Oktober Fest-Märzen – From Bavarian brewery just outside Munich, this is a smooth, elegant beer with a frothy head.
Great Lakes Oktoberfest – An excellent example of an Oktoberfest-style beer, it's a lighter medium-bodied lager with rich malt notes with a good balance between flavor and drinkability.
Sam Adams Octoberfest – This beer is a satisfying Oktoberfest interpretation with complexity and touches of sweetness. I really like it even though there's a made-up word on the label.