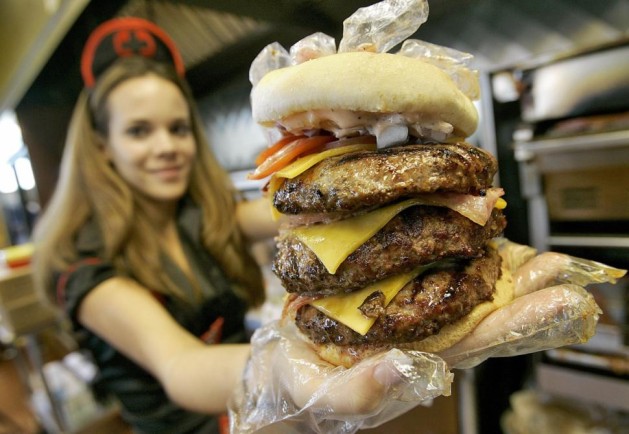 Cheese-covered. Deep-fried. Smothered in chili. Sandwiched between two cookies. Topped with caramel. Shaken in hot sauce. Beer-battered. With a side of ranch dressing.
Have any of these adjectives described something you've eaten lately? Two of them? Don't feel that bad–you're not the only one. We can't get enough sugar, salt, and fat. We try. Oh boy, do we try.
There are an estimated 78.6 million adults in America that are considered obese. That's almost 35%.
To put that in perspective, the United States has the largest prison population in the entire world at 7.2 million people. No one would argue that this number is way too high, right?
But when we turn back to fattening food and the obesity epidemic, we're dealing with a group ten times larger than our extremely crowded prison system. And they're all hungry.
If you can stomach through every digital carb and calorie, here are 19 Images That Prove Americans Have A Food Problem: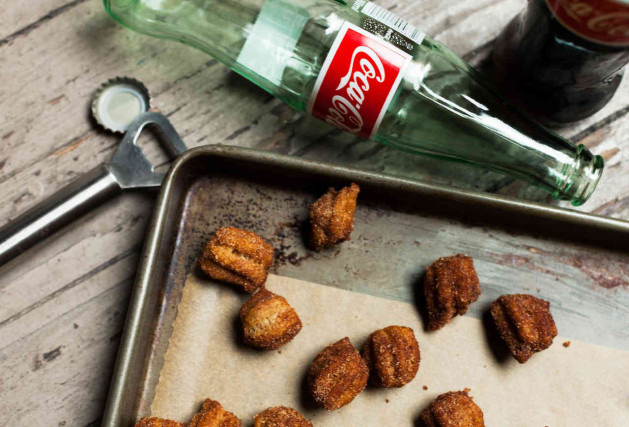 Taking the world's most famous soda, adding it to a sweet cinnamon sugar batter, deep-frying it, and pouring coke syrup on top might not be the easiest of tasks, but for the folks that see the picture above and don't feel sick? It might just be worth the time.

18. Lay's Potato Chips & Their "Do Us A Flavor" Campaign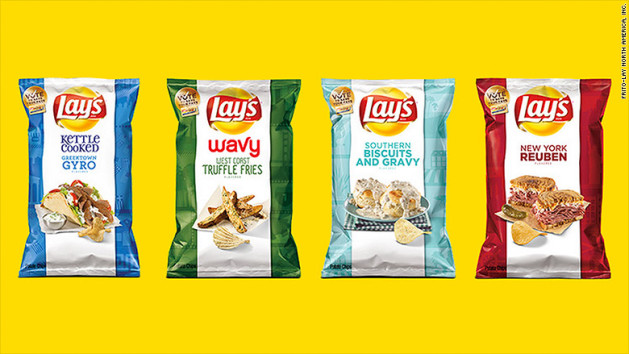 Coming out with flavors like Greektown Gyro, Chicken N' Waffles, and Southern Biscuits And Gravy, Frito-Lays has made the ultimate food Frankenstein. Like the potato chip version of Willy Wonka's Three Course Dinner Chewing Gum, if you want to be able to stick a whole meal in your mouth with one-hand, it's a great time to be alive.

17. Glazed Maple Bacon Doughnuts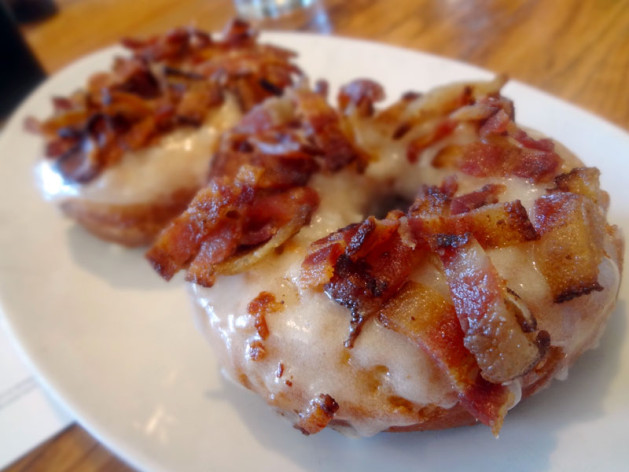 The Great Bacon Craze makes its first appearance on this list with this powerfully impressive addition to the already "incredibly healthy" doughnut world. Glazed with a sweet icing and topped with shredded and crispy sprinkling of pork belly fat, these are sure to be a hit at the mandatory staff meeting you have next week. Just make sure that no one eats them before actually having to work.

16. A Bloody Mary…With A Whole Fried Chicken Garnish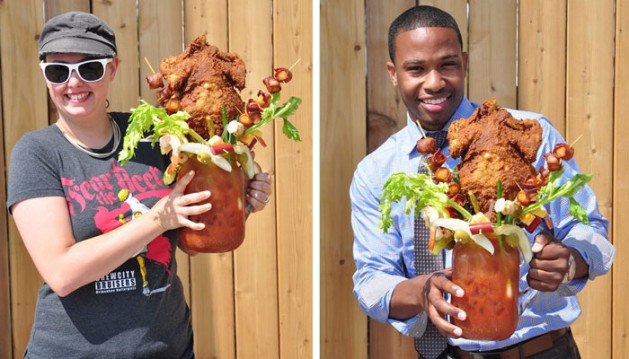 Its a bird! Its a plane! No, its a whole fried chicken dunked in vodka, tomato juice, and hot sauce.
Did we mention that its surrounded by bacon-wrapped fried potatoes, cocktail onions, celery,  and a cocktail weenie? This monstrous concoction should be a once-in-a-lifetime entrant into a "World's Craziest Bartender" competition but as you see above, its already happened at least twice. This combination of alcohol, fried starch, pork, and a whopping two stalks of celery is definitely an American dream/nightmare.

15. Deep Fried Bacon & White Country Gravy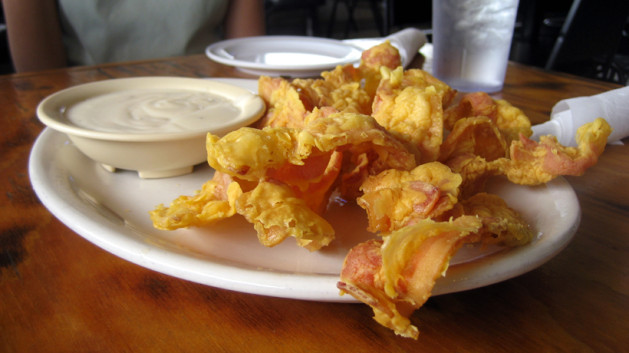 Do we really need to explain this one? A full slab of bacon, battered and deep-fried, served up with creamy, peppered southern gravy.
Invented at Sodalak's Original Country Inn in Snook, Texas and prominently featured on a certain network that covers lots and lots of food, this pick is a dish probably best served hot and only once every other decade.

14. Fried Flamin' Hot Cheetos Mozzarella Cheesesticks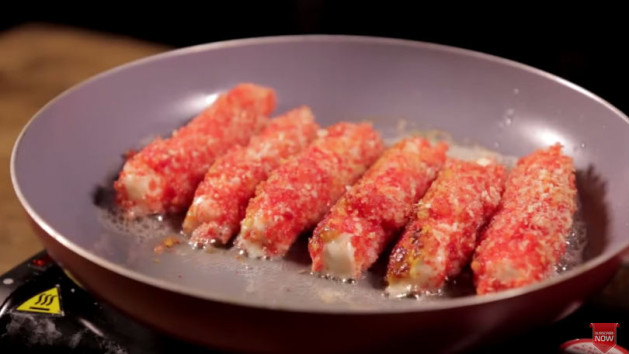 What do you get when you blend an extruded cheese puff into panko breadcrumbs and then use them to coat a stick of mozzarella? Happiness? Heartburn? Heart disease? All of the above?
In tons of videos online, you can find your own version of this twist on the classic bar snack. Because Cheetos weren't messy enough, right? They needed boiling oil and real cheese.

13. Any One Of These Sodas…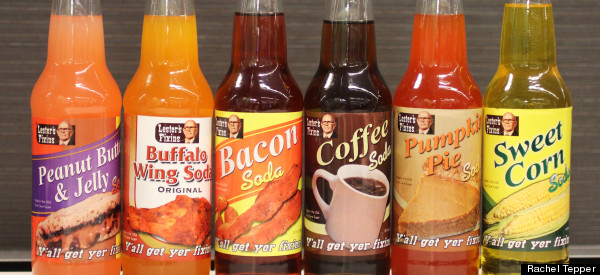 Having personally sipped and promptly given back my very own bottle of buffalo wing soda, this entry is near and dear to my heart. Thankfully, the actual soda is no longer near me, but some people can't get enough of these not-so-normal bottles of pop.
From Peanut Butter & Jelly to Sweet Corn, there's bound to be a funky label that can grab your attention and test your tastebuds.

12. The PigTurDucken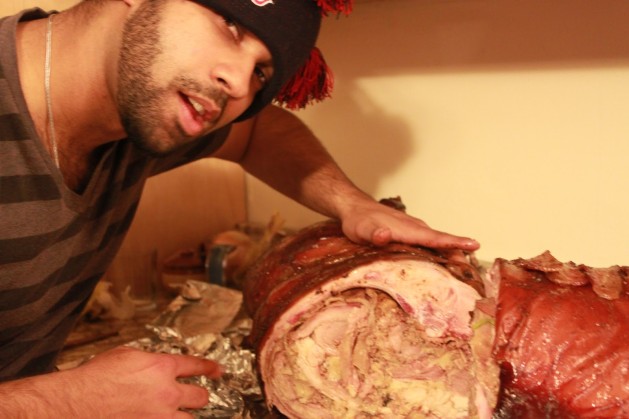 Tipping the scales at a whopping 53 pounds when completed, this recipe calls for a whole suckling pig, a whole turkey, a whole duck, a whole chicken, and a whole quail–surrounded by a whole lot of bacon and sausage-potato stuffing.
After reading through the entire recipe and being horrified at the 10+ hours of preparation that goes into making this "food," it must at least taste really good.

11. Taco Bell's Cap'n Crunch Bites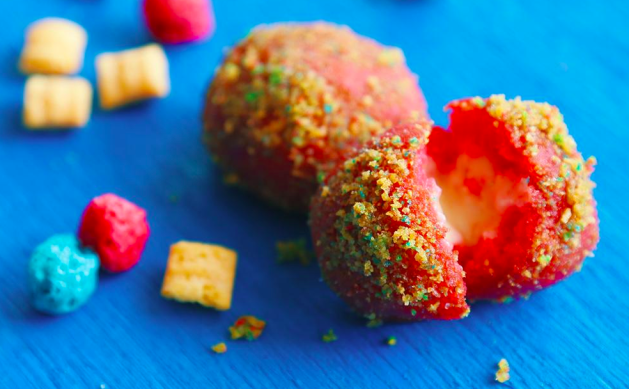 Fighting their way onto Taco Bell's menu, in the midst of a serious attempt at an entry into the breakfast arena, these fried balls of dough and berry-flavored sugar are actually pretty tasty when crash-landed into the complimentary icing that comes with them.
If gotten while piping hot and preferably in the middle or at the end of a heavy drinking session, these fruity snacks are a proud addition to this list.

10. French Fry-Covered Hot Dog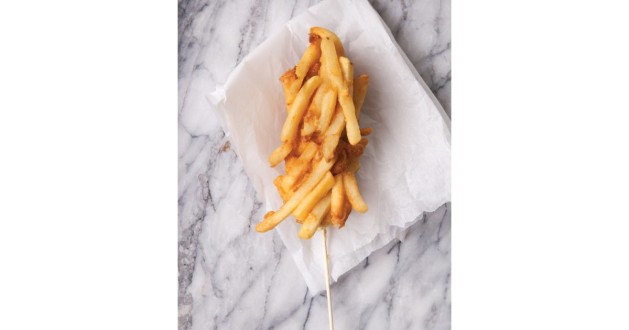 Although #10 might seem like the invention of a third-grader who got bored at lunch in the school cafeteria, this hot dog wrapped and mashed in fried potatoes and then deep-fried is actually being taken around the country at many fairs and festivals.
Perhaps combining the fries and hotdog into a portable one-handed snack makes it easier to simultaneously hold your maple bacon doughnut in the other hand.

9. Koolickles (Pickles Soaked in Kool-Aid)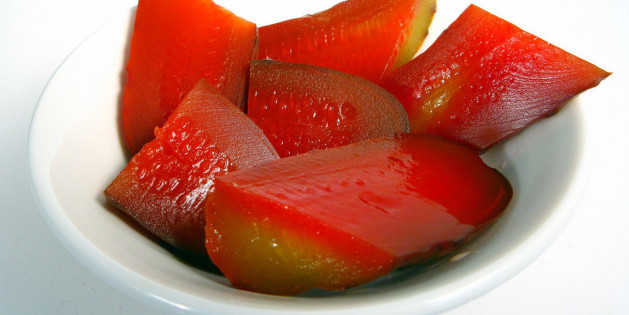 Born in the states below the Mason-Dixon Line, these sweet and sour "vegetables" are definitely more of a regional cuisine than a nationwide craze.
Typically made with cherry or watermelon powdered drink mix, these pickles can be brined with any flavor you'd like. While the rest of the country is just now starting to get used to the idea of deep-frying their pickles, this might be the next step in the vinegary snack's evolution.

8. Funnel Cake Ale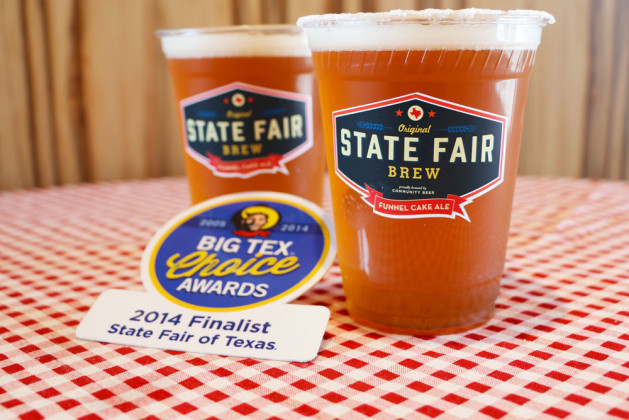 A sure-fire hit at watering-holes near state fairs everywhere, this brew is eerily reminiscent of a German Chocolate Cake Beer. The big difference, for once, is actually the rim of the drink. Covered in thick powdered sugar, this little addition makes a killer difference by allowing the drinker to savor the drink a bit before having to throw it back. Awesome idea, awesome presentation, but still an alcoholic drink based around a fried pastry.

7. Hot Beef Sundae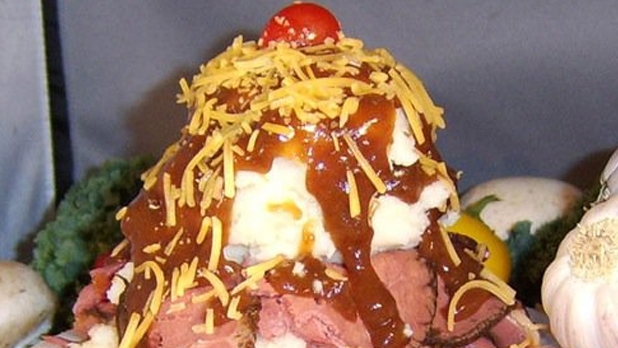 A mountain of food that is described to contain mashed potatoes, roast beef, gravy, cheddar cheese, sour cream, and topped with a cherry tomato, this $5 treat is common at the New York State Fair where it is sold alongside Mac & Cheese and thick vanilla shakes.

6. Hamburger Birthday Cake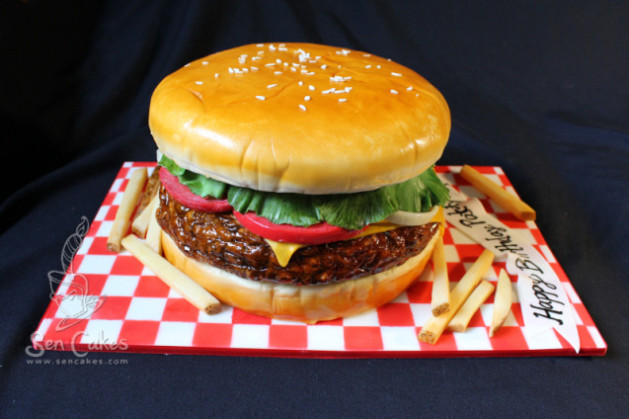 This entry doesn't only pertain to the example above.
Any kind of cake specifically crafted to look identical to an incredibly un-cakelike food should be off limits to anyone who doesn't make cakes for some sort of reality show. Hamburgers, hotdogs, Thanksgiving Dinner spreads. No…Just no.
5. Chocolate Covered Slim Jims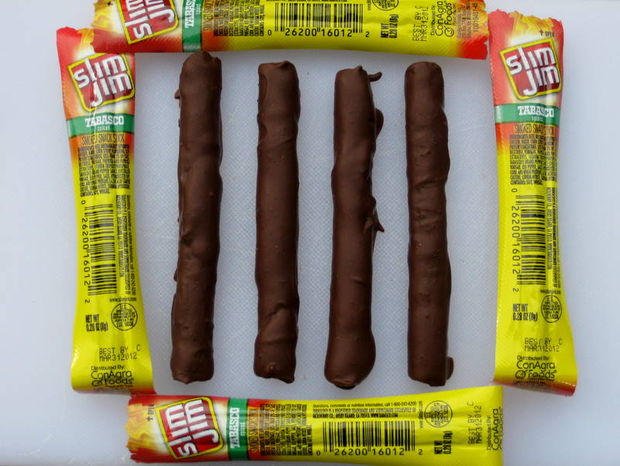 One of the many homemade recipes available through the internet, processed and mashed meat that has been shoved into a casing and then dipped in molten chocolate might not make it to the shelves, but if more people keep trying it and posting their results to their blogs, who knows?
The commercial with the late, great Macho Man Randy Savage hocking this sweet and salty snack practically writes itself.

4. KFC DoubleDown Chicken Sandwich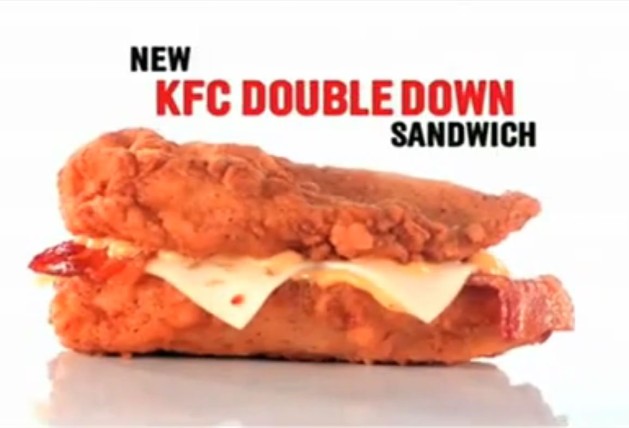 The infamous bread-less sandwich from Kentucky Fried Chicken is a shoe-in for this list, as it was one of the first tv ads that forced viewers to rewind their DVR's just to make sure that what they were seeing wasn't some odd dinnertime hallucination.
Two breaded pieces of chicken around bacon, cheese, and sauce, this sandwich barely qualifies as a sandwich but still has a huge fan base that lost its cool when the meal was pulled from some KFC restaurants.

3. Pizza Hut's Hot Dog Bites Pizza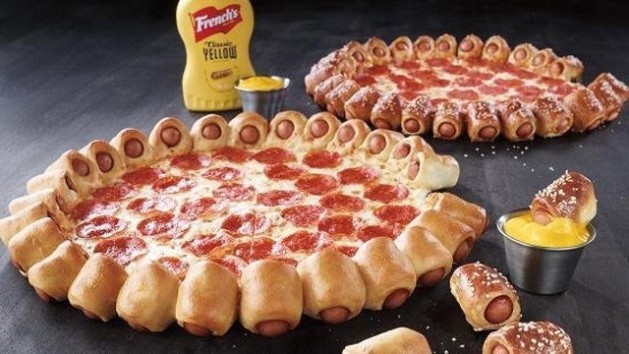 Busting onto the scene sometime in the last year, Pizza Hut answered that famous question, "What do you get when you combine Pigs-N-A-Blanket's with a stuffed crust pizza?"
Coming with a mustard dipping sauce, and even having a pretzel-dog variation, only time will tell if this pie is the real deal or a real dog.

2. The Horseshoe Sandwich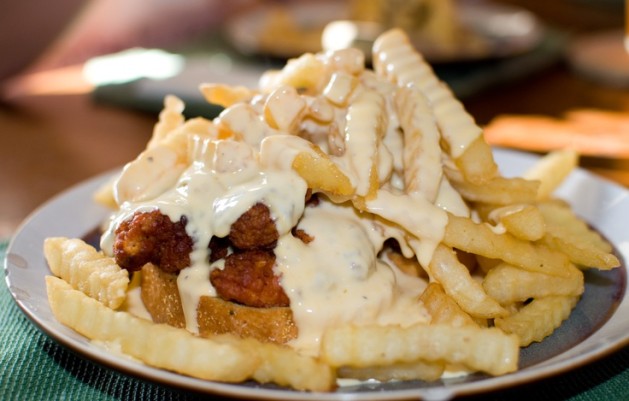 This mountain of what can only be described as "poutine on steroids," has any sort of fried meat imaginable, fries, gravy, and cheese piled high on pieces of white bread.
Is it an open-faced sandwich? Is it the American way to just shove this in your face and not ask so many questions? Maybe, maybe not. Either way, bring napkins and some antacid.

1. Anything By Paula Deen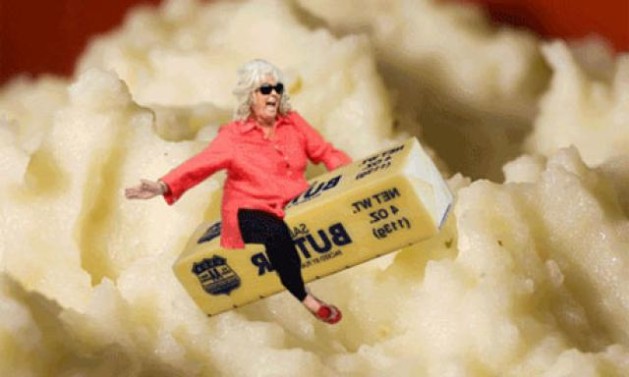 Butter. Just lots of butter.
David Stansberry is an intern contributor and student at Middle Tennessee State University majoring in Economics and English.
Twitter & Instagram: @Dave_Trace
Facebook: www.facebook.com/davidstansberryIII