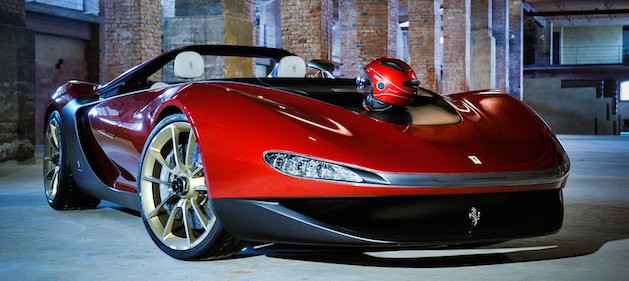 Ferrari is really getting into the ultra-exclusive club with its ultra-exclusive customers. For the past few years they have been allowing customers with deep enough pockets to create basically a 1 of 1 custom Ferrari exactly to their liking. Offering such delectable has significantly boosted Ferrari's sales numbers and given the company a surge that it needed.
Let me introduce you to the Ferrari Sergio concept car that you can buy. Well, some of you anyway. Actually some of you is too generous a word. Six of you to be exact, and only if Ferrari sends you an invitation. If you have not received yours by now, you will not be getting one. All six invitations have been sent out and all six have been accepted.
The Sergio is a combined effort between Ferrari and longtime friend Pininfarina and the results are stunning in every way. Style is second to none with its own gorgeous unique lines that are backed up by a 600 horsepower V8 engine. Price for this unbelievable exclusivity is $3,000,000. No negotiating.
The first one has already been delivered to a client in the United Arab Emirates, Each one has been custom made according to its new owners wishes, making each car absolutely unique.
The Sergio is definitely striking to look at, and is certainly intended to be extremely driver oriented, as is stated in the press release: "An authentic open-top, it explicitly references the track, underscoring and intensifying its sense of sportiness, fun behind the wheel and the pleasure of design at its purest."
I don't imagine these cars will be racking up too many miles, but I do hope that their new owners will see fit to take them to some shows so maybe the rest of us will get a chance to appreciate the beauty and engineering that has gone into this latest Ferrari / Pininfarina creation. Have your cameras ready, you just never know where one might pop up!
Article Source: http://EzineArticles.com/?expert=Kevin_D_Hagen