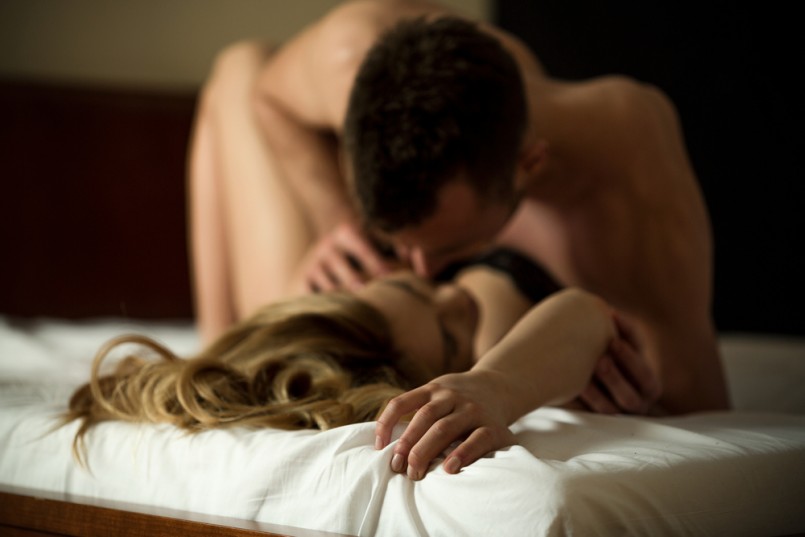 When I originally got this assignment to write about kinky sex positions for Valentine's Day, I got a little nervous, and like, embarrassed. I came up with a list of things I thought would be hot, like role playing, some light BDSM, maybe some yoga sex.
So I did what any smart guy should do. I asked my wife.
She said, "Oh, yeah, like when you grab a mop, and take that handle, and choke up on the shaft, and stroke it back and forth, and clean up all the mud and dirt that's been dragged across this kitchen floor? And that spot over there where your nasty-ass children spilled chocolate milk?"
Uh, I guess?
"Or maybe over there on the rug in front of the couch, where you got Doritos crumbs all over everything. It would be super hot if you grab the goddam Dyson and suck it all up. Suck it real hard, until every last bit is gone."
So, fellas, since I'm not an idiot, here are seven positions guaranteed to get her hot and bothered, on Valentine's Day, or really, any day. And since I'm here to help, here's a Pro Tip: do these things without being asked. You'll thank me for it.
Vacuum
I mean, just look at what's going on here: him, slowly moving back and forth, his gaze never leaving hers (except maybe once in awhile to make sure he doesn't miss any spots); her, taking in his every thrust of the handle as he sucks up every last bit of pet dander in that rug. You can practically hear those sugar walls tumbling down like Jericho. Make sure you get it all. Move the furniture.
Clean the Blinds
When it comes to getting kinky, Cosmo swears that blindfolds are the super sexy and a little bit kinky. But before you break out the dark silk, get her in the mood with some soapy water and rag and dust those blinds. Don't be afraid to really get in there and make sure they're completely grime-free. Before you block out the light, make sure it can actually get through.
Shine The Mirrors
Mirrors on the ceiling, mirrors on the wall. Mirrors are hot. But if you can't see anything, what is the point? Break out the Windex and get them shiny. You can watch her get super turned on at the site of you wiping up and down, and then watch yourselves getting dirty without any distortion.
Wipe Down Those Surfaces
You can't have sex on a tabletop or a counter if it's covered in grease and coffee rings. That's just gross. So before you soil them them with your sex-sweat and other bodily fluids, spray them down with some Method or Mrs Meyers and get them so shiny you can see your reflection while doing the nasty in the kitchen.
Scrub The Floors
If you think mopping gets her wet, just wait until you see what happens when she sees you down on all fours, scrubbing the grime out of all those nooks and crannies in the tile. Don't be afraid to really go to town down there. Nothing shows your commitment to getting nasty than putting some elbow grease into making those floors spotless.
Clean The Toilet
Now we're getting dirty. You've been punishing this toilet all week. Use something with bleach in it to kill all those nasty things you've been splattering in there two or three times a day. Actually this one you may not get any credit for, but it's still a nice thing to do. Seriously this is probably the nastiest job in the house, so be a gentleman and scrub the shit out of that toilet.d
Dust Those Shelves
If you want to knock the cobwebs out of those panties, start by knocking them out of the shelves. Dust is made up of mainly dead skin cells and pet hair, which is gross, and lots of people are allergic to it. Trust me, you don't want to be going downtown and sneeze all over your lady's tenders. It really kills the ambiance. So break out the feathers and put them to good use by dusting your shelves.
Remember, and I can't stress this enough, do these things without being asked. Happy Valentine's Day.