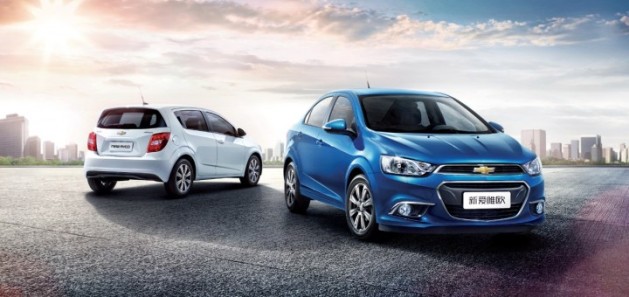 Chevrolet has produced a second generation Aveo with the aim of competing with the Vauxhall Corsa and the Hyundai i20.
Chevrolet has included a lot of high tech equipment in the new Aveo which has an edgy motorbike style interior. The sporty rev counter and an LED speedometer makes these features very attractive in the cabin. On the outside, the body has hidden rear handles and striking head lights.
The Aveo replaces the Swift and is much more practical with more space and better standard equipment. In addition, the diesel model gives the best fuel economy for any car in this class.
The Aveo comes in two petrol engines; a 1.2 litre and a 1.4 litre. The diesel option is available with either 94 bhp or 74 bhp and is 1.3 litre. None of these engines are going to break the speed barrier but all perform reasonably well given the restrictive nature of the size.
The five speed manual transmission can be noisy especially when starting or when travelling on a motorway. Although it is easy to drive, the car does struggle to keep up with the flow of fast traffic on the motorway. This model is quite suitable around town as it is easy to park and the light steering makes it simple to navigate around narrow streets.
Chevrolet has improved the space in the new Aveo with more leg and head room which will comfortably seat four adults. There is room for a third passenger in the back but this could prove to be a step too far on long journeys. The suspension absorbs most speed bumps and pot holes but wind and road noise can be a problem especially on motorways.
You need to constantly use the gears to keep up with the flow of fast traffic making it noisier than you would want on a long journey. There is a good amount of adjustment available for the driving position and the higher spec models include front arm rests for more comfort.
Reliability is high on the priority list for many prospective buyers and with this in mind Chevrolet gives a five year/100,000 warranty as well as a years roadside assistance. The Aveo has tried and tested parts from both the GM and Vauxhall range of vehicles so no problems are expected. Safety features included are six airbags, electronic stability control and special bumpers and a bonnet which crumple to avoid causing serious injury to pedestrians.
Chevrolet has also added a
special anti roll system
which has contributed to this model receiving five stars in crash safety tests. The Aveo provides a good level of equipment and is good value for money.
A new car deserves protection against wear and tear and the simplest way to achieve this is to invest in a set of
car mats
. High quality durable mats will protect the floor carpet from dirt and road debris, and help retain the cars value upon resale.
Article Source: http://EzineArticles.com/?expert=Arthur_Wilson