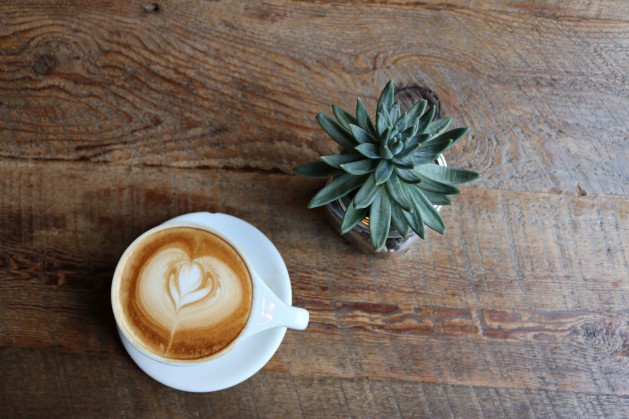 Coffee Addicts Rejoice: The Best Coffee In Each State
If you're anything like me, you need coffee to function every day. Hot, iced, frozen, or in an IV, you have to get your daily dose. What happens when you're traveling, whether for pleasure or for work, and you can't stop at your favorite coffeehouse where the barista has memorized your order? The following is a list of the best coffee in each state, no matter what state you're in. All you coffeeholics can breathe a sigh of relief. Check out our list of the best coffee in each state.
Alabama—Mama Mocha's Coffee Emporium & Roasters
Looking for coffee with a side of character? Check out Mama Mocha's! Not only do they roast their own beans, but Mama Mocha's also hosts events such as writing workshops, art galleries and music shows.
Alaska—Kobuk Coffee Co.
Built in 1915 as a home for the Kimball family and their general supply store, it was converted to a coffee shop in 1965 when Decema Kimball began selling her signature roasted coffee beans.
Arizona—SoZo Coffeehouse
This coffee shop's tagline is "coffee with a cause," because a portion of every purchase goes to various charity organizations, such as Boys and Girls Club, Compassion International, and World Vision.
Arkansas—River City Coffee
Nominated as Best Coffee in Little Rock for the 2016 Reader's Choice Awards, River City "puts the coffee back in coffee shop!"
California—Klatch Coffee
At Klatch, they only serve the best coffee. And they truly mean it: their espresso was awarded "Best Espresso in the World" at the World Barista Championships. The Coffee Review awarded 80% of their coffees with a 90+ and they won "Overall Champion" at the 2015 Golden Bean Roaster Competition.
Colorado—Purple Door Coffee
More than just great coffee, Purple Door employs homeless teenagers and young adults who are striving to exit homelessness for good.
Connecticut—The Buzz Truck
Caffeine on wheels! Alex and Jessica bring the coffee to you, whether you're at home, at school, or at work.
Delaware—Traders Cove Coffee Shop
In the historic setting of where William Penn spent his first night in America, Traders Cove offers culture with their coffee.
Florida—Spring Park Coffee
Situated in Green Cove Springs, this coffeehouse combines history, specialty coffee and a cozy atmosphere. The antique furniture adds to the unique vibe, causing a timeless effect.
Georgia—Rev Coffee
In search of a unique atmosphere, different from the Starbucks and Dunkin' Donuts on every corner? Try having your joe in this converted garage, and enjoy some live music, as well.
Hawaii—Island Brew Coffeehouse
Organic, freshly made, locally roasted, and all-natural. Everything served at the Island Brew is 100% Hawaiian. Did I mention the waterfront views?
Idaho—Groove Coffee
In a world of faster, newer, and sleeker, Groove Coffee has the mindset of slowing down and taking a moment to enjoy little pleasures, such as a delicious cup of locally roasted coffee.
Illinois—318 Coffeehouse
Have some homemade gelato or fresh chocolate fondue with your coffee at this Best Independent Coffeehouse (2011, 2013).
Indiana—Calvin Fletcher's Coffee Company
All money spent at this coffee shop will be given away to non-profit organizations in the Indianapolis area.
Iowa—The Book Cellar and Coffee Attic
Browse new and used books while enjoying some specialty coffee, smoothies, or a light lunch.
Kansas—Parisi Artisan Coffee
Drink coffee all day, and then in the evening enjoy a coffee-inspired cocktail and dessert.
Kentucky—Third Street Stuff & Coffee
Feel the 60's vibe in this funky coffee shop, and enjoy their sandwiches and unique gifts.
Louisiana—Cafe du Monde
Open since 1862, this cafe will serve you fresh coffee and beignets 24/7 (except Christmas).
Maine—Speckled Ax
Here the coffee beans are wood-roasted, a special technique that causes Speckled Ax to stand out from the competition.
Maryland—Bean Hollow Coffee and Roastery
Not only is the coffee locally roasted, but the owners also manage a pottery studio where you can purchase a ceramic momento of your visit.
Massachusetts—The Coffee Loft
Sample their organic coffee, Adagio full leaf teas, baked goods and freshly squeezed lemonade while admiring their local artwork displays.
Michigan—Falling Rock Cafe and Bookstore
Near Lake Superior, you can find more than 30,000 new, used and rare books, and enjoy coffee courtesy of the Great Lakes Coffee Company. They also have gluten-free, dairy-free and vegan options on their menu.
Minnesota—LuLu Bean's Coffeehouse and Bakery
Relax on a comfy couch or chair by a fireplace in this converted older home, while you sip your organic coffee.
Mississippi—The Grind Coffee and Nosh
Leather seating, a floor-to-ceiling fireplace, and authentic Italian style of espresso extraction. Drink coffee in style.
Missouri—The Coffee Ethic
A favorite among locals, this coffee shop creates single-origin coffees that are roasted on site, as well as craft beers and seasonal wines.
Montana—Off The Leaf Coffee Company
You can either relax in the armchairs or patio seating, or conduct a business meeting in one of the private rooms available for reservation.
Nebraska—The Mill Coffee and Tea
Sip your coffee or tea outside on their large, covered porch and relax your cares away.
Nevada—World Famous Coffee Cup
Taste the coffee that Guy Fieri thought was so great, he featured it on his show, "Diners, Drive-In's and Dives".
New Hampshire—Bonhoeffer's Cafe and Espresso
Quality coffee meets quality service and atmosphere. Also, proceeds from every purchase go to the non-profit organization, Hope and Life Kids.
New Jersey—How You Brewin? Coffee Company
This coffee shop has a bayfront view of Long Beach Island, and is also home to an Internet cafe. One of their locations even has a cupcake bar!
New Mexico—Zendo Coffee
Art and espresso, what's not to love? Grab a seat in the industrial building, or on the sidewalk tables.
New York—Box Kite Coffee
Box Kite offers national and international coffees in their shop, as well as coffee-themed cocktails.
North Carolina—Amelie's French Bakery and Cafe
Not only do you get a taste of French coffees and pastries, but they are available to you 24/7.
North Dakota—The Brew
Originally a church built in 1887, The Brew has since been refurbished into a cozy, unique coffeehouse welcoming to coffee lovers of all backgrounds.
Ohio—Donkey Coffee and Espresso
Two stories of coffee drinkers and art lovers, all devoted to spreading awareness of social justice issues. They call it "caffeine with a conscience".
Oklahoma—The Red Cup
Along with their specialty coffees, the Red Cup also offers an all-vegetarian menu, with some vegan and gluten-free options.
Oregon—Barista
With four locations in Portland, OR, you can't miss it. Nor would you want to!
Pennsylvania—Square One Coffee
Square One roasts their global beans in-house using a small-batch method to get their famous quality.
Rhode Island—Coffee Exchange
Their mission at Coffee Exchange is sustainability. Through fair trade, green beans and sustainable employment, they appear to be living up to their goal.
South Carolina—City Lights Coffee
If you're looking for an escape from coffee chains, try City Lights. They provide drip, French press, espresso and tea in their artful shop.
South Dakota—Choco Latte
Have your coffee and your chocolate too at this sweet shop/coffee house.
Tennessee—Frothy Monkey
Frothy Monkey is so much more than coffee. They roast their own beans, have a weekly happy hour, and cater to children's palates, all with their Southern charm.
Texas—Mudsmith
Mudsmith is quirky, to say the least, but they do have the best iced coffee in town.
Utah—Publik Coffee
Enjoy your coffee in this solar-powered, industrial-styled warehouse. It used to be a printing press, but now it creates a different kind of art.
Vermont—Maglianero
This coffeehouse has a bicycle theme to its space, and if that's not fun enough, well-behaved dogs are welcome!
Virginia—Caffe Amouri
Through their cornstarch cups, fettuccine coffee stirrers and hosting local high school drama events, Caffe Amouri makes it clear that community and sustainability are at the core of their coffee.
Washington—The Living Room Coffee House
Full of couches, this coffee shop is imploring you to sit and stay awhile as you enjoy your beverage and pastry of choice.
West Virginia—Joe N' Throw
Drink coffee and throw some pottery! Mixing it up from the wine and painting schtick.
Wisconsin—Mocha Lisa Coffeehouse
In this 100-year-old farmhouse, you can find specialty drinks (including a monthly themed beverage), baked goods, and local art.
Wyoming—Jackson Hole Coffee Roasters
Voted Best Locally Roasted Beans six years in a row, awarded silver for Best Coffee Shop in 2014, and bronze the previous four years, you can't go wrong with Jackson Hole.
With our list of the best coffee in each state, you'll never travel empty-handed, or with low energy! Did we miss your favorite coffee in each state? Let us know in the comments below.