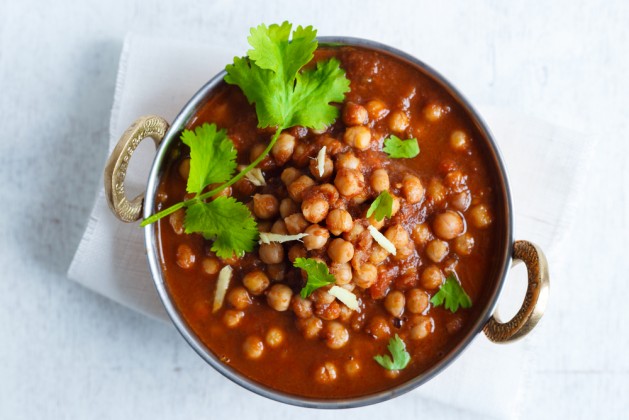 Are you ready to spice up your kitchen? In honor of Cook Something Bold Day, we're going to take these recipes to the next level. Whether it's bold in flavor, heat or color, these foods will make you and your fellow eaters say "wow!" The best part? All of the recipes will contain five ingredients or less! Now you have no excuse not to participate in Cook Something Bold Day. Get ready to shake up your taste buds.
Crockpot Chicken Curry
Ingredients:
2 pounds of boneless chicken
1 can (14oz) of full fat coconut milk
1 onion, chopped
2-4 tablespoons of curry powder
Cooked rice (for serving)
Directions:
Toss the chicken into your crockpot. Do not chop it beforehand; the slow cooking will allow you to shred it once it's been cooked.
Mix together the chopped onion and curry powder. Depending on how much you like the heat is how much curry powder you'll add. (If it's done and it's not hot enough for your liking, you can add more curry powder to season.)
Pour in the chicken and stir together.
Cook on low heat for eight hours.
Once done cooking, shred the chicken.
Serve over rice, or eat as is.
Mexican Quinoa Stuffed Peppers
Ingredients:
6 medium bell peppers (any color), tops cut off and cores removed
1 package Morningstar Farms Chipotle Black Bean Crumbles, cooked according to package instructions
3 cups cooked quinoa
2 cups (8 ounces) freshly-shredded Pepper Jack cheese
1 cup good-quality salsa
Optional toppings: chopped fresh cilantro, diced avocado, extra cheese
Directions:
Preheat oven to 350 degrees. Arrange the peppers in a 9×13-inch baking dish so that the cavity side is facing up.
In a large mixing bowl, stir together the cooked black bean crumbles, cooked quinoa, 1 1/2 cups shredded cheese and salsa until combined.
Spoon the mixture evenly into the cavities of the six bell peppers. Sprinkle the tops with the remaining 1/2 cup shredded cheese.
Bake uncovered for about 25-30 minutes, or until the peppers are cooked and soft and the cheese is all melted.
Serve immediately, topped with optional toppings if desired.
Pineapple Salsa Chicken
Ingredients:
2 pounds boneless, skinless chicken breasts
1 (16-ounce) jar tomato salsa (hot, medium, or mild)
1 (20-ounce) can pineapple chunks in 100% juice (reserve juice)
3 medium zucchini, large diced
Directions:
Place the chicken breasts in the bottom of a slow cooker and cover them with the salsa.
Cook on high for 4 hours (or low for 6 hours) or until easily shredded. Shred the chicken.
Add the pineapple with ⅔ cup of the canned juice, and the zucchini to the slow cooker and cook for an additional 30 minutes to 1 hour, or until the zucchini is soft.
Serve with rice or quinoa, inside of a tortilla, or as is.
Squash, Mustard Greens, and Chickpea Masala Stew
Ingredients:
3/4 cup sliced onion
2 cups chopped assorted squash (use whatever summer squash you have)
1 bunch mustard greens, steamed or boiled briefly and chopped
1 cup chickpeas
1 bottle prepared masala sauce
Directions:
Preheat a large skillet over medium heat. Add a turn of cooking oil and when it's shimmering, add the onion to the skillet.
Sauté three minutes until the onion starts to soften, then add the squash and stir to coat with oil. Continue to cook until the squash is starting to get a bit of brown color (about 5-8 minutes).
Add in chopped mustard greens and chickpeas and stir. Pour prepared masala sauce over all the vegetables, stir to combine, and let heat through (another 5 minutes or so).
Serve over rice and alongside hot naan, if desired.
Baked Coconut Curry Cod
Ingredients:
4 individual cod fillets
1½ cups coconut milk
2 teaspoons grated fresh ginger
2 teaspoons curry paste
Chopped fresh cilantro (amount to taste)
Directions:
Preheat oven to 400 degrees. Season cod fillets with salt & pepper.
In a small saucepan over medium-high heat, whisk together coconut milk, ginger and curry paste until smooth. Pour a thin layer of sauce into a large baking dish. Place fish on top, and pour remaining sauce into the pan.
Bake for 20 minutes (cod should be fully opaque and flake easily with a fork).
Top fish with cilantro and serve with a generous portion of sauce.
One-Pot Asian Noodles
Ingredients:
8 ounces dried spaghetti noodles
1 cup peanut sauce
3 green onions, finely diced
1-2 grilled or cooked chicken breasts, chopped
1/2 cup chopped peanuts (optional)
Optional garnish: fresh chopped cilantro, Sriracha, sesame seeds, poppy seeds, fresh lime slices
Directions:
Place spaghetti and peanut sauce in a large pot. Add four cups of water. Bring water to a boil over high heat. As soon as the water is boiling, turn the heat down to medium and stir the pasta every 2-3 minutes.
Cook until the sauce begins to thicken and the pasta becomes tender, about 15 minutes total.
Toss in green onions, chicken, and peanuts, if desired. Stir to coat.
Serve immediately.