THIS CONTENT WAS REPUBLISHED FROM AN EARLIER DATE.
Last Summer, Google unleashed Deep Dream, their neural network that takes pictures and tries to identify patterns and overwrite them, on an unsuspecting public. When you put an image into Deep Dream, what you get when it "wakes up" is often nightmarish. Dogs, birds, insects, pagodas are inserted at random places in the image, giving it a surreal and sometimes beautiful–if terrifying–aspect.
So, since this election season is already off-the-charts surreal, I thought to myself, "What would it look like if we ran some candidates through Deep Dream?" Well, now I know.  I started with Donald Trump, who is already deeply weird and unsettling. The results are spectacular.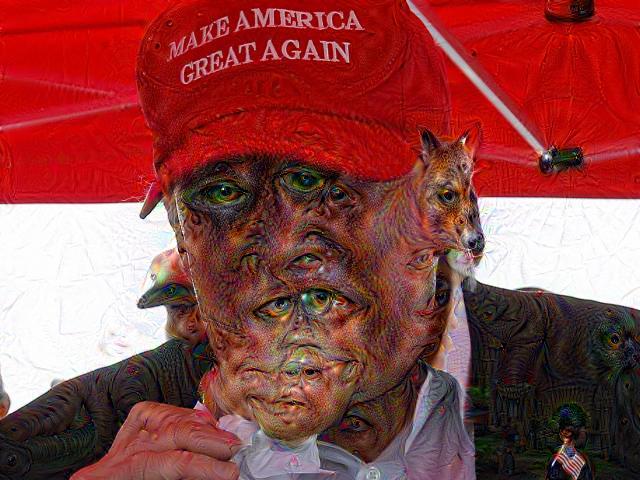 This picture that originally showed Donald Trump eating pork on a stick will haunt my nightmares forever. It gave him a like 37 eyeballs, erased his mouth, and gave him canines for ears.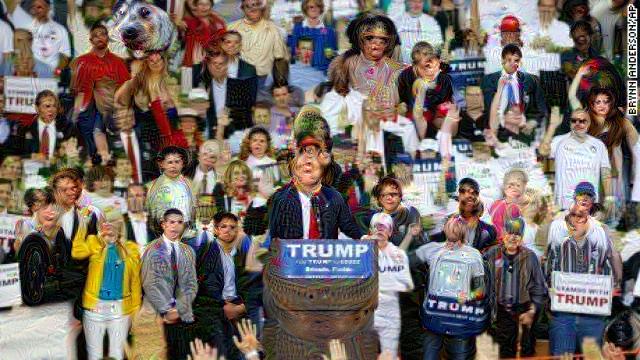 Deep Dream makes Donald Trump almost lovable in this one, because he looks kind of like Sloth from Goonies.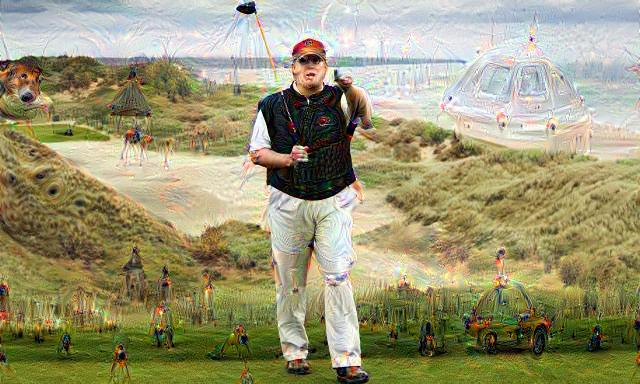 Here, Deep Dream took a picture of Donald Trump playing golf and added some UFOs and a bunch of what look like camels, maybe? I wonder if this is where Trump's fear and loathing of Muslims comes from, his subconscious fear that miniature camels will ruin his golf courses.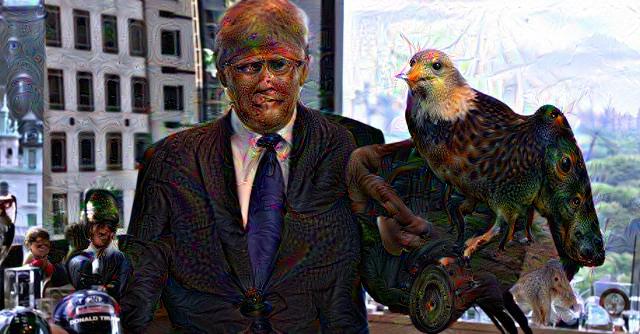 Donald Trump holding an eagle, who is now an eagle-stork-dog-vulture-hybrid. Deep Dream is also revealing Donald's true demon visage.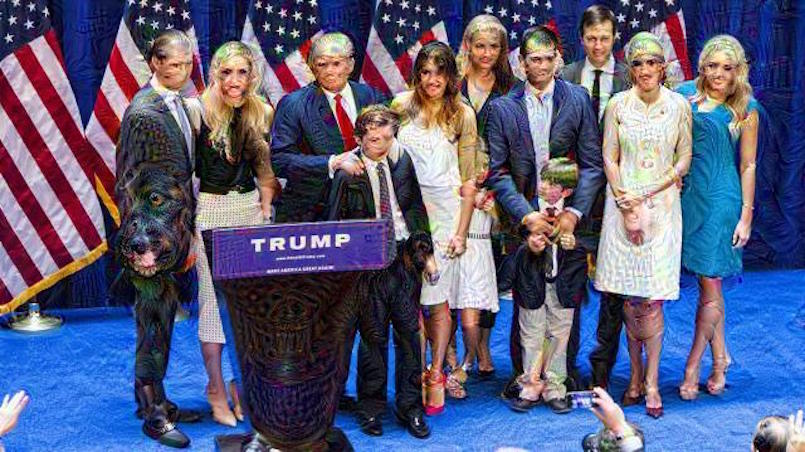 Donald Trump's family; Donald Trump, Jr., is clearly a half-dog cyborg sent from the future to destroy humanity by getting his father elected.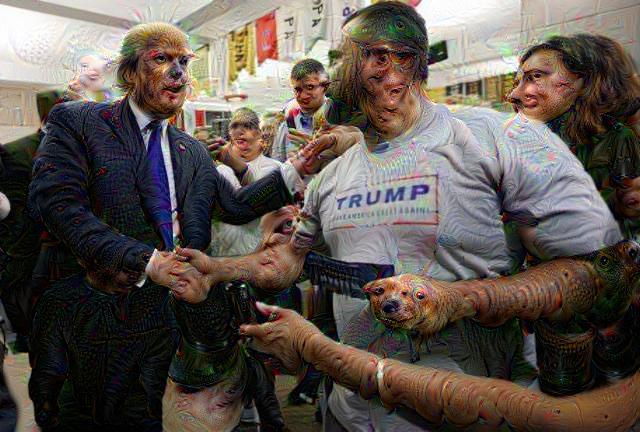 Werewolf Donald Trump shakes dog-hands Janus's dog hand.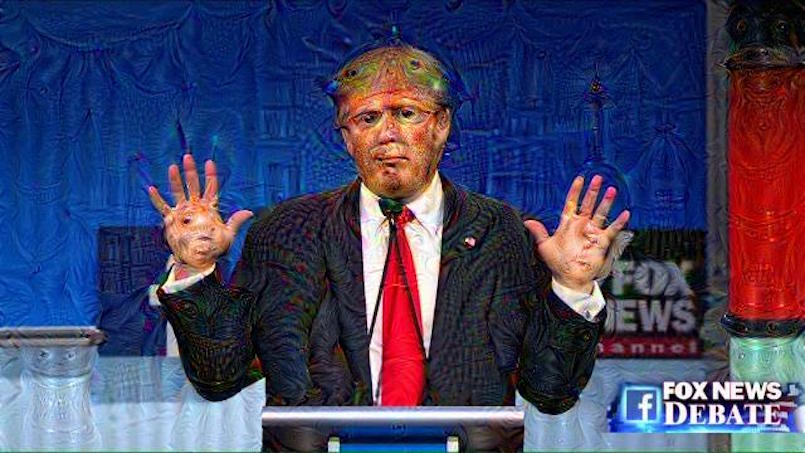 I have a pet theory that Deep Dream doesn't add things, but reveals weirdness the human eye can't see. In this one, Donald Trump is clearly the Pale Man from Pan's Labyrinth, with eyeballs in his palms.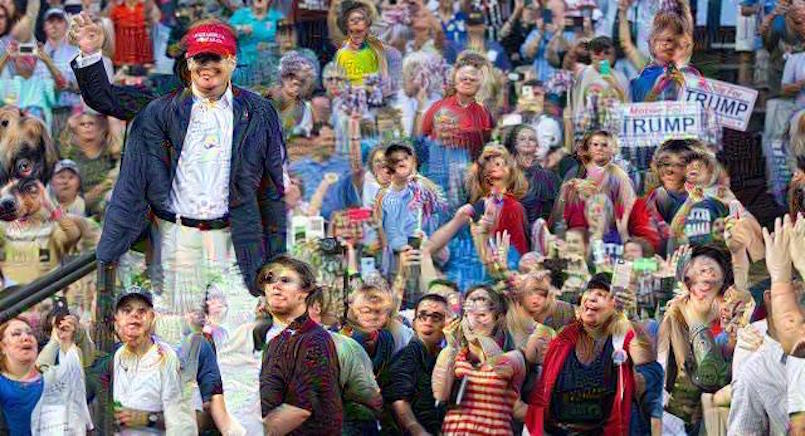 Not sure what is going on here. Donald Trump's crotch seems to have become transparent, which, seeing as he has a three-inch wiener, I'm not sure there's much to obfuscate. There's also a demon dog next to his armpit.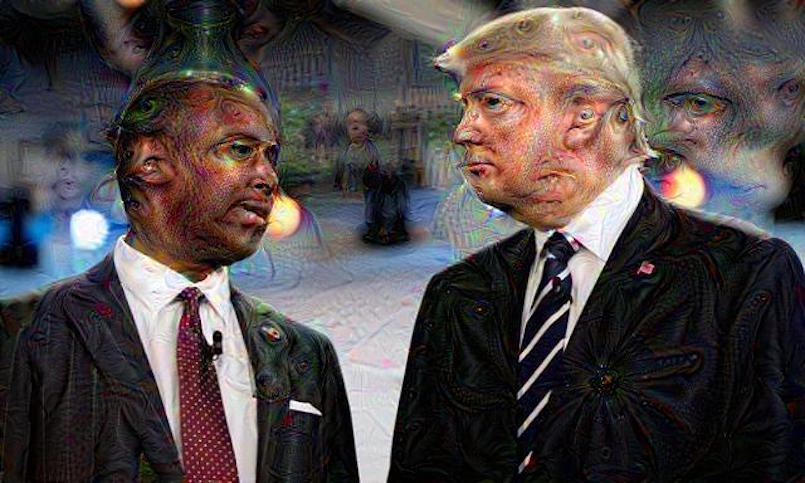 I hadn't thought Donald Trump and Ben Carson chatting could be more terrifying. I was wrong.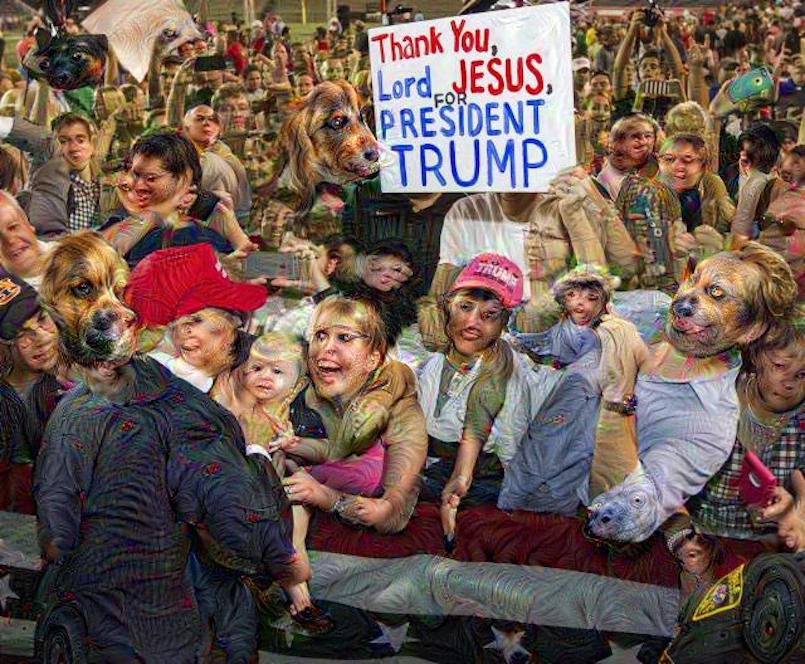 Thank you, Lord Jesus, for showing us Donald Trump's true colors and all his dog-people followers.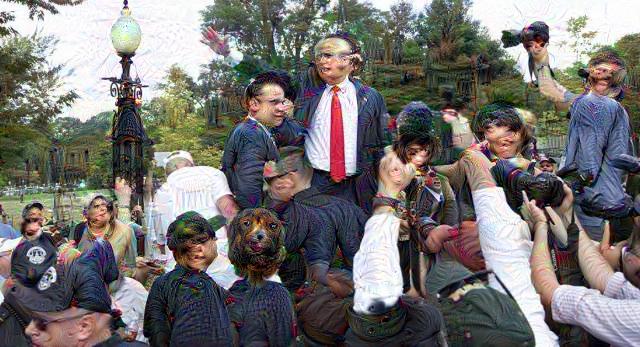 The Pagodas in the background must be where the dog people sleep. Donald Trump's disembodied hand appears to be making some sort of Nazi Salute.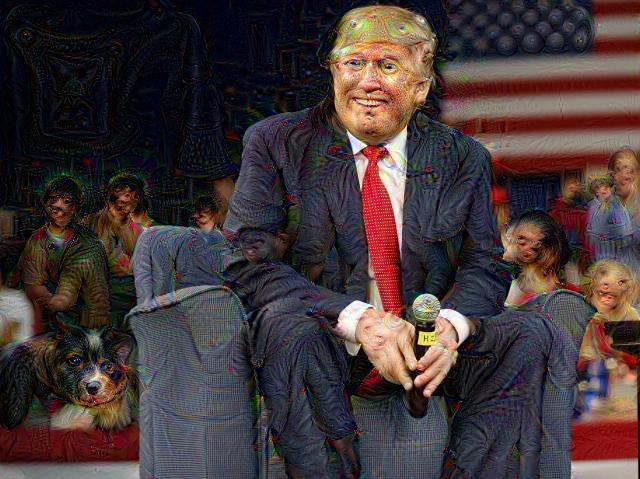 Actually, the dog next to Donald Trump's chair is kind of cute. Those weird elephantine monks behind him are not cute.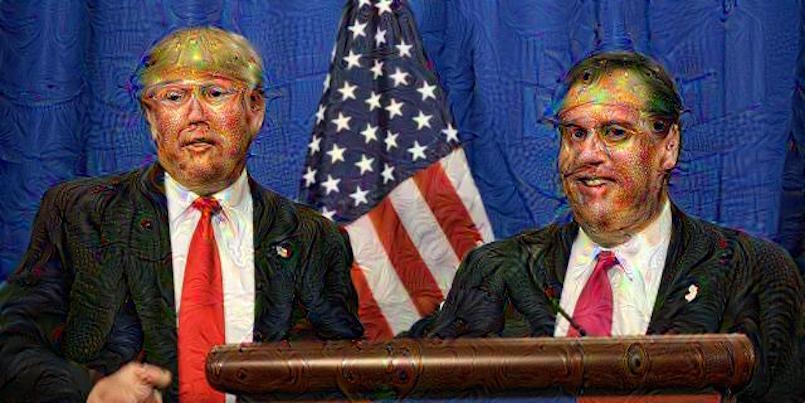 Deep Dream gave Donald Trump Mark Davis' bowl cut in this one. Not sure what's going with Christie. He looks like the judge in Nothing But Trouble, only fatter.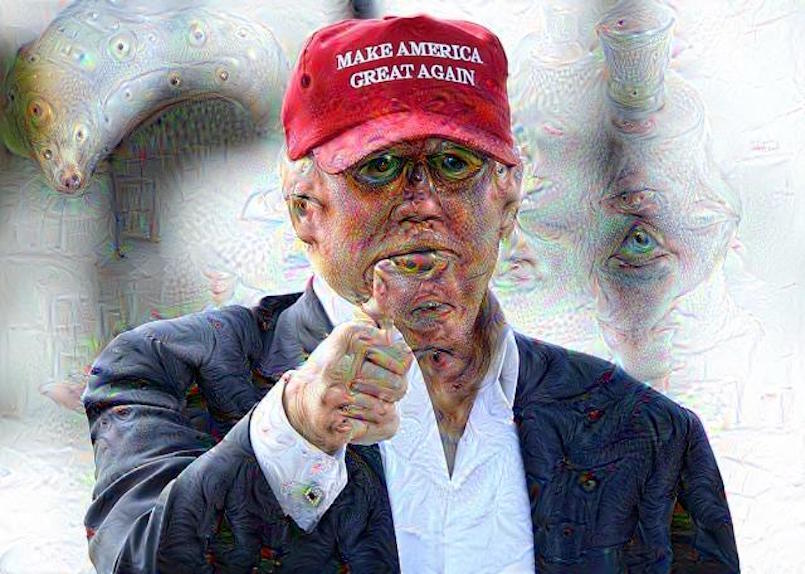 Here's Donald Trump, attempting a thumbs up with a vanishing thumb. He's a man of many eyes, who sees all the great things like his beautiful wall. There's a seal peaking above his right shoulder.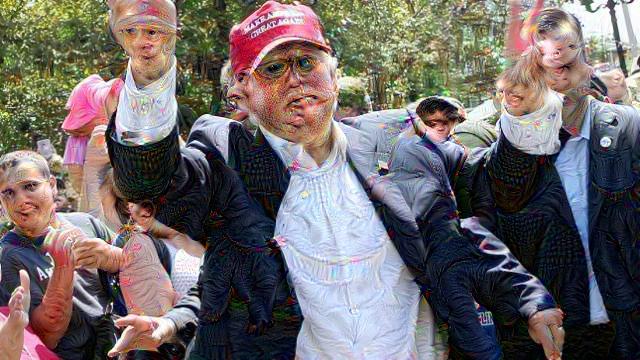 Donald Trump has two left arms and a shmooshed demon face. God help us all.