Mac and cheese hacks can elevate your dining experience. The poor, lowly mac and cheese box gets a really bad rap. We all like to eat it, but no one wants to admit it, so the box usually gets hidden in the pantry behind other, so-called healthier options.
But if you think about it, what's so bad about mac and cheese? After all, making mac and cheese is only a tiny bit different than opening a jar of sauce and stirring it into a pot of cooked pasta.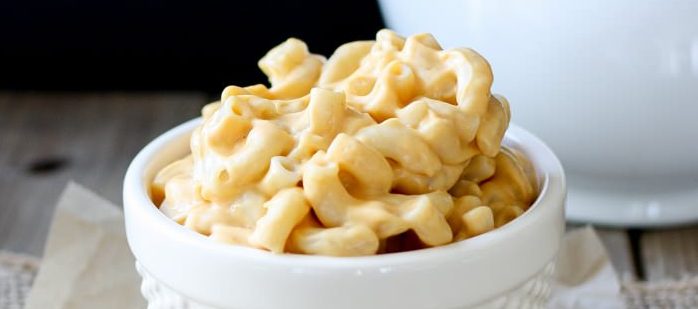 How to Get More Out of Your Mac and Cheese Experience
But what if you had easy mac and cheese hacks that made the whole experience really come alive for you? Then maybe you'd think twice about hiding that blue and white box in the darkness, right? Oh yes you would. Prepare to be astounded.
1. Mushroomy Mac and Cheese
This easy mac and cheese hack is so simple but tasty, you won't believe it. The only other ingredient you need besides that trusty box is some mushrooms. You can use pre-cut shrooms or buy whole button or baby bella mushrooms and cut them yourself. There's a lot of flexibility here. Cut them in large chunks or small. Just add the cut mushrooms to the pasta when it's about halfway done. That will allow enough time for the shrooms to get nice and tender. Strain and prepare as usual. Voila, you have Mushroom Mac and Cheese.
2. Cold Pasta Salad
That's right — cold mac and cheese pasta salad. This easy mac and cheese hack makes a healthy and tasty lunch for work the next day. Your co-workers will think you've cooked up something special, too. Just make your mac and cheese the night before. Pop it into the fridge overnight so it's chill, just like you.
The next morning, add chopped tomatoes (or those convenient little cherry tomatoes), some fresh basil (just tear the leaves – no need to break out the cutting board) and some pitted black or Kalamata olives. This version of pasta salad is even better because you don't have to eat it at a family reunion in the park while your oversexed cousin tries to put the moves on you.
3. Bacony Mac and Cheese
You know damn well everything's better with bacon, so go ahead and fry some up. We dare you to complain about the delicious taste of Bacon Mac and Cheese. Cut the bacon into pieces and stir into your prepared mac and cheese. If you're supper tired, just drizzle on a jar of those real (greasy) bacon bits they sell for salads. Crunchy and creamy. Mmmmmmm.
Vegan or vegetarian? Try 19 Irresistible Vegan Macaroni and Cheese Recipes instead (featured photo recipe)
4. Toasted Mac and Cheese Sandwich To Go
Running out the door and can't stop for lunch? (First of all, it's time to reevaluate your schedule if you can't stop to nourish yourself.) Anyway, this toasted mac and cheese sandwich will do the trick nicely. Just pop in two slices of bread to toast. Slather with plenty of butter. Smear one side with a thick layer of mac and cheese and…..wait for it…..pop that sucker back into the toaster oven! Broil the top until the cheese is toasty golden brown. Now you're ready to top it with the second slice of toast. Wrap it up and go, go, go!
You might like: Creamy Gouda Mac + Cheese Grilled Cheese with Hot Honey
5. Easy Mac and Cheese Hacks Casserole
It's so easy to make a good impression with a last minute dinner guest when you whip up this easy mac and cheese hack. All you have to do is know how to cook a box of mac and cheese, and we know you can do that, right? Okay, next, find your casserole dish. (It might be round or rectangle shaped, and it might have some hens painted on the side if your mom gave it to you for your first apartment.)
Next, spray some cooking spray on the bottom and sides of the dish so your food doesn't stick. Now, just dump the prepared mac and cheese into the casserole. Open a can of tuna and drain it. Stir the tuna into the mac and cheese. Sprinkle two handfuls of breadcrumbs into the dish and stir that in, too. Don't cover it with foil or anything. Now pop it into your toaster oven on 325 for about 15 minutes. Your dinner guest will think you're awesome – because you are!
6. Mac and Cheese Crescent Rolls
Any food snobs in the audience should look away now. Just avert your eyes. The rest of you who appreciate good stuff to eat, follow this:
Get yourself a tube of Pillsbury Crescent Rolls. Bang it on the counter and open it up. Follow the directions, except, just before you roll them up, add a spoonful of prepared mac and cheese to the center. Then roll them up and bake according to directions. You.are.so.welcome.
Get Your Mac and Cheese Fix With Shoppable Faves from Amazon
[amazon_link asins='B00WUVK4DU,160774466X,0805091564,B00S736ATM,B077PMTKBF,B07CKRLN88,B019JD5R1K,B0793L4YSM' template='ProductCarouselNoTitle' store='unbrandednews-20′ marketplace='US' link_id='ca72ef46-cb42-11e8-8fd1-65ebed4236ce']
Watch Now: Copycat Panera Vegan Mac n' Cheese
Source:
Copycat Panera Vegan Mac n' Cheese
by
jsansw
What easy mac and cheese hacks do you have to share? Tell us about them in the comments section below!