Eggs are an often overlooked source of inexpensive nutrients and protein. And, if you're looking to reduce calories in your diet, eggs are a great choice. The yolk of an average sized egg has about 60 calories, while the white has only 15 calories. There are no carbohydrates in eggs, so they fit in well with a ketogenic diet plan. Now that eggs are on your mind, here are the best egg recipes for any time of day. These egg recipes are easy to follow and quick to prepare. Remember to leave your comment below and let us know which are your favorite egg recipes.
Asparagus Souffle
Ingredients:
2 egg whites, beaten
6 stalks asparagus
1 tsp. flour
1 Tbsp. butter, softened
¼ cup milk
salt and pepper to season
Directions:
Preheat oven to 350 degrees.
Steam the asparagus until tender.
In a bowl, toss the strained asparagus with a dusting of flour.
Add milk and egg whites.
Season with salt and pepper.
Pour into a buttered soufflé dish.
Bake 20 minutes, or until the soufflé has risen with a golden brown top.
Shrimp Stuffed Eggs
Ingredients:
3 medium eggs
1 cup baby shrimp, cooked
2 mushrooms, minced
2 Tbsp. lemon juice
½ tsp. thyme
½ tsp. parsley
Directions:
Hard boil the eggs. Remove the shells.
Sautee the mushrooms with the lemon juice in a small bit of water. Strain.
Cut the eggs in half and remove the yolks.
In a bowl, combine the egg yolks, shrimp, mushrooms, thyme and parsley.
Stuff the egg whites with the mixture.
Serve warm or chilled.
Creamed Eggs With Ham
Ingredients:
6 ounces white sauce
8 medium eggs
1 cup ham, diced
4 slices toast
Directions:
Hard boil the eggs. Remove the shells.
Rough chop the eggs.
In a saucepan, heat up the white sauce with the chopped eggs and ham.
Cut the toast into triangles.
Pour the egg and ham mixture over the toast.
Sprinkle with paprika if desired.
Crepes
(For this recipe, you must use a crepe pan. As egg recipes go, this one is definitely the most challenging. But don't worry. With practice, you'll get it down in no time! This recipe makes about 12 crepes.)
[amazon_link asins='B0179IU3XE,B003D5TN84,1452105340,B073DLGMTS,B015X5K8WG,B06XJRVNJP' template='ProductCarouselNoTitle' store='unbrandednews-20′ marketplace='US' link_id='cd1ebdbc-e45f-11e8-bc33-3fe52f3213c5′]
Ingredients:
2 medium eggs, room temperature
¾ cup milk
½ bottle of beer
¼ tsp. salt
1 cup flour
2 Tbsp. vegetable oil
Directions:
Blend the eggs, milk and beer together.
Add the flour and salt.
Blend for half a minute to a minute longer, or until completely smooth.
Cover and refrigerate for a minimum of two hours.
Heat the oil in the crepe pan.
Pour in about 2 ounces for each crepe, as if you were pouring pancake batter.
Tip, turn and swirl so you have only a thin layer on the bottom.
Cook over low to medium heat until the top appears done.
Turn out with a spatula (or flip the crepe in the air, if you dare!)
Brown the other side ever so slightly.
Fill with fruit, chicken salad, or just about anything else.
Roll like a burrito and serve warm or chilled.
Twists on Deviled Egg Recipes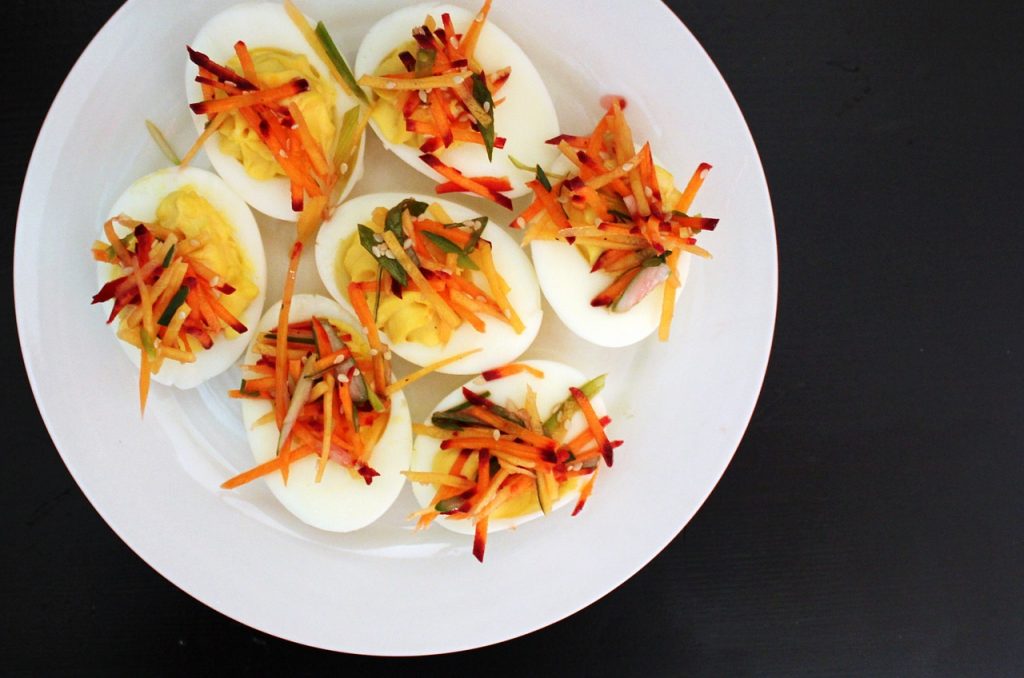 If you're a fan of deviled eggs, you already know how filling and delicious this treat can be. People eat deviled eggs all year long, but it's much more convenient to make deviled eggs when the eggs are already hardboiled for you – like on Easter!
Still, deviled eggs can get boring after you've had a few. Here are some interesting twists on traditional deviled eggs that we're sure you'll enjoy.
Guacamole Eggs
Stuff your eggs with guacamole instead of mayonnaise and egg yolks. (You can use the yolks to sprinkle on a bacon salad instead!)
Ham Deviled Eggs
Add chopped ham to your regular deviled egg mixture for added protein.
[amazon_link asins='B01GTYTWR2,B004SJYINO,B075LYHXX2,B00YT6QD70′ template='ProductCarouselNoTitle' store='unbrandednews-20′ marketplace='US' link_id='eec47b14-e45f-11e8-87a0-17ebe05a389d']
Pesto Deviled Eggs
Stir in a teaspoon of basil pesto to your deviled egg mixture for color and interest.
Turmeric Deviled Eggs
Skip the paprika and sprinkle turmeric on your deviled eggs. This golden spice is healthful and adds a flavorful kick.
Curried Deviled Eggs
Make your regular deviled eggs mixture, but add finely chopped chicken and curry powder for a savory twist.
Carbonara Deviled Eggs
To your traditional deviled eggs mixture, add crumbled bacon and finely minced scallions or chives. You can even cheat and use jarred real bacon bits.
To make your appetizer table more visually interesting, consider making all these deviled egg versions and serving them on the same platter.
As you can see, eggs can have a place at every meal, snack time or cocktail hour. Eggs are surprisingly delicious and versatile. These little protein-packed wonders can make an appearance on your table any time of the day.
[amazon_link asins='1607746255,1603429786,B00VKVK1ZW,B00XGFI0V2,B01G1GDALW,B00J0JGW5Y,144947585X' template='ProductCarouselNoTitle' store='unbrandednews-20′ marketplace='US' link_id='fbfabe05-e45f-11e8-ba75-472abbd6ad3f']
You Also Might Like