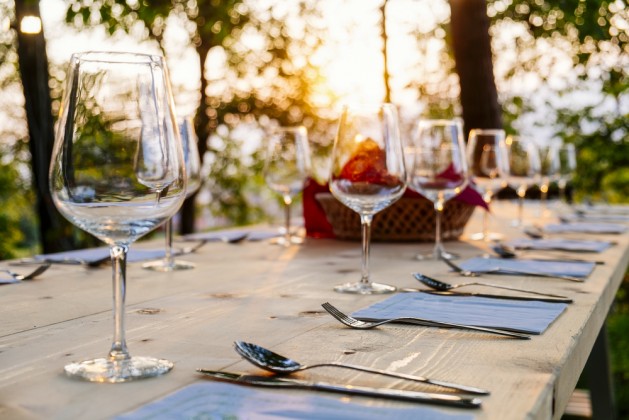 Do you love hosting the occasional dinner party? If so, you probably love the planning of a fine meal, the preparation of welcoming decor, and the sophistication of sharing a meal with adults. Whether you're a host or hostess, you want your dinner party to go as smoothly as possible. You want your guests to feel at ease, to enjoy the conversation, and to serve the best food. This can be quite a bit of pressure on you as the host. To make planning your dinner party easier, we found several products that are sure to contribute to a wonderful, stress-free dinner party. At the end, please enjoy two of our favorite dinner party recipes!
Here are our favorite dinner party essentials.
Rechargeable, Cordless Wine Opener and Chiller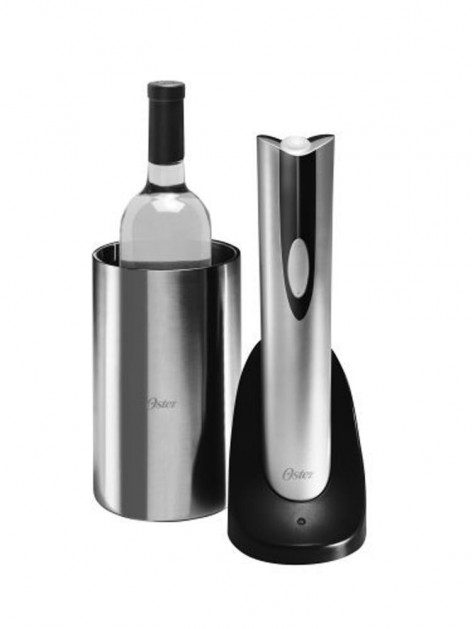 Designed to fit all traditional wine bottles, the electric wine bottle opener offers the same portable, cordless convenience as other wine bottle openers, but with the added benefit of sleek presentation and fast, effortless performance. Fast, zero-effort cork removal ultimately means more time to spend with guests. The stainless steel chiller eliminates the need for a messy ice bucket, as well.
Chocolate Fountain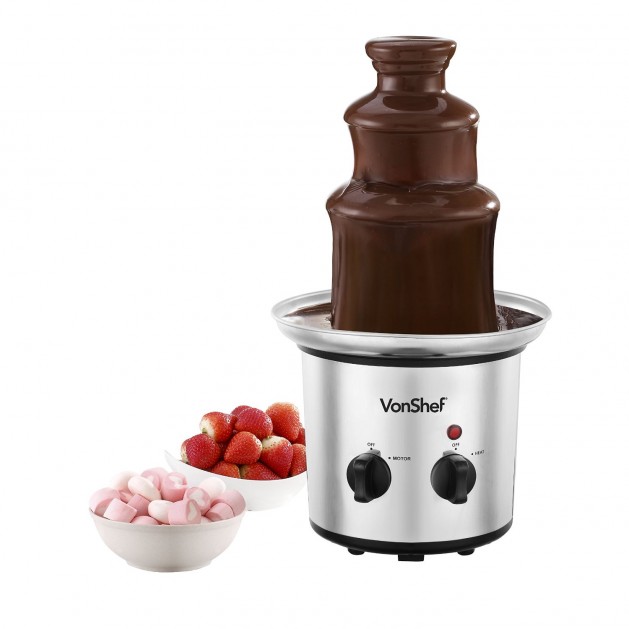 It couldn't be a dinner party without this chocolate fondue fountain! It even has a built-in chocolate warmer. Simply fill the fountain with the chocolate of your choice (warmed in the microwave)—milk, dark, or white (or even a combination of the three!)—and watch the fountain transform it into a continuous molten cascade of delight for you and your guests to enjoy throughout your dinner party.
Murder Mystery Party Game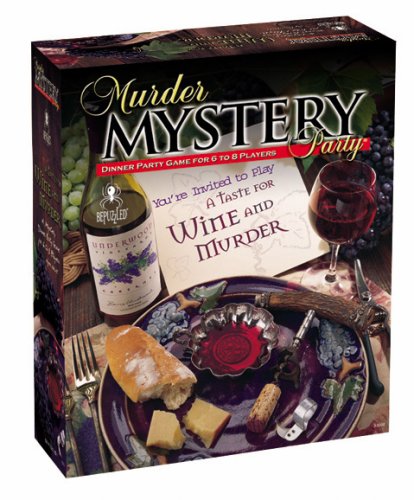 Want to liven things up for your dinner party? Try any of Murder Mystery's variations of their game. "A Taste for Wine and Murder" kit sets the stage for each guest to play a role as a suspect in a mystery set in California wine country. Kit includes a party planner including: menu with themed recipes, music and decorating tips, eight place cards and invitations, and booklets for all suspects including their roles and background information. The mystery unfolds along with your evening, with a CD that gets things rolling and six secret clues you reveal along the way. 6-8 players.
His and Hers Magnetic Wine Charms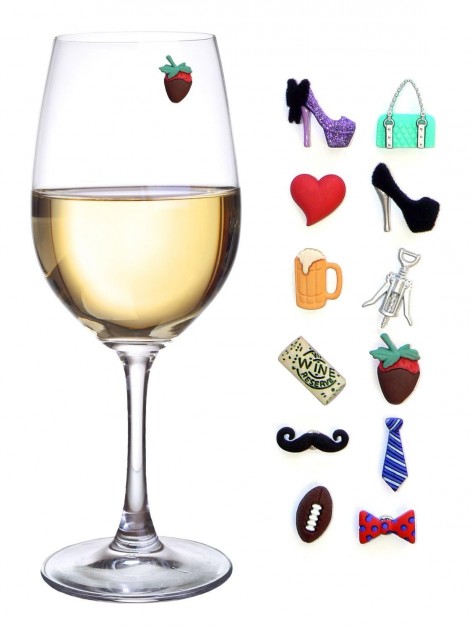 It would be awkward if a few of your guests mixed up their drinks. Eliminate that problem with these magnetic wine glass charms. Simply Charmed's wine glass charms work on every type of glass, including stemless wine glasses, martini glasses, and beer mugs. They also work on plastics and acrylic glasses, including red solo cups. They offer twenty different themed sets, so you'll find the perfect one for whatever occasion your dinner party may be.
Cheese Knife and Board Set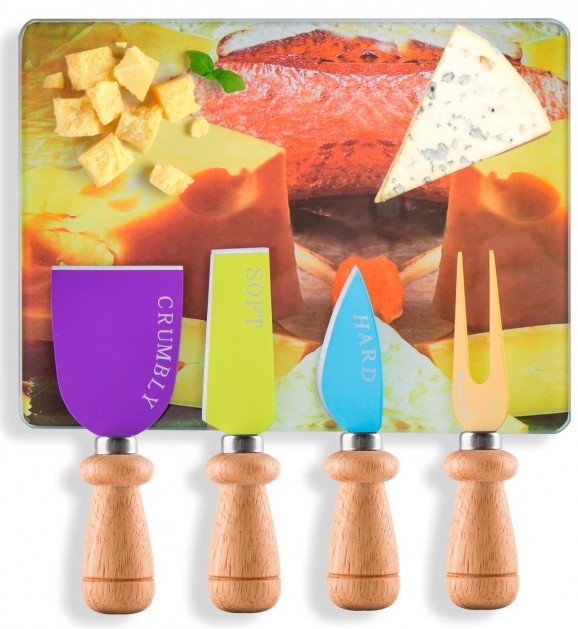 You have to have cheese to go with your wine. However, if you don't cut it right, your guests will find it unappetizing. Each of the strong, sharp blades of the Decodyne Cheese Knife & Board Set has the name of the type of cheese that it's suited for printed on the blade in silver letters, making it easy to select the right knife for any type of cheese. The color coding simplifies things even further, letting you know which knife is which with just a glance. The tapered wooden handles allow the cheese knives to fit perfectly in your hand for ease of use every time. Use the board for preparation, or for serving guests.
French Press Coffee and Tea Maker

After dinner is over, your guests may wish for a cup of coffee or tea. This French press, however, makes so much more! You can prepare coffee, tea, iced tea, frothed milk, hot chocolate, fruit infusions, almond milk, cashew milk, plant tinctures, and lemonades. The strong carafe is constructed from a heat resistant and durable glass, so it'll last for every occasion. The bundle comes with the French press, a scoop, a spoon to be used for honey, sugar, and more, four filter screens, and a recipe book of secret barista recipes.
Vegan Baked Risotto Recipe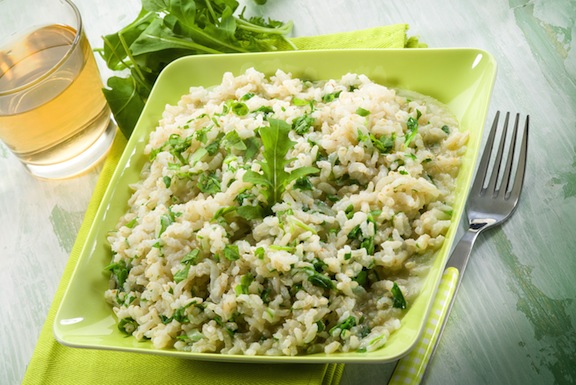 Ingredients:
1½ cups Arborio rice
32-ounce carton vegetable broth, preferably low-sodium
2 to 3 cloves garlic, very finely minced
Salt and freshly ground pepper to taste
Veggie additions (spinach, zucchini, red pepper, eggplant, etc.)
You can find the directions to this recipe here.
Vegetarian Asparagus Stuffed Shells Recipe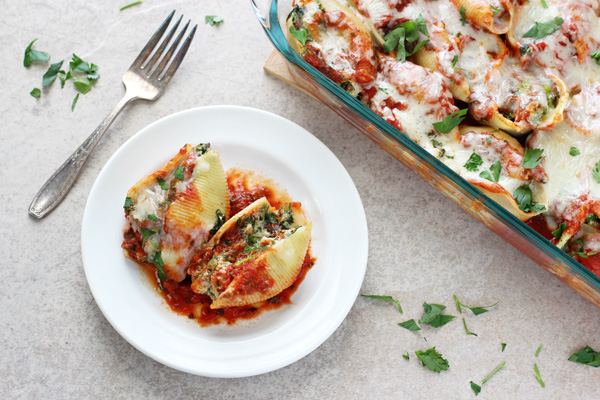 Ingredients:
24 jumbo pasta shells
1 1/2 tablespoons olive oil
1 medium onion, diced
2 cloves garlic, minced
1 pound asparagus, ends trimmed and cut into 1-inch pieces
4 ounces baby bella mushrooms, sliced
1 (10-ounce) package frozen spinach, thawed and squeezed dry
1 (15-ounce) container ricotta cheese
1/2 teaspoon salt
1/4 teaspoon pepper
1/4 teaspoon dried basil
1/4 teaspoon dried parsley
1 large egg, lightly beaten
24 ounces marinara sauce, divided
1 1/2 cups shredded mozzarella cheese
Chopped fresh parsley, for garnish (optional)
You can find the directions to this recipe here.