The road to triumph is more difficult, yet more fulfilling when it's defined with varying hurdles. This is because, the value of success escalates when it happens in spite of difficulties. These female Olympians share similar stories on how they pursued their dreams irrespective of the hassles of their past. Their accomplishments inspire us to stay striving and they, ultimately, are a reminder that dreams do come true.
Lolo Jones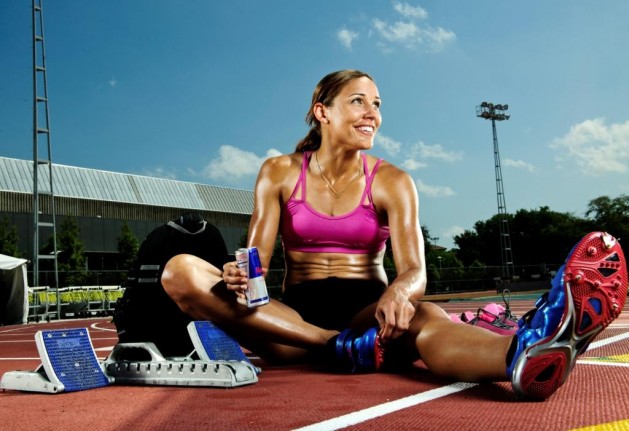 For Lolo Jones, whose challenges have been a recurring factor from childhood up until now, perseverance and spirited determination have proven to be an invaluable asset. Although highly acclaimed for her skill, Jones' story is much like any of ours, twice as worse if I might add. As a child whose father was holed up in prison, Jones was raised by a single hardworking mother who held two jobs in order to sustain her six children. Their derailing financial state caused them to move a lot, forcing Jones to attend a total of eight school in eight years. At some point when even shelter became much of a luxury, Jones and her family had to resort to living in the church's basement. She recounts waking up extremely early each day to avoid being taunted by her peers, should they find out about her family's current space of residence.
Jones' leap of faith occurred just as her family was about to make the next move to Forest City, Iowa. She told her mother that she couldn't afford to go to a city without track because it would hinder her from pursuing her dream, parted ways with her family and then, with the help of her coach, found shelter with four different families while she worked, trained and attended school. One can see the result of Jones's sacrifices from the number of medals and recognition she has, but this amount of success has not rendered her immune to even more challenges. In 2012 Jones, who was a promising contender for the Olympic gold medal, came in seventh after a terrible fall. Her shoulder and hip surgery made the possibility of healing before the 2016 Rio games a far cry, still Jones did not let this set back hinder her. Putting in twice as much effort into training and therapy, Jones persevered until she attained what doctors are now referring to as "one of the fastest recoveries known."  Lolo Jones is one of the female Olympians that inspire us to achieve our goals because at every difficult point in her life, she has constantly chosen to utilize the flicker of the candle rather than complain about widespread darkness.
Queen Underwood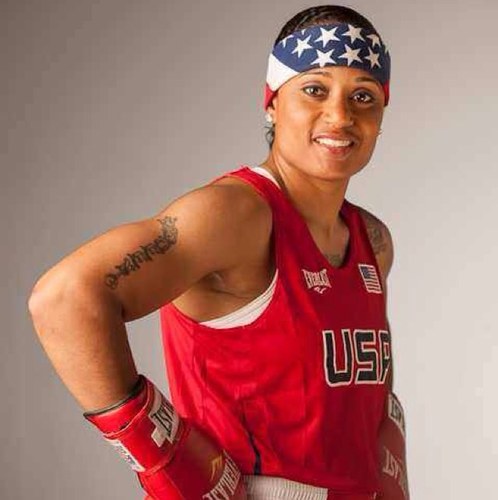 Queen Underwood, at 28 years, is one of the female Olympians representing the United States in Rio 2016, but, what's more inspiring about her is the fact that she is a victim turned fighter. Separated from her mum at a very young age, Queen and her sister were taken into custody by her father who then began molesting them in their early teens for years until they reached out to their estranged mother who then brought them back to Seattle. The road to recovery for victims of abuse is never easy and Underwood confesses to have sank into a state of depression until a friend recommended that she try out a local boxing gym. This was where Underwood's journey began.
Being in the ring provided Underwood with a sense of fulfillment, thus, she found herself pursuing and perfecting the craft while shuffling a number of jobs including, but not limited to, the position of a grave yard security agent. Although many may be forced to attribute Underwood's success to the pains of her childhood, she maintains that she has come this far in spite of the trauma of her past and not as a result of it. Hear her, "You can be successful at anything, no matter what happened in the past, you don't have to blame yourself and live a life of failure or regret." Queen Underwood is one of the female Olympians that inspire us to achieve our goals because, irrespective of the pains of her past, she made a conscious choice to rewrite her destiny and is now better for it.
Sarah Attar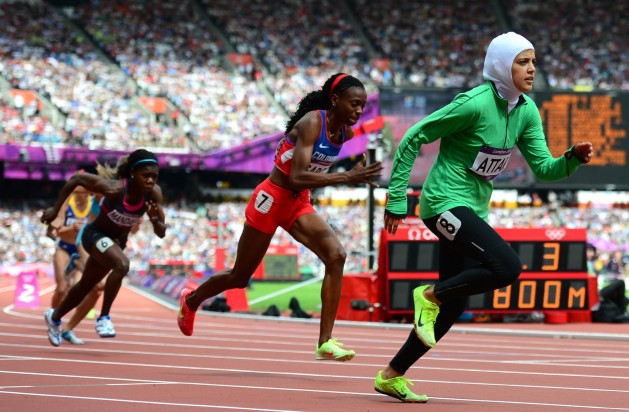 Saudi Arabia is popularly know for its impressive natural reserve of oil, but aside that, there is the predominant issue of gender segregation that exists in the country. Females are not permitted to appear in public without head to toe coverage and are denied the ability to drive, attend school, participate in sports or travel without proper permission from the man. This restriction of both movement and appearance is ultimately the reason why Saudi Arabia is usually represented by men in the game. In 2012, Sarah Attar, a half American, half Saudi Arabian student athlete at Pepperdine University was called upon to represent Saudi Arabia in the Olympic games, making her one of the first women to ever represent the country at the Olympic games.
Aware that she was not a match for the other Olympic competitors, Attar still went. She even personally created herself a conservative uniform out of athletic clothes she had gotten when it was clear that the Saudi Arabian Olympic committee did not have outfits that fit her religious standards. Attar came in second to the last in that race but that neither deterred her nor prevented the crowd from giving her a standing ovation. She has continued to train, by Olympic standards now, and will be representing Saudi Arabia again this year in Rio, an inspiration to little girls from her home country who aspire to participate in sporting events as well. Sarah Attar is one of the female Olympians who inspire us to achieve our goals because she signifies hope, that regardless of cultural disposition, religious restrictions and gender segregation, dreams can still be achieved.