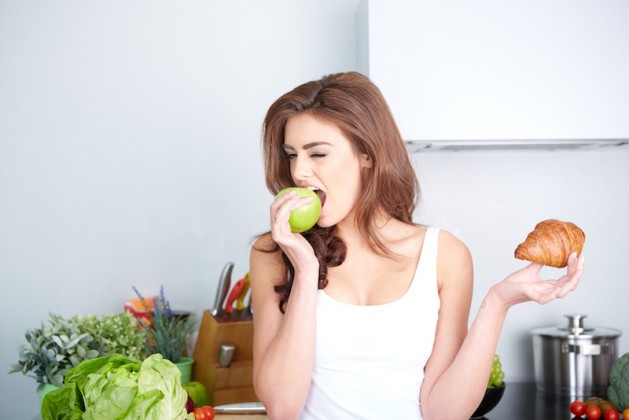 We're just a few weeks into the year, but you're already jonesing to break your New Year's Resolution. With National Cake Day just days behind us and Valentine's Day on the horizon, your diet's future is looking pretty bleak. Hang on! We've got you covered with these delicious flourless (and in some cases sugarless) desserts. Whether it's apple pie, brownies or banana bread you're craving, these flourless goodies allow you to have your cake and kick carbs too!
Flourless, Sugarless Black Bean Brownies
If you haven't heard of Chocolate Covered Katie, you're doing dessert wrong. From cookies to brownies and even pumpkin, Katie is living proof that you can eat dessert every day without gaining a single pound. In fact, you may lose a few. Katie's Black Bean Brownies are perfect for the dessert lover who's not quite sold on healthy desserts. After trying one of these gooey sugarless, flourless brownies, they'll have no idea what hit 'em.
Ingredients:
 1 1/2 cups black beans drained and rinsed very well
2 tablespoons cocoa powder
1/2 cup quick oats
1/4 teaspoon salt
1/2 cup pure maple syrup or agave
1/4 cup coconut or vegetable oil
2 teaspoons pure vanilla extract
1/2 teaspoon baking powder
1/2 cup to 2/3 cup chocolate chips (Not optional. Omit at your own risk.)
Optional: more chips, for presentation
Get the full recipe at Chocolate Covered Katie.
Ultimate Walnut Pie Crust
If you're on a low-carb or gluten free diet, you may think that pie is out of the question. Not so fast! This simple 4-ingredient pie crust recipe doesn't require any expensive substitute flours or unusual ingredients that require a trip to the store. Use it as a bottom crust or crumble to top your favorite fruit compote.
Ingredients:
2 1/2 cups walnuts
1 teaspoon baking soda
1/4 teaspoon kosher salt
2 tablespoons butter, melted
Head over to Mark's Daily Apple for the rest of this simple recipe and a healthy pumpkin filling for the crust.
Gluten & Grain Free Muffins
In less time than you can prepare stove-top oatmeal, you can make these simple flourless muffins and pop them in the oven. Unlike most flourless muffin recipes that substitute carb-heavy oat flour, these muffins are also completely grain free.
Ingredients:
1 cup nut butter
2 medium sized bananas
2 large eggs
1 teaspoon vanilla
2 tablespoons of raw honey
½ teaspoon baking soda
1 teaspoon apple cider vinegar
Toppings of your choice
Head over to Whole Lifestyle Nutrition for the complete recipe.
3 Ingredient Flourless Peanut Butter Mug Cake
When you're craving a flourless dessert in a pinch, look no further than this peanut butter cake. Made with three ingredients you already have in your kitchen, this dessert only takes five minutes from start to finish. Grab your favorite mug and get started!
Ingredients:
3 tablespoons peanut butter (creamy)
1 tablespoon + 1 teaspoon white granulated sugar
1 large egg
Head to Kirbie's Cravings for the rest of the recipe.