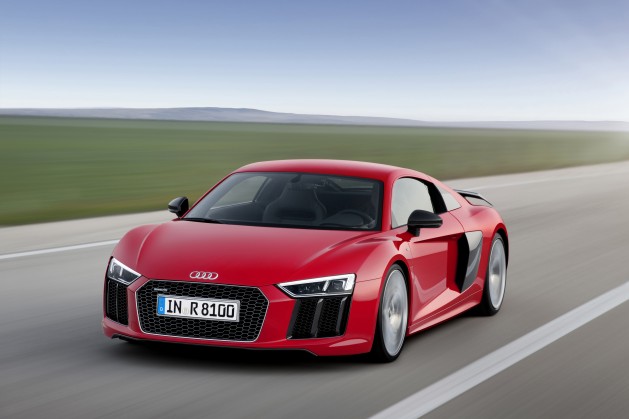 If you're lucky, you've seen it on the road; if you're one of the privileged few, you've had the opportunity to ride or drive it: The Audi R8 is a sleek beast, and there's no doubt about it… it's overtaken the minds of car enthusiasts all over the world, and rightfully so. In light of all the exotic car choices out there, what's so great about the Audi R8? Why does it stand out? Allow us to open your eyes as we give you the full rundown of the Audi R8.
Appearance
The first thing you'll find about the R8 is that there's not a sexier car on the road. The R8 was always gorgeous, but Audi has taken the latest generation and modified it to fit the Modern Modular Sport System… tweaking it for more space, more comfort, and a more dramatic appearance. How, exactly? At 174 inches long, 76.4 inches wide, and 48.8 inches tall, it's wider, lower and shorter than the first generation Audio. It's a beautiful combination of a lightweight aluminum frame, with nearly every other part and firewall made of carbon fiber. All in all, it's a more angular take on the former R8, keeping it far from being outdated or boring.
Engine
Previous R8 generations came equipped with lesser engines, but the 2016 comes stock with the V10 and V10 Plus. Though the lack of options isn't necessarily bad (who really wants a V8 R8), the lesser engines and an electronic model will eventually come to market later this year. As it is now, the V10 gets just less than 550 horsepower with just less than 400 lb-ft torque, while the V10 Plus gets 610 horsepower and 413 lb-ft torque. How does this translate to the track? Zero to 62 in 3.5 seconds for the V10 (3.2 for V10 plus), with fastest ever top speeds of 201 and 205 miles per hour, respectively.
Driving
Just like it's always been, the Audi R8 remains rear wheel drive. The manual transmission is no longer, however, as the R8 comes only with a seven speed dual clutch automatic with which the driver can select from dynamic, performance or comfort driving modes. Unlike prior models, this generation R8 comes equipped with performance tires and magnetic ride suspension for supreme performance on the track.
Luxury
Those who are familiar with Audi's brand in general understand that anything short of luxury is a miss. The R8 takes things to a new and completely unique level as it comes equipped with a TFT monitor directly in front of the driver (not the center of the dash). The steering wheel has the classic appeal of a flat bottom, and has the added luxury of buttons that command everything from exhaust flaps to engine performance. Lastly, as is the case with all Audi's, different trim packages are offered that range from traditional luxury to futuristic and modern luxury, depending on driver taste.
Are you convinced, yet? If you're an auto enthusiast who has $165,000 laying around – the Audi R8 is a wise investment.