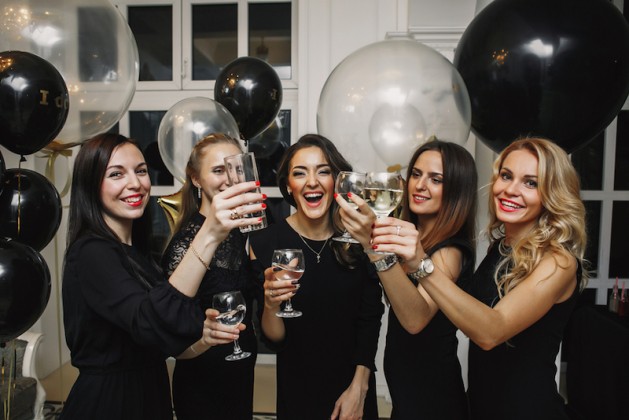 Couples have long held claim to the holiday of Valentine's Day. It's a pretty exclusive holiday, and some people dislike the festivities because it makes them feel lonely or ostracized, or you know, just bitter. Parents and teachers of young children try to ease the exclusivity by hosting parties and exchanging valentines among the children's peers. But what if you're not a child and you're not in a relationship? Are you condemned to be sad and alone?
No.
You are a strong female with strong female friends. There's no rule that says you have to be in a relationship. If you're happy being on your own, good for you! You've nothing to be ashamed of and no reason to feel excluded, obviously.
So let's celebrate your girlfriends this year on Galentine's Day. February 13th marks the day when you can show your girls some extra love just for being such great friends. Here are some ways to enjoy the day.
Host a dinner party
This allows for everybody to show off their cooking skills, there's plenty of food for everyone, and there's enough variety that each person can enjoy at least something! Or, have each friend show up with just their ingredients and have a bake-off with who can make the best dish in the least amount of time.
Wine down
This option is manageable whether you want a girls' night in or out. Instruct each guest to bring her own bottle of wine, and you provide the cheese and crackers. Or you all can get done up and go to your local winery and participate in a tasting there. Check to see if there are any Valentine's Day specials in your area.
Throw a good ol' fashioned Slumber Party
That's right: Pajamas, popcorn, rosé and all the movies you loved growing up. Maybe include facials, manicures, pedicures, whatever! Just make the night about yourselves.
Take part in a cause
Why not use your combined numbers to do something for the greater good? Donate to a charity you believe in. Start a fundraiser. Volunteer at your local soup kitchen or homeless shelter. Spread the love to your fellow females by offering to help out at your local women's shelter or see if there's an event for women happening that you could volunteer for. Donating new or gently used baby items to a pregnancy center is also a way to share love with your community's ladies.
In long-distance friendship?
Have a Skype date. You can do a group chat and watch the same movie or TV show at the same time, eat the same food, or just catch up on each others' lives. You can also plan your next get together in a fun city! Distance doesn't have to stop the love!
Shower your gals with gifts
Boyfriends are notorious for sending flowers, chocolates, teddy bears and other goodies on Valentine's Day. So why not send some goodies to your girls? They will light up when they receive their gifts at work or when they're surprised at home. Don't forget the little card that will remind your friends how much they mean to you.
Treat yourselves!
Spend the day or evening pampering yourselves. Head to the mall for a mini shopping spree. Splurge on a massage or visit the nail salon for a mani/pedi. Get your hair done in completely different styles, be adventurous! If you have a spa in your area, spend your time there and get pampered in the best kind of way. Is there something that you've been wanting to buy but just haven't yet because you thought it cost too much? Buy it today. You've earned it.
Host a craft night!
We know you love Pinterest. You have all these boards full of crafts and recipes that you never make, well, now's your chance. Gather together all the necessary supplies and your girls and see how creative you can be. Create things for each other, create things you can sell, or create gifts for future Christmas and birthday presents. You'll be prepared for the next time homemade goodies are necessary, whatever the occasion.
Go dancing
If the club is not your scene, have your own dance party at home. Rent a bunch of Just Dance or Dance Dance Revolution games from the nearest Redbox and bust a move – or you can get dolled up and go out dancing. Choose a swanky bar, take a dance class, or find a club that fits your style and tastes.