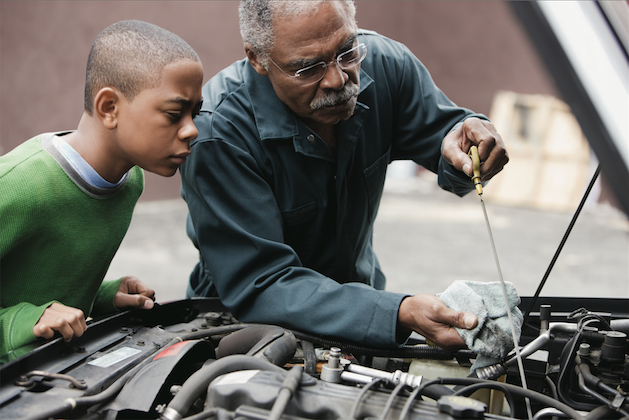 If you're like thousands of other car owners who neglected maintenance during the brutal winter months, your vehicle could use a little extra care by now. Setting aside some time will help get your vehicle ready for the spring and summer driving season.
Particularly now that lower gas prices are leaving more money in consumers' pockets, it's an ideal time to invest that savings into your vehicle so it is safe, more dependable and lasts longer. After all, keeping your car well maintained lets you avoid the cost of higher payments, insurance increases and all the costs associated with purchasing a new car.
"Whether you visit a professional service technician or do it yourself, a thorough vehicle inspection this spring can help keep your car safe and dependable, and help you avoid much higher costs down the road in the form of more extensive repairs or lost resale value," White said.
"Your car has been through a long winter, working overtime in harsh conditions, but factors such as extreme cold, potholes and road salt have taken a toll," said Rich White, executive director of the Car Care Council. "Most Americans rely on their vehicles nearly every day to get to work, school and everywhere in between, so taking the time for car care now can save headaches and money in the long run."
A vehicle inspection should assess the following:
Brakes
Battery
Levels and condition of all fluids
Tires tread depth and air pressure
Belts and hoses
Wheel alignment
Check engine light and other illuminated dashboard indicator lights
Interior and exterior lights and wiper blades
In addition, a repair shop can perform a computerized analysis to identify problems with the engine's performance.
Once your seasonal "check-up" is complete, you can ensure your vehicle's ongoing bill of health with three simple steps:
Keep your vehicle clean. Regular car washes and waxes protect the paint and body of your car from corrosive debris. In parts of the country where salt is used on the roads, regular washing is especially important.
Keep an eye on the little things. Your windshield wipers aren't cleaning as well as they should? Your gas tank is missing its cap? There's a warning light on your dashboard? When you see your car needs attention, don't delay. Repairing small things now can help avoid more costly problems down the road, and add years of useful vehicle life.
Keep your car on schedule. Every vehicle has a manufacturer-recommended maintenance schedule. Whether you choose to do your own maintenance or patronize a local repair shop, following a routine service schedule is essential to keeping your car in safe and dependable working order.
Find additional information to help you drive smart, save money and be car care aware, including a custom service schedule and email reminder service, at www.carcare.org, or follow the Car Care Council on Facebook, Twitter, YouTube and Pinterest.
10 basic maintenance tips to keep your car operating at its best
Spring into action with these 10 basic maintenance procedures to make sure your vehicle is running at peak performance for the summer driving season.
Check all fluids including engine oil, power steering, brake and transmission, as well as windshield washer solvent and coolant.
Check the hoses and belts to make sure they are not cracked, brittle, frayed, loose or showing signs of excessive wear.
Check the battery and replace if necessary. Make sure the connection is clean, tight and corrosion-free.
Check the brake system annually and have the brake linings, rotors and drums inspected at each oil change.
Inspect the exhaust system for leaks, damage and broken supports or hangers if there is an unusual noise. Exhaust leaks can be dangerous and must be corrected without delay.
Schedule an engine check to help it deliver the best balance of power and fuel economy, and produce the lowest level of emissions.
Check the heating, ventilating and air conditioning system, as proper cooling performance is critical for the comfort and safety of you and your passengers.
Inspect the steering and suspension system annually including shock absorbers, struts and chassis parts such as ball joints, tie rod ends and other related components.
Check the tires including tire pressure and tread. Uneven wear indicates a need for wheel alignment. Tires should also be checked for bulges and bald spots.
Check the wipers and lighting so that you can see and be seen. Check that all interior and exterior lighting is working properly and replace worn wiper blades so you can see clearly when driving during precipitation.
Free Car Care Guide
Want to learn more about your car? The free Car Care Guide reviews vehicle systems and basic services in an easy to read, non-technical format. Order a free copy for your glove box at www.carcare.org/car-care-guide.
Photos courtesy of Getty Images
SOURCE:
Car Care Council