It is the start of a New Year, and millions of people around the globe have made and promptly broken their New Year resolutions to work harder, save money, and most common of all eat healthy. We understand it can be very difficult to eat healthy in this world of fast food, expensive organic ingredients, and little time to devote to cooking proper meals. That is why we have decided to help all those seeking a healthier 2016, with our list of the easiest healthy recipes to start your new year.
Egg White Omelette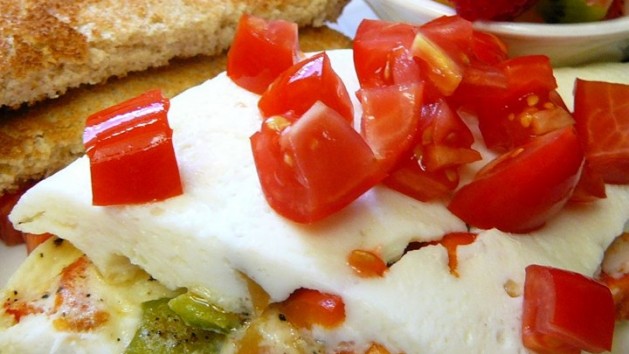 Omelette's are a quick, easy, and healthy way to start off any morning. It will only take you a few minutes to whip up this nutritious breakfast as you are trying to get out the door, especially if you save time by preparing all the various veggies you plan to add to your omelette the night before. Best of all, omelettes are incredibly customizable. Have fun experimenting to find the perfect mix of veggies to truly make this meal your own. This recipe goes a step further on the health-o-meter by taking out the cholesterol filled egg yolk and leaving the tasty, but much healthier, egg whites.
2 tablespoons chopped onion
Get the Full Recipe from All Recipes . . .
Strawberry Banana Oatmeal Breakfast Smoothie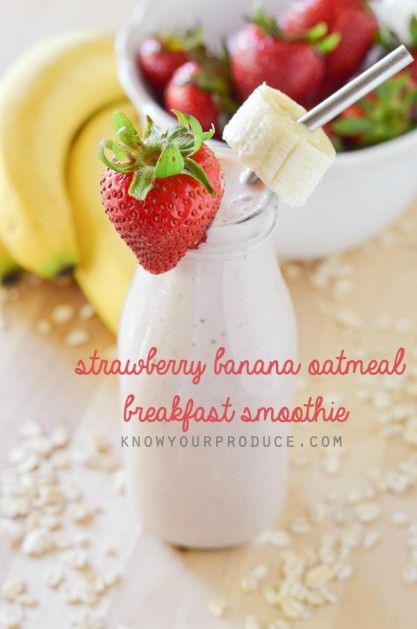 Another way to start your day with a healthy breakfast, a fruit smoothie is great for waking you up in the morning with a little bit of natural sugar as opposed to caffeine filled coffee or energy drinks. Add in some some oats, and now you have an incredibly quick and easy-to-make morning meal that will you keep you full of energy for hours to come, even after you have digested the fruits.
1 cup coconut milk (you can use almond, soy or regular milk too!)
10 strawberries
1 large frozen banana
¾ cup rolled oats
1 teaspoon tahitian vanilla
1 teaspoon raw honey
Get the Full Recipe from Know Your Produce . . .
Maple Baked Salmon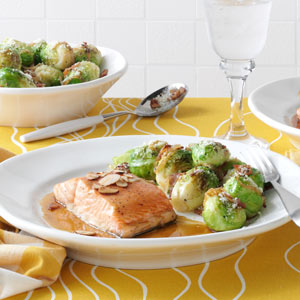 When it comes to entrees, it difficult to get healthier than fish. Salmon is high in protein, low in bad fats, and filled with omega-3 fatty acids that are good for your heart. This recipe is simple to make and quick to prepare. The signature difference between it and other baked salmon recipes is that this has a sweet maple glaze that will make the mouth of even the most passionate fish hater water.
6 salmon fillets (6 ounces each)

1/4 cup packed brown sugar

1/4 cup maple syrup

3 tablespoons reduced-sodium soy sauce

1 tablespoon Dijon mustard

1/4 teaspoon pepper

4 teaspoons sliced almonds, toasted, optional
Get the Full Recipe from Taste of Home . . .
Lemon Chicken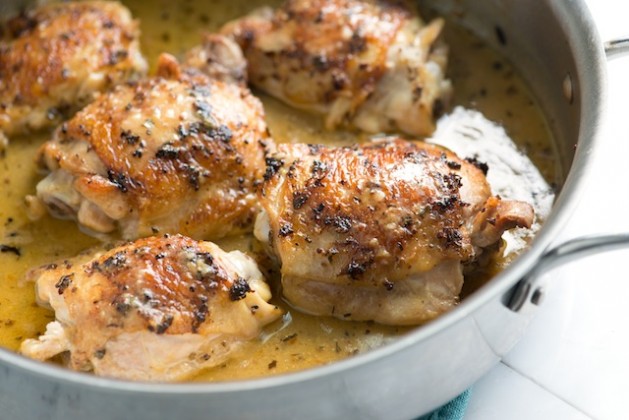 While not nearly as healthy as fish, chicken is still an excellent source of protein that is lower in fat than red meats, like beef. This surprisingly easy to make recipe will leave you looking like a master chef to your family after they take their first bite. If you want to make this recipe even healthier, we suggest using skinless chicken instead.
1 1/2 pounds chicken thighs, skin-on, bone-in, trimmed of excess fat
1 tablespoon whole grain mustard
1 tablespoon lemon zest (1 teaspoon for rub and 2 teaspoons for sauce)
1 1/2 teaspoons dried oregano
1/2 teaspoon dried thyme
1/4 teaspoon kosher salt
2 tablespoons olive oil (1 tablespoon for rub, 1 tablespoon for cooking)
1/4 cup (60 ml) lemon juice (about 1 lemon)
1 1/4 cups (300 ml) low-sodium chicken stock
2 garlic cloves, smashed
1 tablespoon unsalted butter
1 tablespoon all-purpose flour
Get the Full Recipe from Inspired Taste . . .
Roasted Sweet Potatoes with Honey and Cinnamon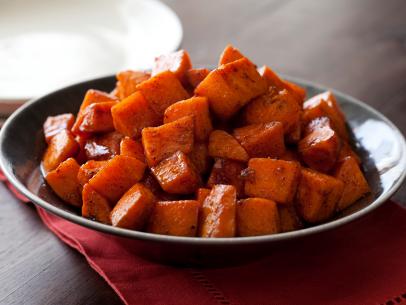 Potatoes are the perfect side dish for many meals. However, your standard white potatoes are not very healthy for you. Introdcuing their equally delevious cousin—the sweet potato. The sweet potatoe is high in complex carbohydrates (taking longer to breakdown meaning you feel fuller longer) and all important fiber. This recipe embraces the sweet in sweet potatoes by adding honey and cinnamon for a both healthy and flavorful result.
4 sweet potatoes, peeled and cut into 1-inch cubes
1/4 cup extra-virgin olive oil, plus more for drizzling potatoes after cooked
1/4 cup honey
2 teaspoons ground cinnamon
salt and freshly ground black pepper
Get the Full Recipe from Food Network . . .
Roasted Vegetables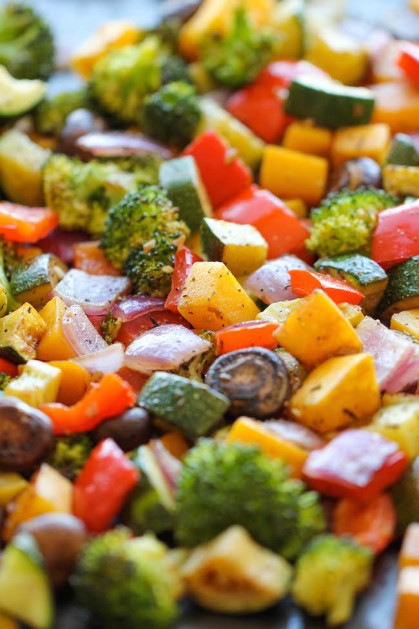 There is not much need to tell everyone how healthy vegetable are. They are a well known source of nutrients and vitamins that promote excellent health. This simple recipe creates a mix of a variety of veggies that can be served as either a side dish or even a meal unto itself!
2 cup broccoli florets
2 cups cremini mushrooms
2 cups chopped butternut squash
1 zucchini, sliced and quartered
1 yellow squash, sliced and quartered
1 red bell pepper, chopped
1 red onion, chopped
2 tablespoons olive oil
2 tablespoons balsamic vinegar, or more, to taste
4 cloves garlic, minced
1 1/2 teaspoons dried thyme
Kosher salt and freshly ground black pepper, to taste
Get the Full Recipe from Damn Delicious . . .