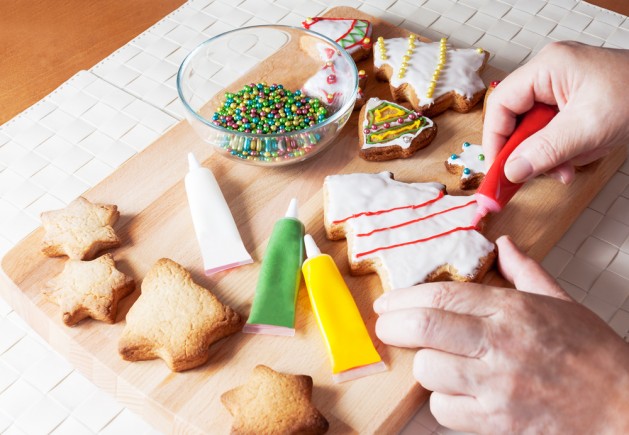 The holidays give endless opportunities for cookie decorating and for showing off your baking skills. It's fun for all ages and there are no limits on what you can do. If you're looking for a way to try something new and really go to the next level keep reading. Let's get serious about decorating cookies.
First, you have to choose what type of cookies you're going to decorate. Sugar cookies are a basic go-to, kind of like a clean canvas for a painting. However, snickerdoodles and chocolate cookies are just as good, if not better because they'll add extra flavor!
The next part that you need to figure out is icing. The consistency and color make all the difference and can really make or break your cookie decorating! The key is finding the perfect recipe and balance between sugar and whatever liquid you mix in with it. Having a variety of colors also lets you do more with patterns and designs so don't be afraid to mix different food coloring for unique colors.
Now, in order to really step up your game, you're going to need an icing pipe with different nozzles that can create textures and different sized lines that will really set your cookies above everyone else's. Be sure not to squeeze too hard or it will all come out and get really messy.
Planning the colors and designs you're going to use on the cookie before you start might save you from being too ambitious and trying to do everything or creating a mess out of everything! Maybe look up some cookies on Pinterest for inspiration so you can know what steps to follow! When icing, outline what you'll be decorating and then fill it in with icing. Pop any air bubbles with a toothpick to get a smooth finish.
Once you've laid down a beautiful pattern with your icing, go ahead and embellish it with some sprinkles or candy pearls to add something extra to your cookies. They're really great for some texture as they add sparkle and more colors! If you're doing gingerbread men, you can strategically add sprinkles to certain areas of the cookie so you can accentuate them.
If you really want to go that extra mile, learn how to make Royal Icing transfers that can act like stickers for your cookies! They take some skill and close attention but they are such an impressive way to decorate. You can go as far to make rose shaped ones, which are perfect additions to any cookie!