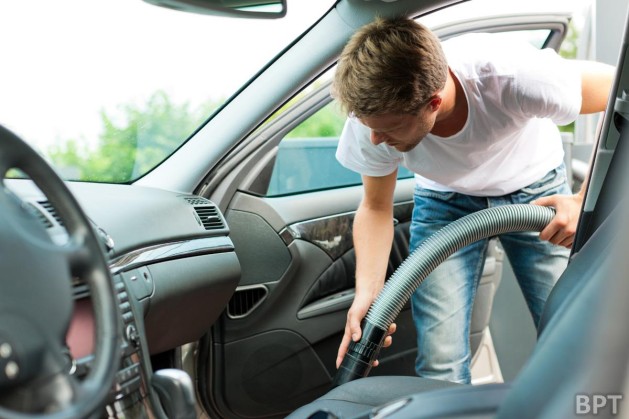 Our homes may be our castles, but as we do more and spend more time in our vehicles, our four-wheeled chariots are not too far behind.
We eat, talk, work, and sometimes even dress in our vehicles. We do things we're not supposed to – specifically, texting. And we're increasingly imposing the same behavior on our cars that we do on our houses.
Eating: These days, the comfort of a dining room or a kitchen table with dishes is no longer a meal requirement; Americans are taking it to the streets! The Hankook Tire Gauge Index revealed that 30 percent of Americans eat at least one meal a week in their car.
Cleaning: Surprisingly, despite the potential mess from the occasional road meal, most American drivers are still managing to keep their little home on wheels in good condition. The Gauge also found that 71 percent of drivers are keeping their car well-managed and 12 percent say they keep their car pristine.
Smoking: Much like in a house, Americans are enforcing the "no smoking" policy in their cars, as 71 percent of Americans say smoking tobacco is their biggest pet peeve in a car. Next to the smoker, 38 percent believe the backseat driver as the biggest car irritant.
Texting: Bad habits in our homes can sometimes be transferred to the car and can be equally hard to break. Nobody likes texting at the dinner table and it should certainly be frowned upon behind the wheel. However, Hankook Tire's quarterly Summer Gauge index found that despite the strict laws against it, as well as the obvious dangers, 16 percent of Americans text while driving.
Time alone in the car is important for some so it is no wonder so much is being done during that time. But certain habits like multitasking, namely texting while driving which can divert attention from the most important tasks in the car such as driving and safety, should be left at home.
Pay attention to these factors to reach your destination smoothly:
Play it safe: Mute the sound or turn off your phone every time you climb into your car. According to a study by the Virginia Tech Transportation Institute, texting while driving increases the risk of accident 23.2 times over unimpaired driving.
Keep a spare tire handy: According to the Hankook Summer Gauge Index, in the past month, only 41 percent of Americans have checked that their spare tire is ready to use. Before embarking on any road trips, make sure your spare tire is neatly packed in your trunk, inflated to its proper setting, and in working condition if needed in an emergency.
Maintain steering and suspension in proper alignment: Whether it's the front or rear of your car, misalignment of the steering and suspension can seriously affect the safe operation as well as the stability of a vehicle. Additionally, it can cause rapid and uneven tire wear. When alignment is not corrected, the lifespan of a tire is vastly diminished.
Select the right tires: It can be easy to forget just what kind of tires you have on your vehicle. Be sure to check to see if you're using the appropriate tires. The new Hankook Ultra-High Performance Ventus V12 evo2 and High Performance All-Season Ventus V2 concept2 tires are perfect for handling varied road conditions.