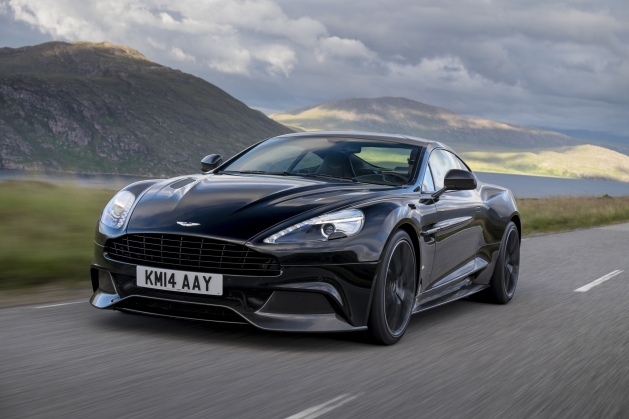 The 2015 Model Year has 568 horsepower, two doors, eight-speeds and you still can't press [R] for rocket launcher. Top Speed of 201 miles per hour. Walther PPK not included.
The Vanquish has a 60 degree dual overhead cam twelve cylinder engine displacing six liters. It sure sounds fancy, but it's not. This engine started out in life as what was essentially two mid-2000's Ford Taurus V6's placed end to end. Aston has since managed to squeeze 568 horses out of this Cosworth co-developed mill for 2015; up from 400 when first launched.
Through the years Aston has made improvements to the engine, but try as it might this engine's plebeian roots have always been nipping at its heels. Two family sedan V6's doth not a super car engine make.
What's new that sucks: Well they still haven't mounted .50 cal machine guns behind the headlights and installed an ejector seat for a start, something absolutely inexcusable for a $300,000. Instead what they have done is removed weight from the Vanquish and its VH platform in the form of more carbon fiber and advanced material. Aston has also added a Touchtronic III transmission that actually complies when you instruct it to shift via flappy paddle, instead of waiting until after tea is served like the old one. The new transmission is actually a ZF 8 speed slushbox. Since inception the Vanquish has been a never-ending cycle of improvement and special edition models.
There has never been any real landmark change within the car, only slow and steady evolution. At this point it seems to be a toss-up between Porsche and Aston for who has the laziest design team, sure the 911 still looks like a microwaved Volkswagen beetle, and sure each new generation of the 911 looks exactly the same as the last while Porsche promise that every panel is brand new, but Aston Martin has now made five cars entirely indistinguishable from each other to a passerby: The DBS, Vanquish, DB9, Virage and Vantage. At least Porsche built an SUV to let us know they could do something else besides meaningless variants of the 911. Of course however, the sight of an exposed compound fracture is more pleasing to the eye than a Cayenne.
What might not suck: AMG-Mercedes is going to start supplying engines to Aston. Those Germans can make on hell of a fine motor when they want to, great beer as well. Hopefully the new AMG sourced power plant will be like the V12 used in the Pagani Zonda
, equal length headers and all. With a new engine also comes the possibility of a new platform.
Source: Free Articles from ArticlesFactory.com
About the author
Expert full-service repair & preventative maintenance for European motors in Austin, TX
Active Motorwerks
 is specialized in BMW, Maserati, Mini Cooper, Ferrari, Lamborghini, Mercedes-Benz, Porsche, Audi and Aston Martin.
All our customers receive a one year warranty on parts and labor. This serves notice to you that we stand by our work and if something isn't right, we'll make it right! Our goal is simply: to continue to earn your business for many years to come!
We offer dealership expertise and clean and comfortable accommodations without the dealership price. Our factory-trained master technicians guarantee that only the highest-rated service will be performed on your vehicle at a cost-effective price. We repair and service all vehicles using parts that are equal to or exceed the standards of those parts originally used by the manufacturers.