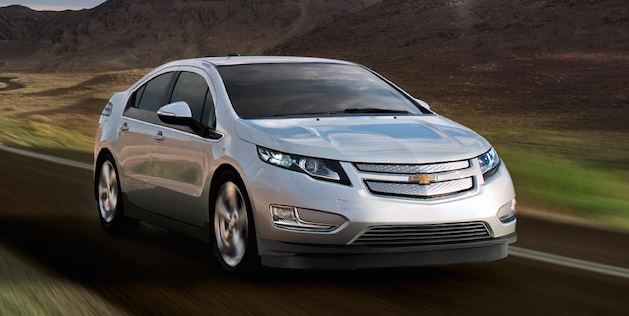 The demand for hybrid cars has gone up in the last few years, especially considering the emphasis on protecting the environment. That being said, it should be no surprise to anyone that there are several different models at odds with one another. In this case, we're talking about the rivalry between the Chevrolet Volt and the Nissan Leaf, two cars that have very similar attributes, and are both doing very well in the market. So what are the differences between them, and most importantly, which one should you actually choose?
Going Further with the Nissan Leaf
The two vehicles have been reborn in the new year and offer better mileage than ever before.
Nissan Leaf
Last Year: 84 Miles
This Year: 107 Miles
Chevy Volt
Last Year: 38 Miles
This Year: 53 Miles
As you can see, they have both improved considerably, but the Nissan Leaf is still ahead of the game in many ways. While both of these vehicles approach electric driving in different ways, they both do certain things with striking similarity:
Electric Front Wheel Drive
Onboard Charger
Five-Door Hatchback
Compact Car Footprints
A Look at Seating
Setting the environmental benefits aside for a moment, we mentioned that both of these vehicles are five door hatchbacks, and inside, the Volt has less space than the Leaf. The Leaf is able to seat five adults, while the Volt HAS a fifth seating option hat's really just a hump situated over the battery pack. It it's defense, it does have a seatbelt. We would definitely NOT recommend that seat for an extended trip, or for a full grown adult.
A Look at Power
So when it comes down to it, when you're buying an electric car, you want to know how far you're going to be able to drive it before you absolutely have to switch over to gas power. It's a good question, and in the end, the Leaf is more of a purist's vehicle.
The Volt: Runs on battery for about fifty miles, and will then switch over to run as a hybrid. It does so at a fuel economy of 42 mpg combined, which isn't a terrible number, but definitely not what you are looking for if you want a purely electric vehicle. Consider, however, that most trips won't result in more than 40 miles of driving, meaning that you can charge the vehicle overnight and you won't even see the switchover to hybrid mode. Theoretically, as long as you don't travel too far from home, you could have infinite fuel.
The Leaf: As opposed to last year, the Leaf now features a longer range battery, giving you somewhere in the neighborhood of 70 to 110 miles. Naturally, the longevity of the 'battery only' mode will depend upon your acceleration, as well as your ability to avoid driving in extreme weather.
So which one do you choose? This is a hard call, and when it comes right down to it, it honestly depends upon how you plan to use your vehicle. Think long and hard about it. If you're just driving around town, the Volt could definitely be your vehicle. If you want to go a little further, however, the Leaf will become your new best friend.