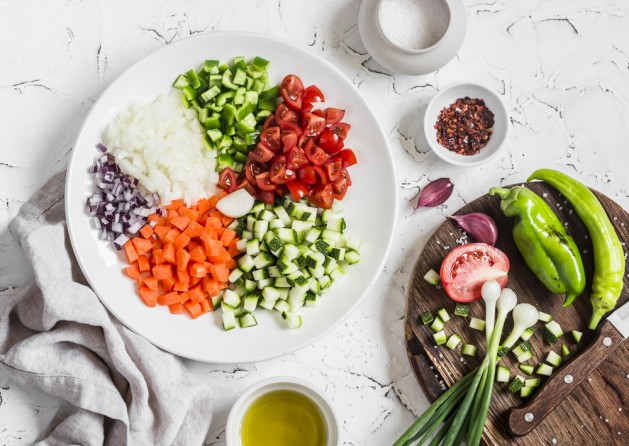 You've heard this a thousand times: veggies are good for you. Your parents have been telling you this since you were four years old. Well, now you're going to hear it for the thousand-and-first time. Veggies are incredible for your body! You need 4-5 servings a day to get all the necessary nutrients. By varying the color of the vegetables you eat, you can get the maximum amount of benefits. Different colors provide different vitamins and minerals. There is also no better disease fighter for your immune system than vegetables.
Did you know that vegetables are pretty much anti-everything? The more vegetables you eat, the more protection you have for cancers of the stomach, pancreas, prostate and bladder. For women, veggies lower the risk for breast and ovarian cancer. They lower your blood pressure, your cholesterol and your risk for heart disease, as well. And of course, they also contribute to weight management. You'll lose weight more safely and your fiber levels will increase.
There are a handful of super veggies that you should be including in your daily diet and for this Eat Your Vegetables Day.
Spinach is one of the best known ones. This noted muscle builder is a rich source of plant-based omega-3s and folate, which help reduce the risk of heart disease, stroke, and osteoporosis. It's also one of the 10 salad greens healthier than kale. Spinach is also packed with lutein, a compound that fights macular degeneration.
Tomatoes (though you may consider this a fruit) are another. Red ones are the best, because they're packed with more of the antioxidant lycopene. Despite what you may think, processed tomatoes are just as potent as fresh ones, because it's easier for the body to absorb the lycopene. Studies show that a diet rich in lycopene can decrease your risk of bladder, lung, prostate, skin, and stomach cancers, as well as reduce the risk of coronary artery disease.
Carrots are fantastic, too. Most red, yellow, or orange vegetables and fruits are spiked with carotenoids—fat-soluble compounds that are associated with a reduction in a wide range of cancers, as well as reduced risk and severity of inflammatory conditions such as asthma and rheumatoid arthritis—but none are as easy to prepare, or have as low a caloric density, as carrots.
An unsuspecting super veggie may be the black bean. All beans are good for your heart, but none can boost your brainpower like black beans. That's because they're full of anthocyanins: antioxidant compounds that have been shown to improve brain function. They're also low in calories and free of saturated fat.
Okay, so you know how good they are for you. But how can you make them taste as good as they are healthy? What if you're just not a veggie person? Well, you can try switching up the veggies you eat. By trying new varieties, you may find something you enjoy. You can also update the way you prepare your vegetables. Sautee them instead of steaming or boiling. Perhaps you prefer the crunch of raw veggies to the softer cooked ones. You can also add herbs and spices to mask the taste of a veggie you really can't stand. If all else fails, hide your veggies! Chop them up in tiny pieces and throw them into your pasta, meatloaf or sauce. Blend them into a smoothie to disguise the taste. Still need more ideas? Check out the recipes below for fun vegetables!
What better way to celebrate Eat Your Vegetables Day than to share some veggie-packed recipes?!
Rainbow Roasted Vegetables
Ingredients:
1⅔ cup chopped red bell peppers
2 cups chopped carrots
1⅓ cup chopped yellow bell peppers
1⅔ cup chopped zucchini
1 cup broccoli florets
1 cup chopped red onions
1 tablespoon dried thyme
Balsamic vinegar to taste
Directions:
Preheat the oven to 390 F.
Place the chopped vegetables onto a baking sheet, add the thyme and balsamic vinegar to taste.
Bake for about 25 minutes or until the vegetables are cooked.
One Pot Summer Vegetable Pasta
Ingredients:
1 box Rotini pasta
3 cups of water, cold
1 cup onion, diced
1 tablespoon olive oil
2 zucchinis, sliced
2 yellow squashes, sliced
1 pint grape tomatoes
1 cup basil, fresh
½ teaspoon salt
1 cup marinara sauce
Grated cheese (optional)
Directions:
Add olive oil and onions to a 12-inch skillet and cook over medium high heat until softened.
Add the box of pasta, zucchini, yellow squash, tomatoes, and basil to the skillet.
Pour 3 cups of cold water and salt into the pan ensuring that the water covers the pasta (it does not have to cover the vegetables).
Turn the heat up to high and cook for 10 minutes, stirring regularly, until the water is absorbed.
With about 1 minute left add the sauce then remove the skillet from heat and top with cheese. Serve immediately.
Anything-You-Have Coconut Curry Soup
Ingredients:
1 tablespoon oil
1 onion, chopped
3 cloves garlic, smashed
1 knob of ginger, peeled and grated
1-2 tablespoons red curry paste
1-2 tablespoons turmeric
1 teaspoon salt
2 tablespoons sugar
12 baby yukon potatoes
2 (14-ounce) cans coconut milk
3 cups vegetable broth
24 ounces extra firm tofu
Anything you have for fresh veggie toppings
Directions:
Start smushing the tofu to press out all the water (or use a tofu press).
Heat the oil in a large pot over medium heat. Add the onion, garlic, and ginger, and stir fry for a few minutes until fragrant. Don't let the garlic burn or brown. Add the curry paste, turmeric, salt, and sugar. Stir fry for another few minutes. Add the potatoes, coconut milk, and broth. Simmer until the potatoes are soft.
Allow to cool slightly, then transfer to a blender and puree until smooth and silky. The soup should be rich and thick so that it coats the back of a spoon. Add in more water or broth to thin out the soup as needed.
Remove the tofu from the press and cut into small pieces. In the same pot, heat a little more oil and add the tofu, stir frying until light golden brown. Pour in a small amount of the pureed soup – it will sizzle and pop, and it will also give the tofu a caramelized exterior. Remove from heat with the tofu is deep golden brown and crispy.
Top each serving of soup with fresh veggie toppings and crispy caramelized tofu. Serve immediately.