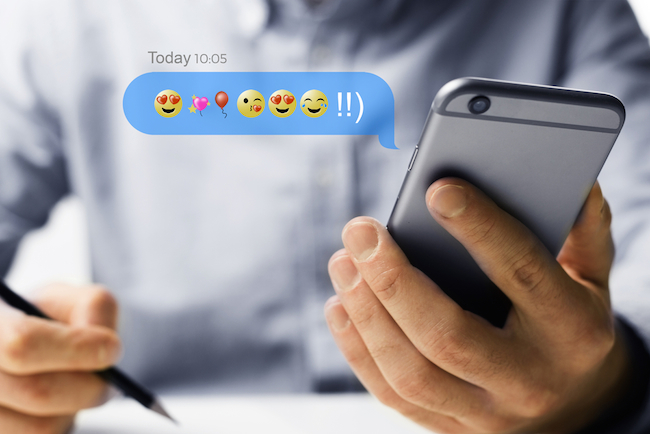 A long-distance relationship is never easy. Who wants to be separated from their significant other for extended periods of time, unable to see their face or even touch them? No one. But, those of you who have braved the deep and dark waters of the dreaded LDR, props to you. If you can stick it out, it will all be worth it in the end, and the two of you will be together with love and rainbows surrounding you at all times. Or so we hope.
But in the meantime, technology has made it a hell of a lot easier to keep in touch with that special person. Texting, calling, Skype, FaceTime and many other means of communication make it possible to actually see their face, even if it is just on a screen. For the times you can't talk on the phone or video chat, emojis come to the rescue. Aren't they great? With just a tap of your finger, you can express so many emotions and feelings that words just can't. You probably know the meaning of each emoji by now, but we're going to help you utilize them within your LDR. May the force be with you.
😍
The "heart eyes" emoji comes in handy when you're trying to tell your girl how excited you are to see her. Whether it's in the plans you have for the following month, or in a sexy selfie she sent you. Make her feel appreciated.
❤️ 💛 💙 💜
Heart emojis. It's pretty obvious what you use these for, to reciprocate whatever she sends you so she doesn't feel bad. You two might have your color that you use exclusively for each other, cute right? Maybe even use this as an Instagram caption when you're missing each other. Whatever lovey-dovey thing you can think of, the heart emoji is the one.
😏
The "smirk" face is when you know she's feeling frisky. Who says you can't keep the heat when you're miles away from each other?
🍺 🍻 🍷 🍸 🍹
When you guys make fun plans together, tying together a text with a drink emoji really sets the tone for the occasion. Let her know you're excited to get drunk and make out with her, because you haven't in forever.
🍆
Since you're apart, the physical part of your relationship isn't there very often. Let her know you're thinking about her, in more ways than one…
😒
If she sends you this one, you know you messed up big time. Respond with 😘❤️💑 to fix the situation quickly and make her smile.
😊☺️😃
A simple smiley face will go a long way. Making plans? Smiley. Sending a good morning text? Smiley. Goodnight text? Smiley. Unsure of what to say? Smiley.
What emojis do you use in your long distance relationship to keep things interesting?