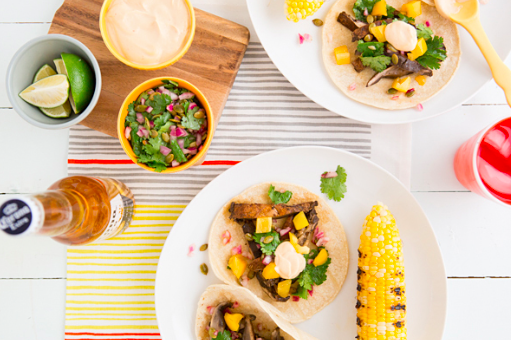 Going all in on Meatless Monday has never been this delicious. These grilled portobello mushroom tacos are so good, you won't even notice they're not made with steak. Even if you're the biggest carnivore out there, at least once a week you could try to put down your spear and try something a little different (c'mon, they're marinated in beer). Just give us the benefit of the doubt, taco night is waiting.
Recipe:
Ingredients
For the Beer-Marinated Grilled Mushrooms:
1 cup pale lager (like Corona)
Juice from 1 small lime (about 2 tablespoons)
1 clove garlic, minced
2 teaspoons ground cumin
1/4 teaspoon salt
A pinch or two of freshly ground black pepper
8 medium portabella mushrooms
Grapeseed oil or other high heat cooking oil for brushing grill
For the Pepita Relish:
1 small red onion, finely chopped
1/2 cup fresh cilantro leaves
1/4 cup pepitas
Juice from 1 small lime (about 2 tablespoons)
For the Chipotle Crema:
3/4 cup raw cashew pieces, soaked for 4-8 hours, rinsed, and drained
1 clove garlic
Juice from 1 small lime (about 2 tablespoons)
2 teaspoons minced chipotle in adobo (adjust the amount to increase or decrease heat)
1/4 cup + 2 tablespoons water
Salt and pepper to taste
To assemble tacos:
8-10 small tortillas, warmed
1 medium tomato, diced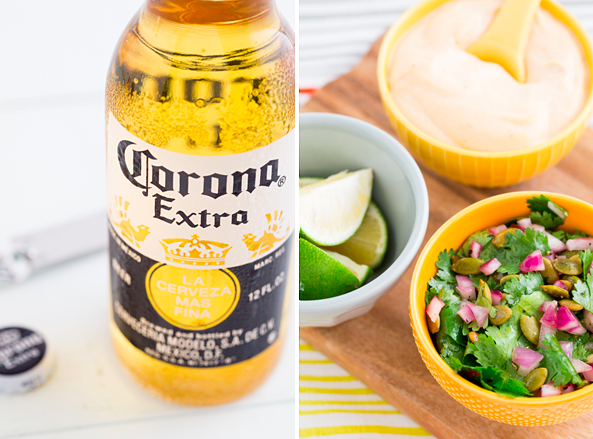 Instructions
Make the mushrooms:
Combine the beer, lime juice, garlic, cumin, salt and pepper in a large zip-top plastic bag. Seal the bag and shake it to mix the marinade.
Clean the mushrooms with a damp paper towel and pull off the stems. Scrape the gills off of the underside of each mushroom and discard. Place the mushrooms in the bag with the marinade. Let them marinate at room temperature for 30 minutes, turning the bag every 5-10 minutes.
Preheat an indoor grill on high. (You can use a grill pan on medium-high or an outdoor grill too.) Brush the grates with oil and place the mushrooms on the grill. Cook for about 5 minutes on each side, until the mushrooms are tender — thicker mushrooms can take a little bit longer!
Remove the mushrooms from the grill and place them on a cutting board. Slice the mushrooms and let the liquid drain off.
Make the relish:
Toss all of the ingredients in a medium bowl. Set aside.
Make the crema:
Combine the cashews, garlic, lime juice, chipotle, and 1/4 cup of water in a blender. Blend on high until the mixture is completely smooth. If needed, add additional water 1 tablespoon at a time. Once the crema is smooth, creamy, but still thick, add salt and pepper to taste.
Assemble to tacos:
Divide the sliced mushrooms onto the tortillas and top each one with relish, crema, and diced tomato, then serve.