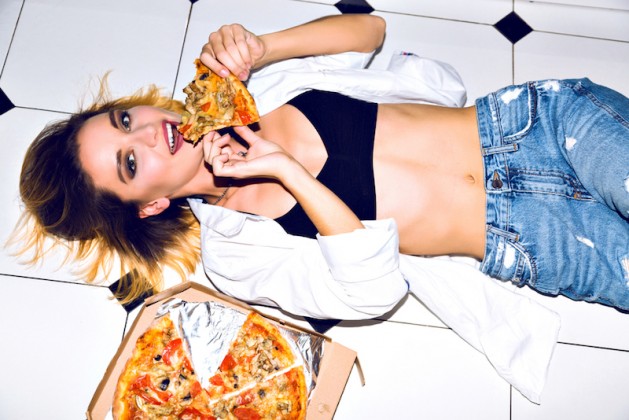 Do you ever feel like you're the only one in the world who doesn't like Valentine's Day? There's too much pink, too many cupids stuck up on the walls, and we won't even mention the PDA. Sometimes, the displays of love on Valentine's Day can feel like the couples are putting on a show, to really prove their love on this day, but don't put effort into their relationship on other days of the year. Let us tell you what is real and true, though. Pizza. Instead of getting all bent out of shape over this greeting card holiday, let's focus on the real MVP, our bae year-round: pizza. Here's why National Pizza Day is more worth your time than Valentine's Day.
Pizza is there for you
You can eat it any time of the day, for any meal, even on the weekends. If you need it in the middle of the night, it's there. It's available in every grocery store and most restaurants, or you could whip some up yourself. It's a faithful constant, unlike the one-day-a-year roses, champagne and chocolates. Who wants to live in a world where everyday is Valentine's Day? No thanks.
Pizza doesn't forget the special occasions
If you want to have pizza on Valentine's Day, you can order a special heart-shaped one, because you deserve it. If you sign up for rewards clubs with Papa John's, Pizza Hut, or Domino's, they will send you free offers on your birthday to come get more pizza! Does your significant other do that? We're guessing not. On Valentine's Day, you're lucky if you don't have coerce your significant other into doing something, or if they don't forget, or if they're only going on a date to avoid a fight. You never have those fears with pizza.
Pizza won't bore you
What does Valentine's Day have? The same old cliches: flowers, chocolate, hearts, and suffocating pink and red everything. The same dates: fancy dinner, romantic movie, and couples' massages. But pizza is different every time you order! From the crust to the toppings, you can create endless amounts of deliciousness and never once get bored or fall into a mundane routine.
Pizza doesn't care if you're single
Valentine's Day excludes all single people, or those whose loved ones have passed on or are overseas. It's slowly becoming more socially acceptable to have a celebration with your girlfriends (Galentine's Day), but it's always been acceptable to share pizza. Get a group together to enjoy some tasty pizza and avoid the mushy gushy Valentine's scene altogether.
Pizza won't annoy you
So much pressure comes along with Valentine's Day. You have to wear the right outfit, buy the appropriate gift, plan the perfect date, get the best flowers….all at the same time that every other significant other is out there doing it. What does pizza ask of you? To sit back and enjoy its cheesy goodness. You don't have to get dressed up or do your makeup or anything. Pizza will never judge you as society would for not having a date on Valentine's.

via GIPHY