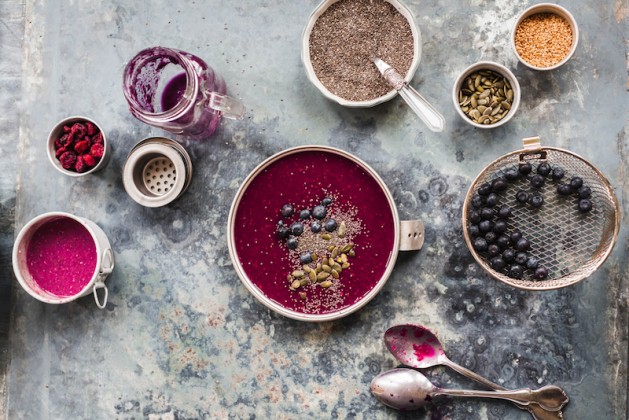 We live in a busy, fast-paced, ever-changing world. Sometimes it feels like it's impossible to keep up with all the work we have to do. We run from one place to the next and are exhausted by the time the weekend comes around; yet, the weekend is so full of extracurriculars and catching up on housework, even that's not a relief. With all the hectic scrambling, it's easy to forget basic (but still important) habits, like eating breakfast daily.
Wouldn't your mornings run smoother if you weren't also hangry while you were dropping off kids at school/rushing in the office late/sitting in bumper to bumper traffic? A good breakfast is the key to a good day. To help you out, here are some quick, on-the-go breakfasts so that you can still squeeze in a meal before the daily grind begins.
Peanut Butter Granola
This delicious granola bake goes wonderfully with yogurt and fresh berries. Prepare the granola on the night before (as it takes an hour to bake) and it'll be all ready for you in the busy morning! Serves 12, but if you're just one or two people, it'll feed you all week long. Score.
Avocado English Muffin and Egg
Unless you've been living under a rock, you've seen how avocado has been sweeping the nation. You can literally put avo on anything. For this easy (and healthy) breakfast, you only need about ten minutes. If you don't have that, boil the eggs the night before, and it'll take less than five. Simply top the muffin, serve with the egg(s) and you're out the door.
Kid-Friendly Quesadilla
Did you know quesadillas could be a breakfast food? If you use apples, then yes, yes they can. All you need are sliced apples, tortillas and your favorite kind of cheese. Throw it together, zap it in the microwave to melt the cheese, and breakfast is served. If you have little people in your house, don't worry. This meal is kid-approved.
Overnight Oatmeal
It doesn't get any easier than throwing ingredients in a crock pot, going to sleep for eight hours, and then waking up to a hearty, warm breakfast. Perfect for cold winter mornings, and it'll keep your stomach satisfied for hours. Plus, you can top it in any variety of ways to change things up each morning.
Scrambled Eggs with a Twist
Sure, scrambled eggs are quick and easy, but they can be bland, right? Not with this recipe! Add some pesto, tomatoes, and white beans to kick your breakfast up a notch. Serve with toast or muffins, if you want some whole grains on the side of all that protein and fiber. Ten minutes until deliciousness.
Bacon-Cheddar Grits
Another warm breakfast idea, these grits will stick to your sides and make you remember why you love breakfast. All you have to do is add cheese and seasonings to the prepared grits, cook the bacon, top the grits with the bacon and fresh chives, and you're done. And if you fall behind from cooking the bacon, just throw the grits in a to-go container and eat on the commute. This recipe is 100% portable.
Fruit Parfait
Not only are fruit parfaits yummy, but they're also a great portable option for busy mornings. The protein in the yogurt will wake up your sleepy brain and get you into gear for your day. Parfaits can be altered to suit any season, just adjust the in-season fruit and nuts depending on your area and time of year. With so many combinations, you won't get bored of this recipe any time soon.
Breakfast Margherita Pizza
Kids love pizza for breakfast, so why can't adults enjoy it, too? Decorate your English muffin with the desired toppings and slide it into the broiler. It's a quick bake, just enough to warm all the ingredients. When it's done broiling, you merely have to sandwich the two slices of muffin together and then you're on to the next thing.
Granola Bars
On the weekend, make a batch of these bars so you'll have breakfast already prepared for the coming week. They last up to four days, or you can freeze them to last longer. Take advantage of your Saturday afternoon and make as many as you can. This recipe uses cranberries and walnuts, but that can be easily substituted for your own favorite berries and nuts.
Breakfast Burrito
Again, another recipe that can be adjusted to your taste depending on the morning's time limit, your taste buds, and what's in season. But you probably have all the basics in your fridge right now: eggs, cheese, tortillas, veggies, and meats. Really spice up your morning by including a dash of hot sauce before you rush out the door.