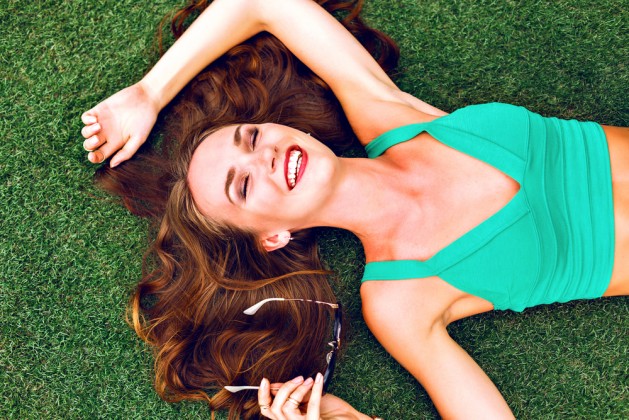 Are you ready to hit the beach and get your tan on? Summer is all about being outside and enjoying the fresh air and sunshine. However, particularly for females, the sun can be quite damaging. Stay out too long, and it can harm your skin and hair. Yes, even your hair. The sun can burn your scalp, the heat can cause split ends and frizziness, dryness may make you overcompensate by conditioning too much, sweat, and dust and pollen can all lead to the drying and frizzing of your hair. Here are some ways to help rescue your hair so you can soak up the sun as long as you want!
Conditioning
In moderation, your conditioner can restore the moisture to your hair. The key is to only use the kind that is suited for your texture and type of hair. If you're going swimming, you can even use leave-in conditioner and wear a swim cap over top.
Coconut oil
There are many uses for coconut oil during the summer. For one, it prevents sun damage. By brushing a small amount into your hair, particularly your scalp, it can be used as a natural sunscreen. Also, if you brush it into your hair before swimming, it can prevent chlorine damage as well. Finally, coconut oil can be used as a natural detangler for those with thick, curly hair, or if you live in a windy area. Here's a recipe for coconut oil shampoo, so it can become part of your daily routine:
Ingredients:
1 cup liquid castile soap
1/3 cup canned coconut milk
1/3 cup coconut oil
50–60 drops of your favorite essential oils. The most beneficial essential oils for hair include lavender, wild orange, peppermint, lemongrass, rosemary, clary sage, and rosemary.
Directions:
Melt coconut oil and coconut milk together over a very low heat, so as to not damage any of the nutrients.
Pour into a bottle with a secure lid, and top with the castile soap. Shake well.
Add 50 drops of your favorite essential oils, and shake again.
This shampoo will not be as thick as commercial shampoos. Squeeze on hair directly from the
bottle. Wash, and rinse well.
Covering up
The simplest method to protect your hair is to just cover it with a hat or scarf. This blocks the sun's rays, blocks wind damage and helps to retain moisture. If you color treat your hair, this method also protects your coloring.
Shampoo less
Using too much shampoo dries out your hair, and that's already happening when you're out in the sun. Try not to wash it every day, or switch to a milder shampoo during the summer months. When you do shampoo, rub the shampoo directly into your scalp, not your hair. The suds will wash your hair when it rinses, without the harmful drying that occurs when you wash the strands and tips directly.
Wide-tooth comb
If you switch to a comb instead of a brush, it will decrease the amount of hair you break when detangling. Avoid brushing your hair when wet, like after a dip in the pool, because that is when it is most susceptible to breakage.
Avoid heat
No blow-dryers, straighteners, stylers, curlers or heat of any kind (if you can help it). The sun is already causing your hair to dry out faster, so you don't need to add the heat yourself! Try new methods of getting your hair to look great. Take a shower half an hour earlier and let your hair air-dry. Braid your hair the night before to have beautiful waves in the morning. Create an all-natural spray to get beach waves, like the recipe below:
Ingredients:
Spray bottle
1 cup of hot water
1-2 teaspoons of sea salt (more for a beachy look)
1 Tablespoon of coconut oil, argan oil, or ½ of each
½ teaspoon of leave-in conditioner
Dab of pomade or water-based gel
Directions:
Add the hot water to the spray bottle.
Measure out and add the ingredients.
Shake it up. A minute or two should do the job.
Spray liberally to towel-dried hair.
Scrunch, scrunch, scrunch. Try putting it in a big, loose braid for a while, and/or on top of your head in a loose knot while it dries. When it's almost dry, let your hair down, scrunch some more, and let it completely air dry.
Hydration
Water is essential if you want to rescue your hair from dry and dull texture! You should drink at least 7-8 glasses a day—this will moisturize your hair and skin, as well. For a fun twist, try coconut water or lemon water. If you really struggle drinking water, eating foods that are high in water like cucumbers, tomatoes or watermelon is another option for increasing your water intake.