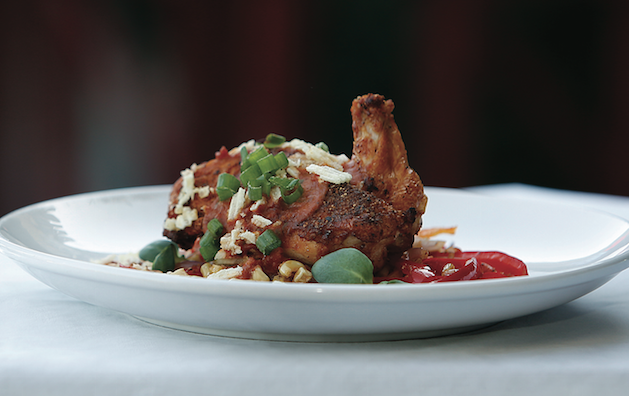 Beyond breakfast and dessert, a satisfying glass of milk complements a range of culinary flavors, from savory to sweet to spicy, adding delicious taste and unique mouth feel to every bite. From tried and true traditional pairings, such as peanut butter and jelly sandwiches, to exciting new culinary tastes, pairing milk with food makes for a complete and satisfying dining experience.
"It's widely accepted that adding an unexpected ingredient – such as a touch of salt to watermelon – can enhance flavors in notable ways," said Steve James, executive director of the California Milk Processor Board, creators of the iconic got milk? campaign. "We've applied that same principle to our new Food Loves Milk campaign, which features exciting food pairings inspired by the latest culinary trends. Whether you're enjoying a rich peanut butter and jelly sandwich, or spicy eggs with Sriracha, a refreshing glass of milk is the ultimate pairing beverage."
Pairing foods and beverages that complement each other is a natural and satisfying way to construct meals. Savory and sweet nuances from a variety of cultures and unexpected ingredients can enhance flavors and add fresh appeal. California, with its diverse population, is impacting the American palate in new and exciting ways. Inspired by California's growing foodie culture, the Food Loves Milk campaign includes exciting taste adventures such as Spicy Sriracha Penne, Mexican Chocolate Bread Pudding, Korean Fried Chicken and Mediterranean Fire Roasted Chiles.
"Milk is a versatile and unique beverage that complements a range of exciting flavors, from savory to spicy to sweet," James said. "For generations, milk has had a healthy relationship with food, pairing perfectly with traditional favorites. These new innovative milk pairings offer a delicious new way to enjoy milk."
For pairing suggestions and more information about the "Food Loves Milk" campaign, visit gotmilk.com and follow got milk? on Facebook, Twitter and Instagram.
Roasted Chori-Chicken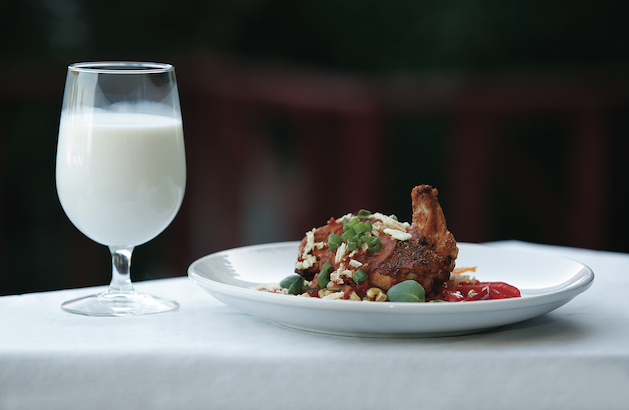 Ingredients
4 tablespoons corn or vegetable oil
4 airline, skin-on chicken breasts
salt and pepper, to taste
3 tablespoons extra virgin olive oil
3 ears of corn, roasted, kernels sliced off
1 red onion, julienned
2 red bell peppers, julienned
1 teaspoon ground cumin
1 teaspoon minced garlic
Gravy
1 tube high-quality beef chorizo
1 1/4 cups all-purpose flour
2 1/2 cups whole milk
1 bunch cilantro, chopped
salt and pepper, to taste
Garnish
1 small bag potato chips, semi-crushed
1/4 cup diced green onion
Preparation
For chicken: Heat oven to 400°F. In saute pan, heat corn or vegetable oil over medium heat until it starts to smoke. While oil is heating up, season chicken with salt and pepper and lay skin-side down. Cook about 1 minute before placing pan in oven. Roast chicken for 10-12 minutes, turning every 4 minutes until done.
For veggies: In another saute pan, heat olive oil. Add corn, onion and peppers and saute for about 4 minutes, then add cumin, minced garlic and dash of salt and pepper.
For gravy: In small pot, cook chorizo on medium heat, constantly stirring. Do not strain oil. Add flour and keep stirring. Slowly add milk and let simmer for 1 minute. Continue adding milk until desired thickness. Finish by adding chopped cilantro and salt and pepper, to taste.
To serve, plate chicken over sauteed vegetables and pour gravy over both, as desired. Top with semi-crushed potato chips and green onions, and pair with glass of milk.
Serves
4
SOURCE:
Got Milk?