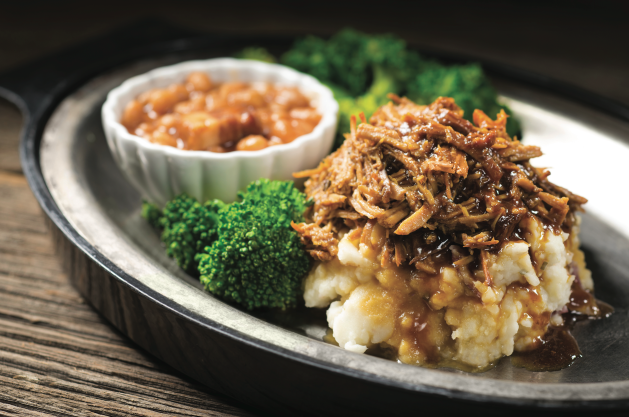 There's no time like fall to experiment with new recipes, especially those savory and sweet comfort dishes that highlight the season's favorite fruit – apples. Delicious when spread over a warm slice of fresh-baked bread, apple butter is also an unexpected but ideal ingredient for creating rich flavors in baked, cooked and grilled dishes that add warmth to any meal.
Traditional apple butter is made by simmering apples long and slow in kettles with sugar, apple cider and spices. This classic Pennsylvania Dutch spread is essentially a concentrated, spiced apple sauce and contains no dairy butter. The classic brown color reflects the apples' sugar caramelizing during the slow cooking process.
While apple butter makes an excellent spread, with up to 70 percent fewer calories than peanut butter and traditional dairy butter, it's also an easy way to instantly introduce fall flavors into your favorite dishes, whether dinner or dessert.
Bring the flavors of fall to your table with these simple, homestyle recipes. One blends the spicy notes of apple butter with pork in a simple, comforting crock pot dinner. The other offers a sweet apple-infused twist on traditional pecan rolls – made even easier with Musselman's Apple Butter – which is made the old-fashioned way for perfect texture and taste. It's never been easier to whip up comfort cuisine right in your own kitchen.
For more recipes featuring apple butter, visit www.musselmans.com.
Shredded Apple Pork
Servings: 6
1 cup Musselman's Apple Butter
1/4 cup Musselman's Apple Cider Vinegar
1/4 cup brown sugar
2 tablespoons minced garlic
2 tablespoons whole grain Dijon mustard
1 teaspoon salt
1 teaspoon pepper
2 medium apples, cored and chopped
1 medium onion, chopped
6 boneless pork chops
In small bowl, whisk together apple butter, vinegar, brown sugar, garlic, Dijon mustard, salt and pepper.
Place chopped apples and onions in slow cooker. Add pork chops and pour apple butter mixture over top.
Cook on low for five to six hours covered. Shred pork with two forks in cooker, and let meat marinate on low in sauce for 20 minutes uncovered. Serve warm over rice or mashed potatoes.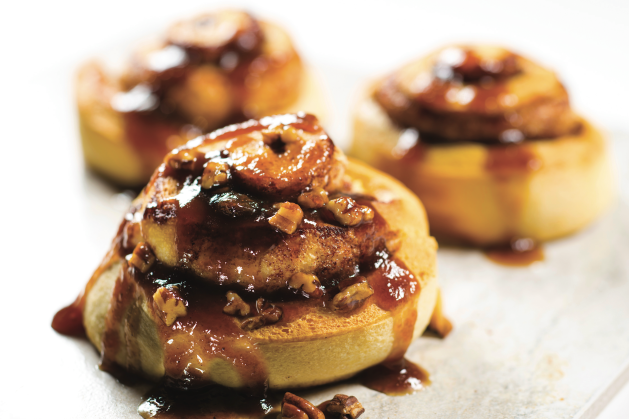 Pecan Rolls
Servings: 8
3 tablespoons butter
1/3 cup brown sugar
1 tablespoon maple syrup
2/3 cup chopped pecans (divided)
1 package (8 ounces) refrigerated crescent sheet
1/2 cup Musselman's Apple Butter
1/4 cup raisins (optional)
Preheat oven to 375∞F. Coat 8-inch square baking dish with cooking spray.
In small sauce pan over medium heat, combine butter, brown sugar and maple syrup. Stir until melted and pour into baking dish. Sprinkle evenly with 1/3 cup pecans.
On cutting board, unroll tube of crescent dough into a rectangle (seal seams and perforations). Spread apple butter evenly over dough surface and sprinkle with additional pecans and optional raisins.
Starting on long edge of dough, roll tightly, jelly roll fashion. With serrated knife, cut roll into 16 equal slices. Place each slice cut side down on the glaze in the baking dish.
Bake 18 to 20 minutes, or until puffed and golden brown. Remove from oven and immediately invert onto serving platter. Allow to cool five to 10 minutes before serving.
#12258
Source: Musselman's