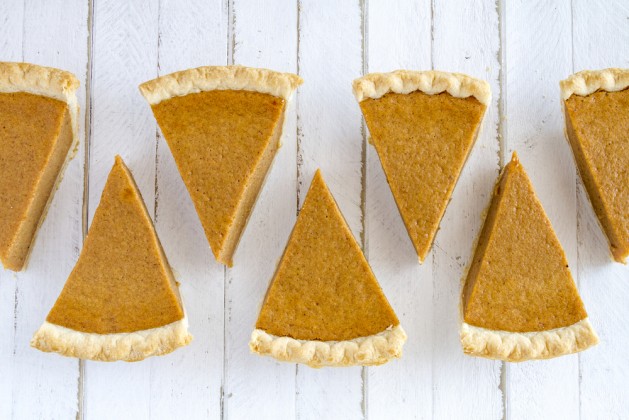 Thanksgiving is all about eating, drinking and being merry. It is so much fun to see your loved ones and enjoy decadent foods made with love. But, Turkey Day can be tough on the waistline. You may not be able to skip the pecan pie and, of course, have your glass of wine! But, if you can, try and fit in a few of these incredibly delicious low calorie dishes on your buffet.
Here is your light, but decadent menu for Thanksgiving under 300 calories. For more healthy ideas check out these vegan Thanksgiving recipes.
Mashed Garlic Cauliflower
Ahhhh… Mashed potatoes. A holiday favorite packed with fat and carbs. But, mashed cauliflower is an amazing alternative for anyone who simply cannot do with those creamy whipped potatoes during the holidays. Put them on the table and there is a good chance no one will even notice the difference.
Ingredients (serves just 1, so multiply for a large crowd):
1 cup cauliflower chopped
1 cup vegetable stock
2 tablespoons plain, fat free Greek yogurt
Salt
Pepper
Roasted garlic
Directions:
Cook the cauliflower over medium heat in a saucepan with vegetable stock in a saucepan.
Put the cauliflower into a food processor, being sure to reserve cooking liquid.
Add in the yogurt and ¼ cup of reserved cooking liquid from step 2.
Blend until smooth, adding more stock as needed as you scrape the sides to make sure everything is thoroughly processed.
Season with salt and pepper.
Reheat the cauliflower if it has cooled. You can do this in a microwave or sauce pan.
Roasted Root Vegetables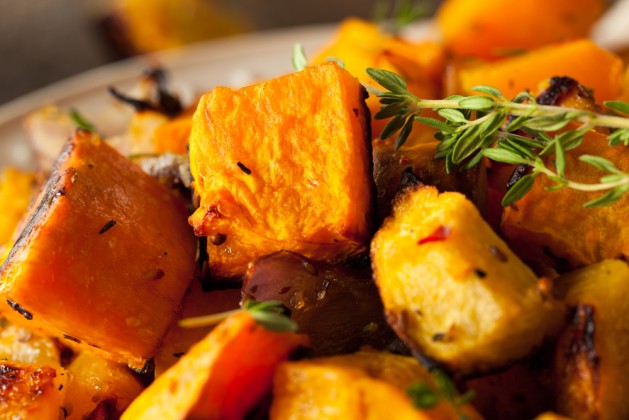 Roasted root vegetables like carrots and yams, are amazing and rustic. They add color to the table scape and flavor to the menu, but keep the calories low. What could be better?
Ingredients (makes 8 servings):
1 tablespoon olive oil
1 red onion, sliced
4 cloves of garlic, peeled and cut in half
2 carrots, peeled and diced
1 turnip, peeled and diced
1 yam or sweet potato, peeled and diced
2 parsnips, peeled and diced
1 teaspoon dried rosemary
1 teaspoon dried thyme
1 pinch salt
1/2 teaspoon black pepper
1 tablespoon balsamic vinegar
Directions:
Preheat oven to 375°F.
Spray a baking sheet with nonstick cooking spray.
Combine all ingredients in a bowl.
Toss to combine.
Place mix on a sheet pan.
Bake 30 minutes, rotating vegetables every 10 minutes until root vegetables are tender and a touch toasted looking.
Drizzle with balsamic vinegar.
Fruit and Vegetable Stuffing
Whole wheat grains, hearty vegetables and fresh fruits make up a filling and delicious side dish for your traditional turkey. The flavor combinations are out of this world and everyone at the party will be asking for your recipe.
Ingredients (makes 18 servings):
10 cups wheat bread, cubed
2 pieces of turkey bacon, diced
1 1/4 cup low-sodium vegetable stock
1 tablespoon butter, unsalted
2 yellow onions, diced
5 Granny Smith apples, cored and diced
2 cups fennel, chopped
2 stalks celery, diced
A pinch salt
1/2 teaspoon pepper
1/2 teaspoon oregano
6 dried apricots, chopped
1/2 cup egg substitute
2 tablespoons flat-leaf parsley, chopped
Directions:
Preheat oven to 350 degrees.
Toast bread cubes for about 12-15 minutes
Set aside and cool.
Increase oven temperature to 375 degrees.
Place turkey bacon in a heavy saucepan.
On top of stove cook over moderate heat just until the fat is liquefied and the meat starts to brown. Take out of the pan. Chop into a small dice, and reserve for later.
Drain off any excess fat and discard. Melt butter in the saucepan.
Add onions and stir-fry until golden in color.
Add in the celery, fennel, apples and diced bacon.
Cook, stirring for 3-5 minutes.
Spray a baking dish that measures 13 X 9.
Combine browned bread, vegetable mixture, and stock to a large dish.
Mix in the eggs, fruit and seasonings.
Transfer to baking dish.
Cover with foil.
Cook for 30 minutes.
Remove foil and bake about 20 minutes.
Green Bean Casserole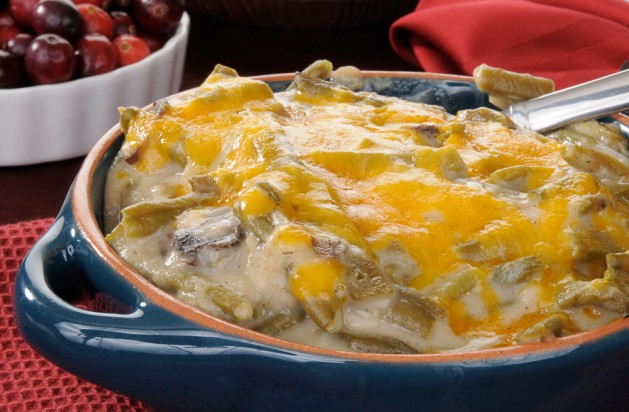 This casserole is a leaner and cleaner take on the classic casserole. It cuts calories and fat, but not flavor. Your kids will even love it!
Ingredients (makes 8 servings):
2 1/2 pound green beans, trimmed and cut into 1- to 2-inch pieces (about 8 cups)
2-3 tablespoons extra-virgin olive oil, divided
1 medium onion, thinly sliced
3 tablespoons flour
3/4 teaspoon salt
1/4 teaspoon white or black pepper
2 1/2 cups low-fat milk
1 1/2 cups fresh whole-wheat breadcrumbs OR 1/2 cup shredded or crumbled cheese
Directions:
Position racks in upper and lower 3rd of oven & preheat to 425 °F.
Toss green beans in a big bowl with 1 tablespoon oil until well covered.
Split amongst 2 baking sheets and spread in a smooth layer.
Roast for 20 to 25 minutes, stirring once and revolving the pans top to bottom about midway through.
In the meantime, heat 1 tablespoon oil in a big pan over medium heat.
Add onion and cook 5 to 8 minutes.
Increase flour, salt and pepper. Cook, stirring, for 1 minute more.
Add milk and continue to stir, scraping up any burnt bits.
Cook, stirring, until the sauce bubbles until it solidifies enough to coat the back of a spoon, approximately 4 minutes.
Remove from the heat. When the green beans are done, remove from the oven. Preheat the broiler.
Move half of the green beans to a 2-quart, broiler-safe baking dish and spread half of the sauce over the green beans.
Add the rest of the green beans and top with the remaining sauce. Combine breadcrumbs and the remaining 1 tablespoon oil in a small bowl (skip this step if you are topping with cheese).
Shake the breadcrumb mix (or cheese) over the dish.
Place under the broiler and broil, watching closely, until the gratin is bubbling and beginning to brown on top. This will take 1 to 5 minutes.
Let stand for 10 minutes.
Clean Cranberry Sauce
It just isn't Thanksgiving without cranberry sauce. But, that jellied artificial goop from the grocery store is a bit of a sugar bomb, and not all that tasty. This clean cranberry side will delight the whole crowd.
Ingredients:
12-ounce bag of fresh cranberries
1/2 cup honey or maple syrup
1 medium cinnamon stick
Zest of one orange
1 cup water
Directions:
Put everything in a pot and cook over medium high heat for 30-45 minutes.
When liquid is mostly cooked out, start simmer
Simmer as long as you want. Longer simmering times produce thicker sauce.
So, there you have it! Spins on old Thanksgiving classics with less fat and calories, but just as much flavor. Try out a few this holiday season but remember to stick to 1 serving! Your jeans will thank you.