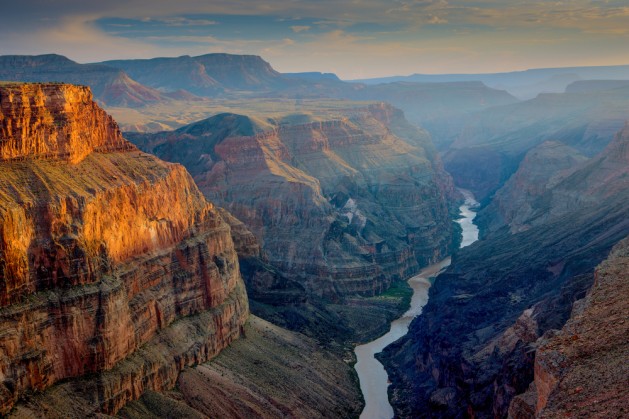 The Best Attraction In All 50 States
Are you ready for traveling this summer? America is such a diverse country, it's hard to know what the best attraction in each state is! Here's a list of a crazy adventure or activity that can be done in each state. No matter where you go, you'll have a great time.
Check out our list of the best attraction in all 50 states:
Alabama: Birmingham Museum of Arts
The collection at this museum contains more than 26,000 paintings, sculptures, drawings and other related arts. There is also a sculpture garden to explore outside. The museum is free to enter.
Alaska: Kenai Fjords State Park
Here, you can participate in whale-watching, hiking, camping and you'll even get to see some glaciers.
Arizona: Grand Canyon
I mean, this one is a given. Spectacular views, hiking trails and rafting…you won't want to miss it. The Grand Canyon is the best attraction in Arizona.
Arkansas: Arkansas Air Museum
The building the museum is in is a 1940's aircraft hangar, which is fitting because you can view racing planes from the 20's and 30's, biplanes, and learn the history of flight on your tour.
California: Dante's View
If you want to skip the beaches and DisneyLand, here is an adventure you'd have to be crazy to do. Climb to the top to look out over Death Valley, the lowest point in North America, as well as the hottest and driest.


Colorado: Garden of the Gods
Hike the 15 miles of trails, do some front-range rock climbing, or take a segway tour. If you want active enjoyment, look no further than this park. While there is so much to see in Colorado, Garden of the Gods is the best attraction in the state.
Connecticut: Lake Compounce Family Theme Park
Thought to be the oldest operating theme park in America, here you can ride 1927 wooden roller coaster or a 1911 carousel. History and amusement combined!
Delaware: The Grand Opera House
Located in a restored 1871 Victorian theater, today you can see a classical concert or dance almost any day, with special events throughout the year.
Florida: Disney World/ Universal Studios
Florida truly is the happiest place on earth, seeing how you can visit either Disney World or Universal Studios while you're there. If you're really brave, do both in one vacation!
Georgia: Rock City
Check out an ancient city built entirely from rock and learn the legends behind the unique landmark names.
Hawaii: Hawaii Volcanoes National Park
What could be more adventurous than visiting an active volcano? You can even participate in their After Dark in the Park program.
Idaho: Sawtooth National Recreation Area
In the summer, you can hike or go horseback riding. In the winter, they're known for their cross-country skiing and snowmobile rides.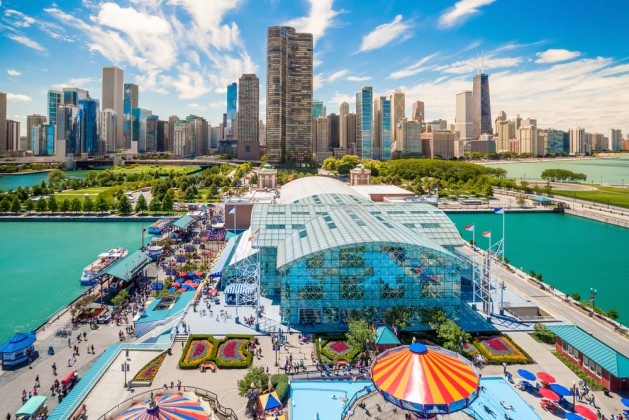 Illinois: Navy Pier
It doesn't matter who you are, Navy Pier has something for you: museums, restaurants, shopping, movies, a ferris wheel, the Crystal Gardens…and the list goes on. This is the best attraction in Illinois for both kids and adults.
Indiana: Indianapolis Motor Speedway
For all you NASCAR fans out there, be sure to check out the world's largest auto racetrack.
Iowa: Maquoketa Caves State Park
Always wanted to go spelunking? Here's your opportunity. Watch out for bats!
Kansas: Wichita Botanical Gardens
Explore the 9.5 acres of themed gardens, including rose garden, butterfly garden and woodland glade.
Kentucky: The Kentucky Derby
If you're visiting in May, you need to attend the iconic Derby! If not, you can still visit Churchill Downs, the site of the Derby.
Louisiana: French Quarter
What's a visit to Louisiana without a stop in New Orleans? The French Quarter is full of live music, bars, restaurants and eclectic architecture.
Maine: Acadia National Park
Go biking, hiking, horseback riding, bird-watching, camping, and fishing here to get back to nature.
Maryland: Assateague State Park
On this island, you can go swimming and surfing in the Atlantic Ocean. Also, be on watch for the wild horses that roam the beach.
Massachusetts: Plimoth Plantation
Step back in time by visiting this living history museum. Costumed employees will talk and engage with you while never leaving their 17th century personas.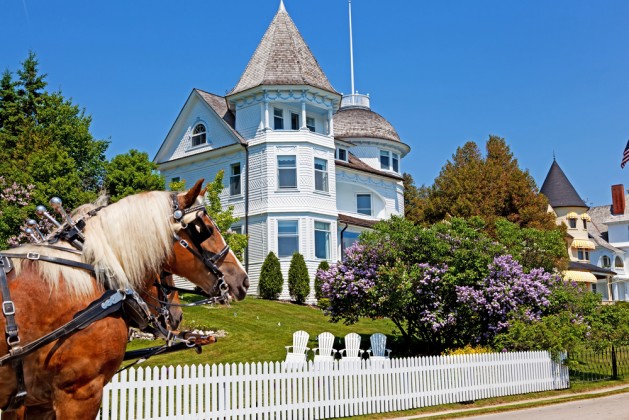 Michigan: Mackinac Island
Take a carriage tour and explore the historic setting. Indulge in a spa, see a comedy show, or go shopping in one of the boutiques. Snap a picture with the Mackinac Bridge, too.
Minnesota: Mall of America
Yes, it's a giant mall. A mall with a theme park! Something for males and females at this iconic Minnesota landmark.
Mississippi: Gulf Coast Beaches
For those who love water activities, here's the spot for you. Here you can kayak, paddle boat, or take a cruise.
Missouri: Silver Dollar City
This place combines a theme park with the preservation of Ozark culture. When you're not riding coasters, you can watch glass blowing, basket weaving, blacksmithing, and pottery demonstrations.
Montana: Glacier National Park
Known as the "hiker's paradise," this park contains more than 700 miles of trails, all with breathtaking views. Come out here if you want to enjoy the sights and solitude.
Nebraska: Henry Doorly Zoo & Aquarium
So much more than a zoo, here you can ride a skylift, practice yoga in the aquarium, take a camel ride and visit the Desert Dome.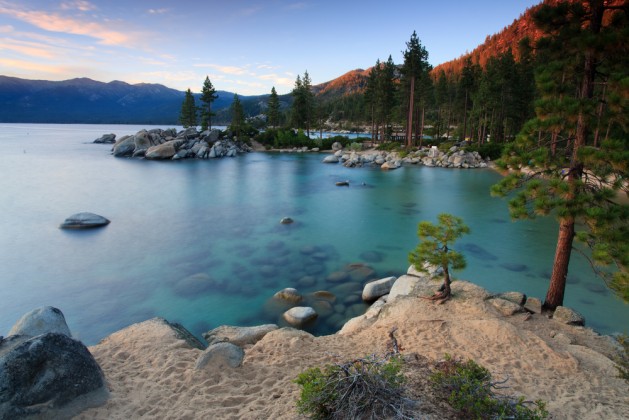 Nevada: Lake Tahoe
Whether you visit in summer or winter, there's something to keep you entertained. Lake Tahoe offers water skiing, mountain biking, fishing and hiking. Skip Vegas and see the true best attraction in Nevada.
New Hampshire: Cannon Mountain Aerial Tramway
See stunning views of mountains from the 4,080 foot-summit. Nearby is Franconia Notch State Park, which has trails and campground to complete your mountain vacation.
New Jersey: Grounds for Sculpture
Art lovers can't miss this 42-acre museum and sculpture park, with some sculptures more than 200 feet tall. Also, they have peacocks wandering the park at their own will, so there's a photo op in itself!
New Mexico: White Sands National Monument
You can take a tour ride over the dunes, go for a hike, camp, and even more fun: sled down the dunes.
New York: Times Square
Get a workout in by walking around and sightseeing, then sit down for a Broadway show!
North Carolina: Outer Banks
Not only can you windsurf or see wild horses, but you can also scuba dive down in the Graveyard of the Atlantic and see wrecked ships that span all the way back to the 1500's colonial ships.
North Dakota: Theodore Roosevelt National Park
See the free-roaming bison by either hiking or driving through this park, and then camp for a night.
Ohio: Cedar Point
What says summer more than visiting an amusement park? Ohio is home to one of the top-rated parks, Cedar Point, where you can ride high-thrill coasters, or kid-friendly low-thrill rides.
Oklahoma: Route 66
Maybe you're a road-trip lover and just want to drive. Check out Route 66 for old timey gas stations, drive-ins and motorcycle museums.
Oregon: Columbia River Gorge
Explore some canyons, waterfalls and go windsurfing. Perhaps even visit a winery while you're there.
Pennsylvania: Eastern State Penitentiary
Not scared of ghosts or legends? Test your bravery by visiting this infamous prison which once housed inmates like Al Capone and Willie Sutton.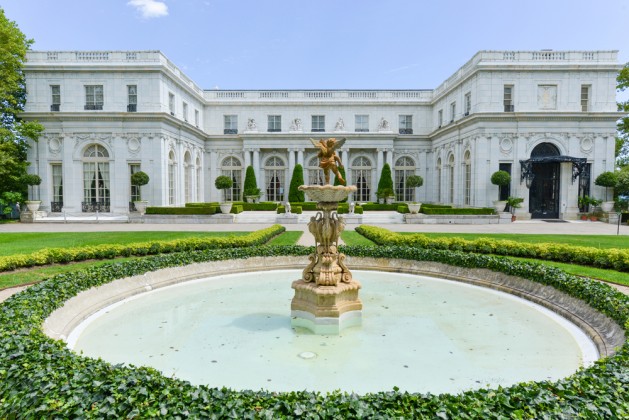 Rhode Island: Newport Cliff Walk
View the New England shore in a whole new way through this 3.5-mile walk.
South Carolina: Myrtle Beach
It's iconic for a reason. From the water to shopping to golf, it's perfect for families or couples.
South Dakota: Mount Rushmore
Presidential rock sculpture. Need I say more?
Tennessee: Great Smoky Mountains National Park
Enjoy the outdoors through hiking or rafting, but be on your guard for black bears!
Texas: Alamo Mission
Get your history lesson in at this legendary fort and museum.
Utah: Great Salt Lake
See where the Olympics were held while visiting this great state of wetlands, deserts and lakes.
Vermont: Lake Champlain Islands
200 miles of shoreline just waiting for you to explore. Or come back in the winter to go ice-fishing!
Virginia: Williamsburg Colonial District
Visit the museums or theater, play golf or get a massage, all while immersed in the Revolutionary City.
Washington: Mount Rainier National Park
Volcanoes and glaciers in the same place? It's the best of both worlds!
West Virginia: Seneca Caverns
Tour the underground caves, learn about the Seneca Indians, and even mine for gemstones.
Wisconsin: Land o' Lakes
There are more than 200 lakes that can be explored here in Wisconsin. Grab a canoe or kayak and get out there.
Wyoming: Yellowstone National Park
Is it really a trip to Wyoming if you don't go see the Old Faithful geyser? Yellowstone National Park is without a doubt the best attraction in Wyoming.