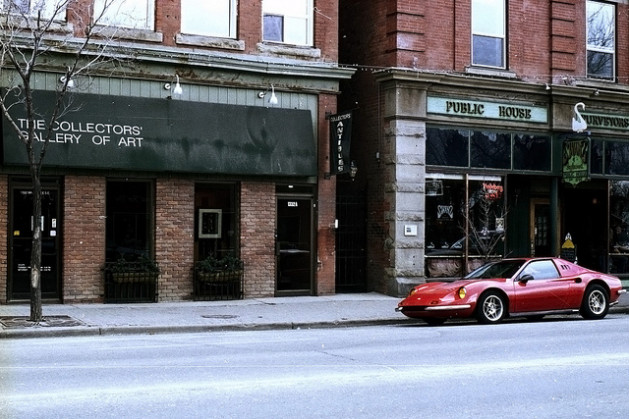 The Ferrari Dino 246 GT – A close look at this classic sports car's performance, technical data, features, comparing rivals, history, used prices
From Classic to Modern
THE CAR
The Ferrari Dino 206 GT sports car had a short production run of just one year, in which only 152 units were built.
However, although the market was impressed with the styling of the car, there was a call for a version with more performance.
Consequently, in 1969, the two seater, Ferrari Dino 246 fixed head coupe was introduced at the Turin Motor Show.
Furthermore, in 1972 at the Geneva Motor Show, the open top Dino 246 GTS Spyder was added, which featured a removable Targa top.
Once again, Pininfarina was responsible for the car's styling.
Also, as was the case with the 206 GT, the engines were built by Fiat, and the car was assembled at the Ferrari plant in Maranello.
The "246" weighed 2380 lbs, compared with the 1980 lbs of the "206", and this was due, in part, to the fact that the body panels of the latter were made of aluminium, whilst those of the former were now constructed of steel, in order to reduce cost.
Also, the wheelbase of the "246" was increased by a further 2.1 inches compared with that of the "206", although the height remained the same.
Vacuum assisted four wheel vented disc brakes, and all round coil spring independent suspension were retained from the "206".
By the time production ended in 1974, a total of 2295 units of the Ferrari Dino 246 GT sports car had been built.
Interestingly, three versions of the 246 GT were produced, and designated L, M and E variants:
The 357 "L" units built up to mid 1970 used the same wheels with a knock-off spinner as did the 206 GT, plus the addition of small front bumpers
The 507 "M" units built between mid 1970 and 1971 used alloy wheels, different wipers, added headrests, and a widening of the rear track
The 1431 "E" units built between mid 1971 and 1974 were subject to changes in gearing and fuel supply, whilst right hand drive versions of the car were now made available
Optional extras included flared wheel arches, and seats sourced from the 365 GTB/4 Daytona.
A close competitor of the 246 GT sports car was, at that time, the 2.4 litre Porsche 911S Targa, which was regarded as a touchstone in terms of performance.