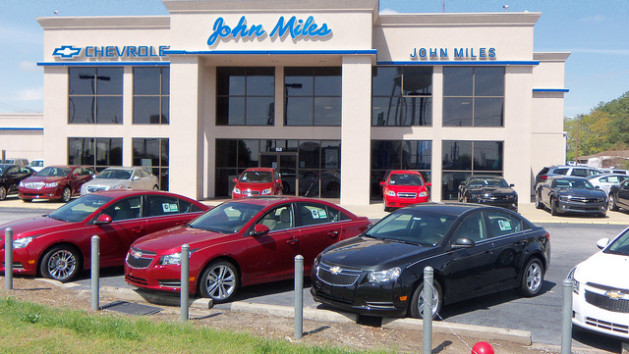 As the economy continues to rebound, more Americans find themselves strolling the lot of their local car dealership and facing a difficult decision — whether to buy or lease a new vehicle.
"Both options have their pros and cons," said Joe Wiesenfelder, senior editor at Cars.com. "It really depends on your personal driving habits, the amount of money you're willing to spend and how often you like driving a new car."
Wiesenfelder offers these tips for car shoppers:
Benefits of Leasing
Driving a New Car. Leasing allows you to get a new car frequently. While this may not be the best reason to get a car, it does mean you'll always have the latest safety technology and comforts.
Affordability. With leasing, you're getting more car for a lower monthly payment.
Less Maintenance. Leasing can help you avoid some hefty maintenance and repair bills. With the exception of a few oil changes and filter replacements, there should be no need for any heavy maintenance. Assuming that you've kept the car in good condition and stayed within the mileage limits, when your lease is up, you can simply turn the car in and walk away.
Avoid Upside-down Loans. When you lease, you there is no danger of getting stuck in an "upside-down" loan, where you owe more than the car is worth.
Benefits of Buying
Ownership of the car. When you buy a car, you own the vehicle and will eventually be free of car payments.
Lower Costs in the Long Run. While the monthly payments for buying a car are higher than payments for leasing, you will eventually pay the loan off. Those initial high payments make up for themselves with years of being payment free.
No Restrictions. A lease contract contains many restrictions, such as mileage limits, which may be inconvenient and costly in the long run. An owner can sell at any time, while leases usually include hefty penalties for early termination.
Rebates and Incentives. Rebates and incentives for new cars are abundant for buyers right now. In some cases, these offers might make buying a significantly less expensive option than leasing.
For many people, the decision to buy or lease comes down to price, says Wiesenfelder. "We encourage people to use our automatic Loan vs. Lease calculator at Cars.com. By entering in the monthly payment you can afford, you'll get an idea of which car you could afford to own, or if leasing is a better option for you."