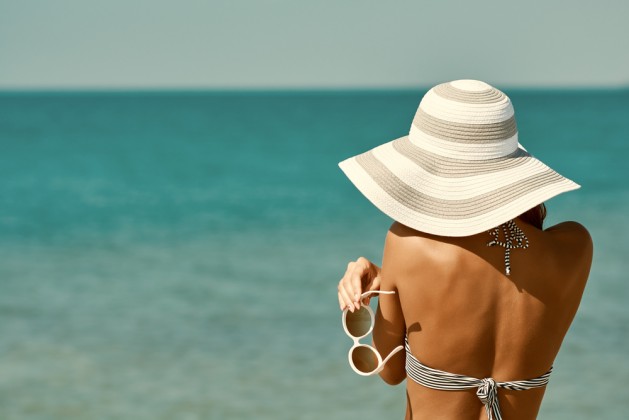 Getting a base tan is essential for certain situations. Maybe you've been invited to join your boyfriend's family on their boat in the Bahamas. Or, you're going down to Florida to visit Disney World. Maybe it's just that upcoming 4th of July BBQ. Whatever the occasion, you don't want to show up with your lily white legs while the rest of the girls show off their golden tans. Here are two easy ways to get a killer base tan.
Method #1: Fake It
Since the dawn of time, women have been faking beauty features they lacked for one reason or another. During WWII, when silk was hoarded for making paratrooper parachutes, women found their lingerie drawers woefully lacking in silk stocking. Not to be caught out walking around barelegged, clever women of the time simply sued an eyeliner pencil to draw that telltale line that simulated a silk stocking seam up the backs of their legs. The effect was surprisingly realistic.
Which brings us to method number one of achieving a killer base tan. There are lots of great fake tanners on the market, so there's no reason to resort to those orangey self-tanning lotions that you might have tried in high school.
Here are two of our favorites:
Art Naturals Sunless Tanning Lotion works for light, fair, medium and sensitive skin. It contains jojoba oil, so it moisturizes while it's making your skin look tanned. You get an instant tint to your skin without the sun, and you can build it up to look darker with each application. I like that the packaging is BPA and paraben-free, and that the kit comes with an application mitt.
Beauty by Earth Self Tanner is an organic, natural sunless tanning lotion that works within 4-6 hours to give your skin a sun-kissed natural glow. Works on skin tones from light to medium and is okay for use on sensitive skin. I like it because the ingredients are all organic, including coconut oil, argan oil and aloe vera. Its non-streaking formulation works to give you a fake base tan for between four and seven days.
Method #2: Build It
You can build a real base tan if you have enough sunny day with which to work your tanning magic. Seven sunny days should be long enough to implement this build-it method. Remember, the goal is to build a healthy base tan without burning or otherwise damaging your gorgeous skin.
First, arm yourself with a 6-day, descending supply of sunblock. On day one, use the sunscreen with the highest SPF. On day two, use the next lowest SPF, on day three, the next lowest, etc. On the last day, which will be day seven, switch to a Hawaiian Tropic sun oil that contains all natural oils but no sunscreen. By the end of day seven, even the fairest in all the land (you!) will have achieved a killer base tan you can be proud to show off in shorts and a sleeveless top.
You may notice that I've left out the option of tanning beds in this list. The reason is that the CDC has specifically called out tanning beds as potentially more dangerous than outdoor tanning. Because tanning beds operate on a timer, and users normally stay in the tanning bed until the timer goes off, the odds are greater that a burn will develop. Outdoors, you can regulate your skin exposure, but inside a tanning bed, it's much more difficult to do so, if not impossible. I recommend one of the above methods instead of resorting to a tanning bed. Whichever of those two methods you use, you will be occasion-ready with glowing, tanned skin that everyone will envy!