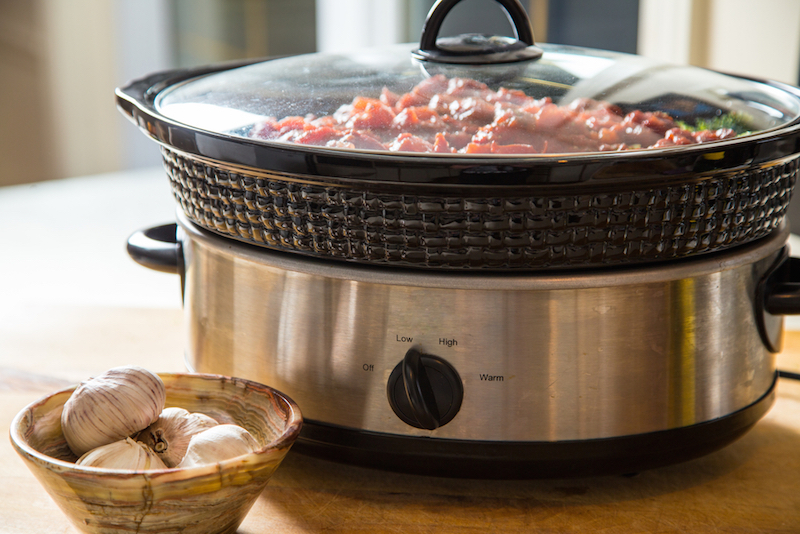 In this day and age, life gets so busy we hardly have time to think, let alone cook. If you aren't working forty hours a week at your dream job, you're probably working multiple jobs or raising kids or even just going to classes. Our overflowing schedules sometimes force us to make sacrifices with our diets. We choose fast over nutritious, and as a result, we don't always get the vitamins and nutrients our bodies need. Fortunately, we have crock pots. Crock pots allow you the ease of making a great meal without having to spend hours in the kitchen watching it cook. You grab a bunch of delicious ingredients, throw it in the crock pot in the morning, and by the time you get home from work or your busy schedule, you have home-cooked meal! In order to get you started, OhMyVeggies has a list of some delicious crock pot vegetarian recipes, but if you're looking for some more unique recipes, here are ten that we found that will make your mouth water.
Puttanesca Pizza
You may think that crock pots are only for soup or chili, but you can actually make pizza! Cooking it in a crock pot instead of in your oven will keep your kitchen from overheating while you bake it. This one from Oprah's website is the perfect option for pizza night.
Slow Cooker Greek Potatoes
If you don't need to make a whole meal in your slow cooker, potatoes are a great side that you can simmer. More than that, you always need more potato recipes since they're a staple food. Damn Delicious's greek potatoes are easy to make, and perfect for your slow cooker!
Slow Cooker Butternut Squash Macaroni
Another classic slow cooker food is macaroni & cheese, but if you're vegan, this dish may seem difficult to make. If you're looking for that comfort food but don't want the cheese, check out this substitute from Healthy Slow Cooking: butternut squash macaroni!
Slow Cooker Garlic Herb Mashed Cauliflower
If you're looking for another substitute for a classic dish, Wicked Spatula has this recipe for mashed cauliflower that can easily replace mashed potatoes. The garlic and herbs give it a great flavor, and it's perfect for both everyday meals and holiday feasts!
Coconut Brown Rice Pudding
Crock pots aren't just for dinner. They're also perfect for breakfast and sweets. Kara Lydon uses her crock pot to make a delicious rice pudding that fits both of those categories. Plus, it's vegan!
Three Bean Sweet Potato Chili
Chili remains a classic crock pot meal, and A Virtual Vegan has a delicious recipe for sweet potato chili that will satisfy all your cravings.
Crock pot Mexican Quinoa Tacos
Tacos are another great option for crock pots, and this one from Chelsea's Messy Apron features quinoa as a substitute for meat. Perfect for vegetarians and vegans alike!
Quinoa Black Bean Crock pot Stuffed Peppers
Similar to the quinoa tacos, here's a recipe for quinoa stuffed peppers!
Crock pot Cauliflower Bolognese with Zucchini Noodles
If you love spaghetti bolognese, try this substitute meal option with zucchini and cauliflower from Inspiralized.
Slow Cooker Spinach and Ricotta Lasagna with Romaine Salad
Finally, the last staple slow cooker meal is lasagna. This one from Real Simple features spinach and ricotta, and it's a great easy meal to add to your arsenal!