Sure, pancakes are great, but can we take a moment to appreciate waffles? This breakfast food may not be as popular, but it's just as delicious! In a world celebrating pancakes, muffins and omelets, it's important to recognize the simple beauty of waffles. Enjoy the following recipes and explore the versatile possibilities.
Carrot Cake Waffles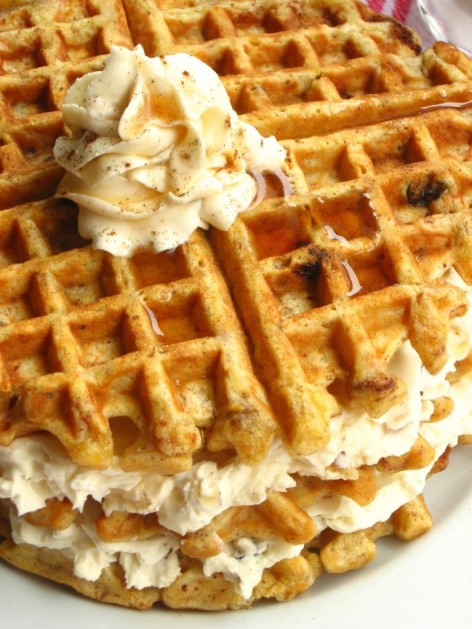 Ingredients:
2 cups all-purpose flour
½ teaspoon salt
2 Tablespoons sugar
1 ½ teaspoons baking soda
1 teaspoon cinnamon
1 teaspoon nutmeg
1 teaspoon allspice
1 ¾ cups buttermilk
2 eggs, separated
4 Tablespoons (½ stick) butter
½ teaspoon vanilla extract
1 cup raisins
1 cup walnuts, chopped
1 ½ cup finely grated carrots
Cream Cheese Spread:
8 ounces cream cheese, softened
3-4 Tablespoons maple syrup
1 cup chopped walnuts
Directions:
Heat 4 tablespoons butter in skillet over medium heat until melted, 1-2 minutes. Continue to cook, swirling pan constantly, until butter is light brown and has faint nutty aroma, 2-4 minutes. Add spices and continue to cook, stirring constantly, 15 seconds. Remove from heat and cool to room temperature, about 30 minutes.
Combine the flour, salt, sugar, baking soda.
Mix together the buttermilk and the egg yolks. Stir in the spiced butter and vanilla. Spray the waffle iron well and preheat it. Stir the wet into the dry ingredients.
Beat the egg whites in a separate bowl with a whisk or electric mixer until they hold soft peaks. Stir them gently into the batter. Add carrots, walnuts, and raisins. Stir gently to combine. Spread a ladleful or so of batter onto the waffle iron and bake until the waffle is done.
To make Maple Cream Cheese spread, simply combine nuts, syrup, and cream cheese and mix well. Spread over waffles before serving.
Sweet Potato Waffles (Gluten-Free)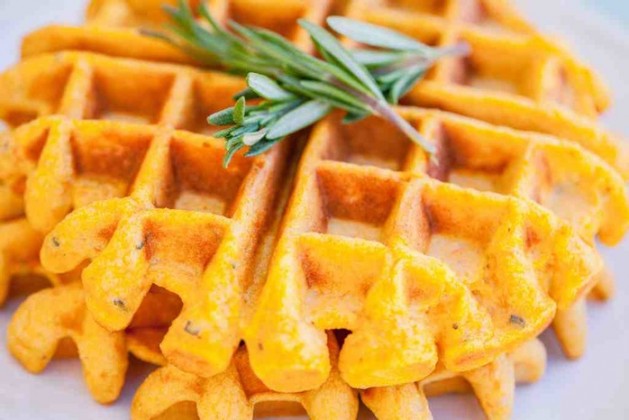 Ingredients:
1 ½ medium sweet potatoes
1 cup old fashioned rolled oats
1 Tablespoon baking powder
1 teaspoon cinnamon
1 egg
¾ cup unsweetened vanilla almond milk
1 Tablespoon extra virgin coconut oil
1 Tablespoon vanilla extract
Directions:
Cook sweet potatoes – either roasting for 45 minutes at 400 degrees or by piercing with a knife, wrapping in a wet paper towel, and microwaving for 6-8 minutes.
Combine dry ingredients in a food processor or blender. Pour into a mixing bowl.
Separately, combine wet ingredients in a food processor or blender.
Mix wet ingredients into dry until just incorporated.
Lightly coat waffle iron with cooking spray and pour batter into the iron. Cook according to waffle iron directions.
Top waffles with blueberries, almond butter, or honey and enjoy!
Cornbread Waffles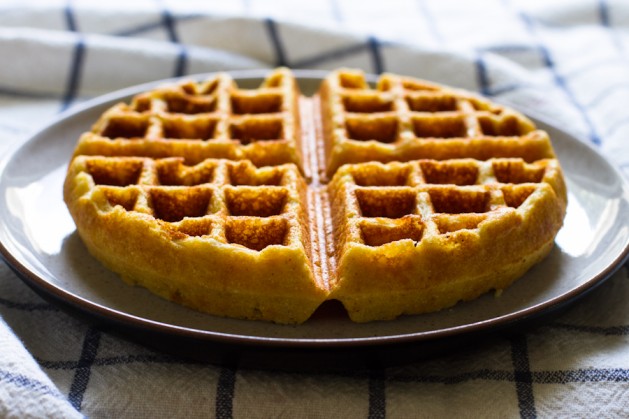 Ingredients:
1 cup cornmeal
1 cup all-purpose flour
¼ cup granulated sugar
4 teaspoons baking powder
1 teaspoon salt
1 teaspoon chili powder
1 cup cheddar cheese
¼ cup sliced scallions
1 jalapeno, diced
2 eggs
1 cup milk
¼ cup vegetable oil
Directions:
In a large bowl, combine the dry ingredients. Toss in the scallions, cheese and jalapenos. Make a well in the center of the bowl and set aside.
In a separate bowl, whisk together the milk, oil, and eggs. Pour the wet mixture into the dry and stir until just combined. Do not over mix.
Cook the waffles in a hot greased waffle iron. Serve with chili.