Lestat de Lioncourt. "The Damnedest Creature". Rule-breaker extraordinaire in a velvet frock coat. In the verse of vampire fiction, there can be only one. But in the film verse, there will be three. And if you don't think Jared Leto is the vampire Lestat Universal should hire, or if you're clinging to Tom Cruise harder than botox, then let us take you to church.
Now, we know not everyone is taking kindly to this potential casting decision. Some of you are pissed, and you have every right to be; but are you mad for the right reasons? It's been over a decade since Queen of the Damned (or as we like to call it, the film that must not be named) arrived to suck the life out of Anne Rice's material, meshing The Vampire Lestat with the Queen of the Damned storyline but totally f#cking both up. So when Universal Pictures announced that they were rebooting the series that began with Interview with the Vampire, fans 'round the globe rejoiced. This coupled with Rice's latest novel, Prince Lestat in 2014, continuing the series after a long draught, is making the hype reach critical mass.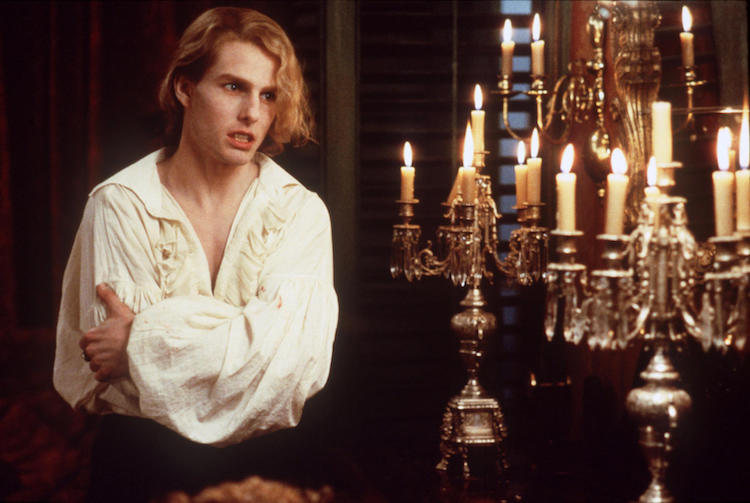 And "the people," being their opinionated selves, immediately demanded, "OMG?!?! Who's going to play Lestat? #theybetternotf&ckthisuportheydie". We're not arguing with that, except maybe the last part. If the filmmakers fall short of anything but perfect casting the series will not be worth watching—especially considering The Vampire Lestat will be entirely focused on that said character. Fortunately (or unfortunately) we'll have something to compare the new guy to.  After nearly two decades of IWTV being published, our beloved yellow-haired bad boy was portrayed by Tom Cruise in the 1996 silver screen adaptation of the same name. Anne Rice initially balked at this casting, but she eventually praised his performance. And it's true. Cruise was the best Lestat we could have hoped for at the time, nailing the undead man's devil may care attitude and whimsical aloofness that belied a tenderness.
But those of you b!tching about Cruise being replaced two decades (think about that) after his one-shot as a vampire should take a look at his face. Last I checked, Lestat shouldn't look like he just got injected with filler.
All things being said, there's one man who knows what he wants, and his opinion is pretty important: The Fault in Our Stars director, Josh Boone, who just so happens to be directing this new little picture. Recently, he tweeted his support of a certain casting decision. Posting on Twitter, he simply wrote "Lestat – there can be only one. #JaredLeto", as if it were the most obvious thing in the world.  Believe it or not, many people hadn't thought of that casting decision until that moment, so naturally everyone came out of the woodwork in support or opposition.
Lestat – there can be only one. #JaredLeto pic.twitter.com/CsFqtYw9Na

— Josh Boone (@JoshBooneMovies) May 4, 2016
Us? We're on the fence but leaning on the side of #bestcastingever, except for maybe Robert Downey Jr. as Tony Stark and Chris Evans as Capt—OK, all of the Avengers. But there are plenty of legitimate reasons (other than his face) why we think Jared Leto would make an epic "wolf-killer" and may end up being the vampire Lestat Universal casts—we'll ignore the downsides for now because Jared Leto is a beautiful, beautiful man.
1. He's a theatre kid
2. He loves his mommy
3. He didn't have a great father/son relationship
4. He's got the looks
5. He's a rockstar (and we all know Lestat is a wannabe rockstar)
Now, who's more like Lestat than a man with an appreciation for the arts? OK, our favorite vampire has more important qualities than that, but Leto and Lestat (because we like alliteration) share a similar background, career and education, a term loosely used in Lestat's case. After he earned the wolf-killer moniker while living in the Auvergne region of France, Lestat and his friend/lover Nicolas run off to Paris, where Nicki plays his violin and Lestat pursues a career in the theatre as "Lelio". In his family, to join the arts was an act of rebellion. Likewise, Jared's mother Constance Leto followed the hippie movement and encouraged her sons to get involved in the arts.
"I was raised around a lot of artists, musicians, photographers, painters and people that were in theatre," he stated in an interview with "Kerrang!".
We know Lestat's mother, Gabrielle, roughly ignored her many sons for the sake of her books, but she did influence her youngest son. And he loved his mom—like, loved enough to turn her into a vampire to save her from consumption. We could totally see Jared doing that if the 44-year-old hasn't already (seriously, they're both ageless). He has a pretty envious mother/son relationship with Constance—he even brings her to award shows. Sadly, his father was another story, as the man died when Jared was young, while Lestat's father lived past his childhood and long enough to be a problem for him once he became a vampire. Their relationship never did correct itself.
Also, let's not forget one technical thing: the man can act his a$$ off. Seriously, he hasn't been in that many films (if you think about what all he could be doing), but for the ones he has been in he always kills it. Leto is one of the "method actors", a phrase that is becoming more of a dirty concept than a praiseworthy class to be in due to some idiots negative opinions on the subject. If you're a film snob or just a geek who lives in his mom's basement, you know that method acting comes from an actor's desire to engross themselves into their role and become one with their character. It sounds like a bunch of bulls!t, but it works. Leto has employed this type of acting for most if not all his career: training as an athlete for Prefontaine; living on the streets in preparation for playing a heroin addict in Requiem for a Dream; waxing his entire body to play a transsexual in Dallas Buyers Club; and, most recently, he adopted the wacky behavior and mannerisms of one of the most iconic characters in comic book history—the Joker—in preparation for his role in this summer's Suicide Squad.
As for looks… See the hair swish? #modelstatus #jaredletowokeuplikethat
And don't even get us started on his obsession with music videos. The guy has created over a dozen music videos in his career as 30 Seconds to Mars frontman (oh, in case you didn't know, he's an actor and a musician), many of which have been award-winning, and other artists are tapping him for collaborations. If you can't remember reading The Vampire Lestat or haven't yet experienced the greatness, the takeaway should be Lestat's popularity through music videos. Hell, even Marius the 3,000-year-old Roman vampire lets vampire Queen Akasha and King Enkil listen to them; they're captive audiences, of course, being stone and all, but we know Akasha enjoyed it because the cougar kind of came to life and killed her husband in order to get with the blonde vampire. *Spoiler Alert*
See, it all started because some oddly-named individuals (like "Cookie") just so happened to be playing metal in an abandoned mansion above his place of slumber in the graveyard nearby in the 80s. He quickly assumes leadership of their band after accidentally revealing himself as the vampire Lestat—he has no idea that Louis had written Interview with the Vampire, an expose on what life was like living with his sire and the child-vampire, Claudia.
So maybe Lestat became a rockstar by accident, but the point is that he was born to live that life. Just like Leto was born to claim this role. If we've failed to convince you why he should be the vampire Lestat Universal hires, or if you're still bitter ("Oh, he's too commercial now"), then we hope you can learn from this cat and simmer down.